Deja Taylor, the mother of a 6-year-old Virginia boy who allegedly shot his first-grade teacher inside a classroom earlier this year, is willing to take responsibility for her son's actions.
Taylor, who faces criminal charges in the Jan. 6 shooting at Richneck Elementary School in Newport News, broke her silence Wednesday on ABC News' "Good Morning America," saying her child cannot be held responsible for the Jan. 6 shooting because of his severe ADHD diagnosis.
"I am, as a parent, obviously willing to take responsibility for him because he can't take responsibility for his self," Taylor said.
Taylor has been charged with felony child neglect and a misdemeanor of recklessly leaving a loaded firearm to endanger a child. The charges were filed after police say her son shot and wounded first-grade teacher Abby Zwerner as she sat at a reading table in her classroom. Police said the child used his mother's legally purchased gun.
MOM OF VIRGINIA 6-YEAR-OLD WHO SHOT TEACHER WAS DEPRESSED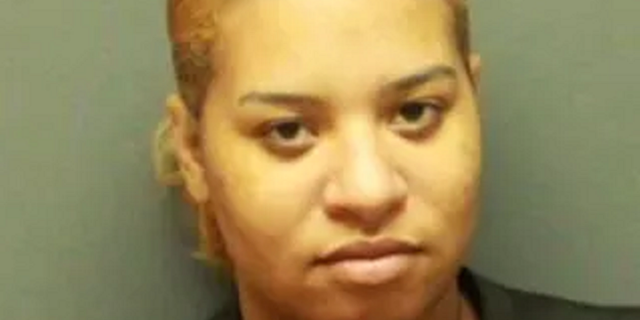 Deja Taylor, the mother of a 6-year-old boy who allegedly shot his teacher at Richneck Elementary School in Newport News, Va., faces charges of felony child neglect and a misdemeanor of recklessly leaving a loaded firearm to endanger a child.  (Newport News Police Department)
Zwerner, 25, was shot in the hand and chest Jan. 6 and spent nearly two weeks in a hospital and required four surgeries.
Last month, Zwerner filed a lawsuit seeking $40 million in damages from school officials, accusing them of gross negligence and ignoring multiple warnings that the boy had been armed and in a "violent mood" on the day of the shooting.
6-YEAR-OLD USED MOM'S GUN TO SHOOT VIRGINIA TEACHER; POLICE REVEAL HEROIC ACTIONS FOLLOWING SHOT
The lawsuit names as defendants the Newport News School Board, former Superintendent George Parker III, former Richneck Principal Briana Foster-Newton and former Richneck Assistant Principal Ebony Parker.
In the lawsuit, Zwerner says all the defendants knew the boy "had a history of random violence" at school and at home, including an episode the year before when he "strangled and choked" his kindergarten teacher. She also said he once grabbed her cellphone and "slammed" it on the ground "so hard that it cracked and shattered."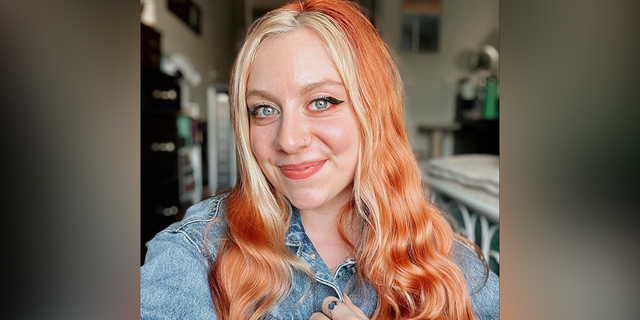 Abby Zwerner was shot Jan. 6 by a 6-year-old student who had brought a gun to school, according to authorities.  (Facebook/Abby Zwerner)
In March, Newport News prosecutor Howard Gwynn said his office would not criminally charge the boy because he is too young to understand the legal system.
Taylor told ABC her son is a "great kid" but "very energetic" because of his "disability."
"He's off the wall. Doesn't sit still ever," she said.
Taylor said her son "actually really liked" Zwerner and claimed he had acted out in class the week of the shooting because "he felt like he was being ignored."
VIRGINIA MOM OF 6-YEAR-OLD WHO SHOT TEACHER CHARGED IN CONNECTION WITH THE SHOOTING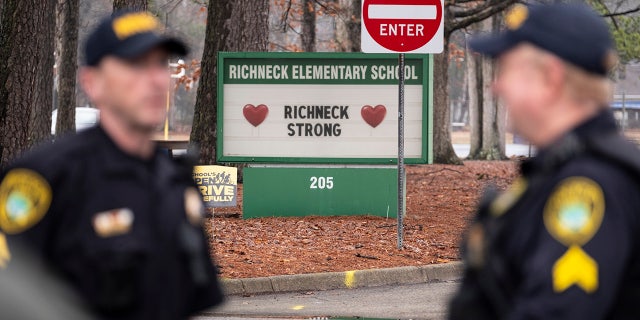 Police look on as students return to Richneck Elementary in Newport News, Va., on Jan. 30, 2023. A grand jury in Virginia has indicted the mother of a 6-year-old boy who allegedly shot his teacher on charges of child neglect and failing to secure her handgun in the family's home. (Billy Schuerman/The Virginian-Pilot via AP)
She claimed the cellphone incident happened after Zerner said she told her son to sit down when he was asking her a question.
"You know, most children, when they are trying to talk to you, and if you easily just brush them off, or you ask them to sit down, or you're dealing with something else and you ask them to go and sit down, at 6 [years old], you — in your mind — would believe that, 'Somebody's not listening to me,' and you have a tantrum," Taylor said.
"He threw his arms up. He said, 'Fine.' And when he threw his arms up, he knocked her phone out of her hand on accident," she said. The boy was suspended after the incident. Taylor told ABC News only the screen protector had cracked and said she offered to pay for its replacement.
The shooting took place on the day Taylor's son returned to class from the suspension, according to the lawsuit.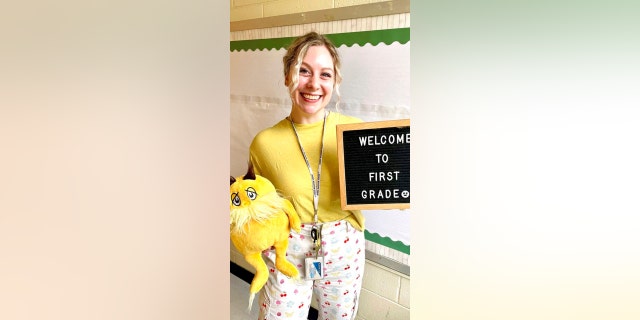 Abigail Zwerner, a first-grade teacher at Richneck Elementary School in Newport News, Va., is shown inside her classroom in this undated photo provided by her family and lawyers. Police have said a boy brought a 9mm handgun to school and intentionally shot Zwerner as she was teaching her first-grade class.  (Family of Abigail Zwerner via AP)
Taylor's attorney, James Ellenson, told ABC News the school was responsible for the shooting because officials had prematurely enrolled the student in first grade even though they knew he had only attended two months of kindergarten and two months of pre-K. Ellenson also claimed officials knew about the boy's ADHD diagnosis.
"If they believed all of these behaviors to be true, then they should not have allowed him" to enter first grade, he said. "They should've put him back into kindergarten, possibly even pre-K, but at the minimum to kindergarten."
CLICK HERE TO GET THE FOX NEWS APP
The Newport News School Board argues Zwerner's injuries fall under the state's workers compensation act and cannot be addressed through her suit. The board pushed back against the teacher's claims that the child should not have remained in her class, saying he was in the process of being evaluated and treated for possible ADHD, which causes inattention, hyperactivity and impulsivity.
Even if he had been found in need of additional services, state and federal laws would have applied "for the purpose of keeping such children in the classroom with their peers when possible."
Taylor said she feels regret for the incident and offered an apology to Zwerner.
Fox News' Greg Norman and Bradford Betz and The Associated Press contributed to this report.