Alabama's governor on Tuesday set a special legislative session to redraw congressional district maps that the U.S. Supreme Court declared unfair to Black voters.
Gov. Kay Ivey set the July 17 session for the Republican-controlled Alabama Legislature after the high court upheld a three-judge panel's ruling that the state illegally diluted the political power of Black voters by having only one majority Black congressional district. The three-judge panel gave legislators until July 21 to submit a redrawn map for review or the court will draw its own.
"The Alabama Legislature has one chance to get this done before the July 21 court deadline," Ivey said in a statement. "Our Legislature knows our state, our people and our districts better than the federal courts or activist groups do."
SUPREME COURT LIFTS PAUSE ON LOUISIANA REDISTRICTING CASE THAT COULD BOOST BLACK VOTING POWER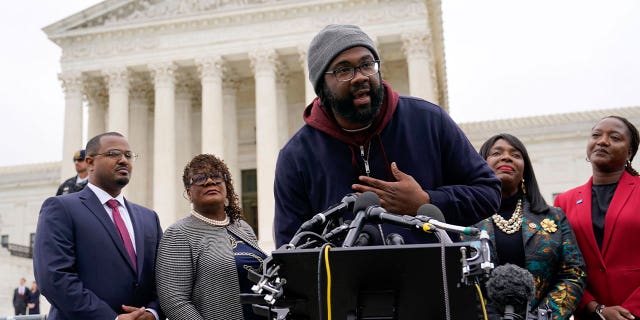 Evan Milligan, the plaintiff of an Alabama redistricting case, speaks on Capitol Hill in Washington on Oct. 4, 2022.  (AP Photo/Patrick Semansky, File)
The Legislative Committee on Reapportionment, which will draft the lines to be considered by lawmakers in the special session, held its first public hearing Tuesday. House Speaker Pro Tempore Chris Pringle, who serves as co-chairman of the committee, said they have already received dozens of proposed maps.
The plaintiffs in the case have proposed a new map they say would comply with the court's order and the Voting Rights Act. It would redraw the state's 2nd congressional district, now represented by Republican Rep. Barry Moore, to create what is described as an "opportunity" district because it would give Black voters, now making up 50% of the voting age population, a greater opportunity to elect a candidate of their choice. The proposed district would stretch to the west and encompass some Black Belt counties and parts of Mobile County.
SUPREME COURT RULES IN FAVOR OF BLACK VOTERS IN ALABAMA RACIAL GERRYMANDERING CASE
Plaintiffs in a separate redistricting lawsuit have filed their own proposed map, and members of the public have also submitted proposed plans.
CLICK HERE TO GET THE FOX NEWS APP
Republicans hold a lopsided majority in the Alabama Legislature and have the numbers to pass a plan at will. But they also must approve something that will be deemed satisfactory by the court.