The Trusted News Initiative (TNI), a global coalition of news organizations and tech firms with the stated goal of combating fake news that has been compared to the Ministry of Truth, could be under a harsh spotlight on Thursday as an antitrust lawsuit lingers.
The Select Subcommittee on the Weaponization of the Federal Government will hold a hearing to examine the government's role in censoring Americans, and Big Tech's role in silencing free speech. Journalist Emma-Jo Morris, who helped break the Hunter Biden laptop story for the New York Post in 2020, and Democratic presidential hopeful Robert F. Kennedy Jr. are scheduled to testify.
Kennedy's organization, Children's Health Defense, filed a lawsuit earlier this year against news outlets that are members of the Trusted News Initiative, alleging some of the member organizations violated the Sherman Antitrust Act by censoring information. Kennedy's group is known for its advocacy against vaccinations and has come under sharp criticism from much of the medical community.
"When social media companies collude with government to censor critics of government policy, that violates the First Amendment. When they collude with major mainstream news organizations to censor rival online news publishers, that violates antitrust law," Jed Rubenfeld, lead attorney for the plaintiffs, said at the time.
"TNI members work together to build audience trust and to find solutions to tackle challenges of disinformation. By including media organisations and social media platforms, it is the only forum in the world of its kind designed to take on disinformation in real time," BBC's website states.
Kennedy's lawsuit accuses TNI of censorship collusion related to content on whether COVID-19 originated in a Wuhan lab, whether COVID vaccines do not prevent infection, if a vaccinated person can transmit the virus and data found on the Hunter Biden laptop.
Morris was the deputy politics editor at the New York Post when Twitter, Big Tech and media outlets famously suppressed the paper's "laptop from hell" bombshell ahead of the 2020 election.
DOJ KNEW HUNTER BIDEN LAPTOP WAS 'NOT MANIPULATED,' CONTAINED 'RELIABLE EVIDENCE' IN 2019: WHISTLEBLOWER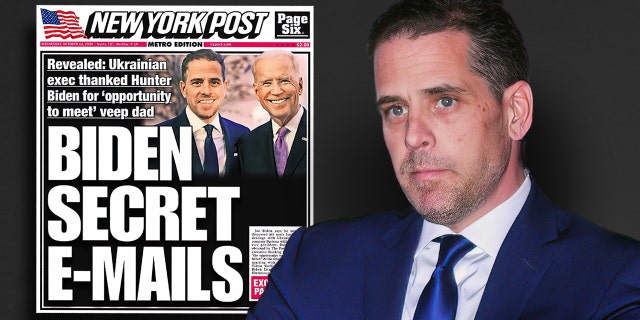 The New York Times and The Washington Post both eventually verified Hunter Bidens laptop after big tech dismissed the New York Posts bombshell reporting during the 2020 presidential election. The Post reporting was famously censored by Twitter ahead of the 2020 election. (Getty images  |  New York Post)
Kennedy's Children's Health Defense asserts the BBC admitted the economic motivation that was discovered through litigation. The complaint quoted a BBC executive saying, "[I]t's important that trusted news providers club together. Because, actually, the real rivalry now is not between, for example, the BBC and CNN globally, it's actually between all trusted news providers and a tidal wave of unchecked [reporting] that's being piped out mainly through digital platforms."
Kennedy feels the statement reveals that the erosion of trust of legacy media outlets is hurting the BBC's business model as more and more people consume information from alternative outlets.
Karon, an Ohio-based attorney who has led antitrust cases and teaches law at the University of Michigan Law School and The Ohio State University, feels that Kennedy was "rubbed the wrong way" because major news outlets wouldn't let him get his message out.
"These groups, AP, Washington Post, Facebook, Microsoft, whomever, all these folks on the defendant side of the ledger … they can do what they want independently. The issue here… the case here revolves around an alleged agreement to get together to kick RFK and his friends out," Karon said.
RFK JR. SHRUGS OFF BIDEN FAMILY CORRUPTION ALLEGATIONS: WON'T BE A 'SPEAR TIP TO MY CAMPAIGN'
Either way, Kennedy has said the legacy media is supposed to function as "guardians of the First Amendment and free expression," but things have drastically changed.
"They were supposed to courageously speak truth to power," Kennedy told Rubin. "They've not become the opposite. They've become propagandists for the powerful and oppressors of free speech and the enemies of the First Amendment."
The BBC did not immediately respond to a request for comment.
Rantz said the TNI would be considered well-intentioned if the media "made an attempt to be objective," but he feels that is not the case.
"We've seen for years, post-Trump, that this is another political agenda masquerading as a noble fight for truth," Rantz said.
REPUBLICANS' IRS 'WHISTLEBLOWER X' IS A GAY DEMOCRAT IN CRIMINAL DIVISION WITH 13 YEARS AT THE AGENCY
The professor said "the establishment media do not have a corner on truth, as evidenced by how much reporting about Covid turned out to be misguided," but was reported by establishment media with a straight face.
CLICK HERE TO GET THE FOX NEWS APP
"Independent media outlets should report facts as they can best be supported, and media outlets should allow for the reporting of competing perspectives. The public marketplace can ultimately sort things out, and citizens don't need a media monolith to collectively determine what information or ideas are allowed to circulate," he said.