El Salvador has swept up a number of foreign nationals in a widespread crackdown on criminal activity, allegedly including Americans in those arrests.
"The Department of State has no higher priority than the safety and security of U.S. citizens overseas," a State Department spokesperson told Fox News Digital. "We are aware of U.S. citizens detained in El Salvador under El Salvador's declared state of exception."
"We take our role in assisting U.S. citizens abroad seriously and are engaged with the government of El Salvador directly on this issue," the spokesperson said, adding that "due to privacy considerations, we have no further comment at this time."
The U.S. first raised the alarm about American citizens mistakenly swept up in the crackdown through a March 2023 travel advisory update. The State Department said some of the arrests had occurred in a "reportedly arbitrary manner" and urged Americans to reconsider travel to the country.
"There are a handful of U.S. citizens detained," Villatoro told Fox News Digital. "Keep in mind that citizenship does not equal immunity from prosecution."
Villatoro assured that detainees have access to embassy consular services, which is "currently being carried out," but that in El Salvador "anyone suspect of gang activity is detained and followed by investigation … regardless of nationality or where they were born."
PANAMA CANAL POSTPONES DEPTH RESTRICTIONS AFTER RAIN PROVIDES RELIEF TO REGION
MEXICO INVESTIGATING VIDEO SHOWING CARTELS THREATENING BAR HOSTESSES AT GUNPOINT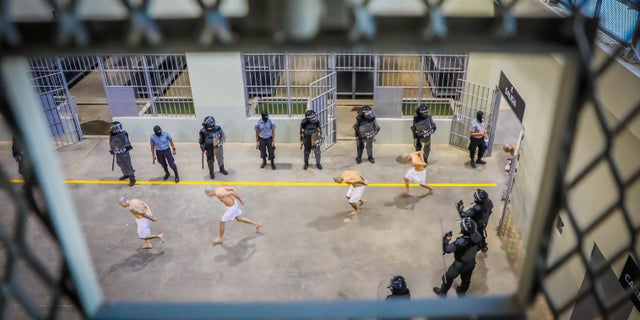 Prison agents watch gang members as they are processed upon their arrival at the Terrorism Confinement Center in Tecoluca, El Salvador, in this handout distributed to Reuters on Feb. 24, 2023. (Secretaria de Prensa de la Presidencia/Handout via Reuters)
El Salvador has also allegedly arrested nationals from Panama, Guatemala and Colombia, according to public radio program "The World." The government of El Salvador has not published any stats on how many foreign nationals that authorities in the country have arrested.
U.S. citizen and Los Angeles native Walter Huetes was detained in El Salvador in May when he attended a party with some friends, according to "The World."