EXCLUSIVE – A bipartisan group of lawmakers on Capitol Hill are introducing a bill that would curb the expanded powers the White House is granted under the National Emergencies Act and give more of it to Congress.
Rep. Chip Roy, R-Texas, and Sen. Mike Lee, R-Utah, have garnered more than a dozen fellow Republicans and Democrats in both chambers to support the "Assuring that Robust, Thorough, and Informed Congressional Leadership is Exercised Over National Emergencies" or the "ARTICLE ONE Act," – a measure they say will restore the constitutional order of separation of powers, and checks and balances granted in Article 1 of the U.S. Constitution.
The National Emergencies Act of 1976 is the current federal law that lays out the powers and responsibilities of the executive branch in declared emergencies.
"The presidency was never meant to have monarchical power over the American people; that's why the framers of our constitution designed a system of checks and balances," Roy said in an exclusive statement to Fox News Digital.
The National Emergencies Act of 1976 has granted the president broad powers to respond to national emergencies.
A national emergency can activate more than 100 new powers, including the power to seize private property, control domestic transportation and spend money in absence of congressional approval, according to the Congressional Research Service.
Under current law, the president can unilaterally extend national emergencies. Congress may pass a bill to end that emergency, but unless passed by a veto-proof majority there's little incentive for a president to sign such a bill. There are currently 41 outstanding national emergencies. Congress has not voted to authorize any of them and the oldest continually in effect was put in place by President Jimmy Carter in 1979.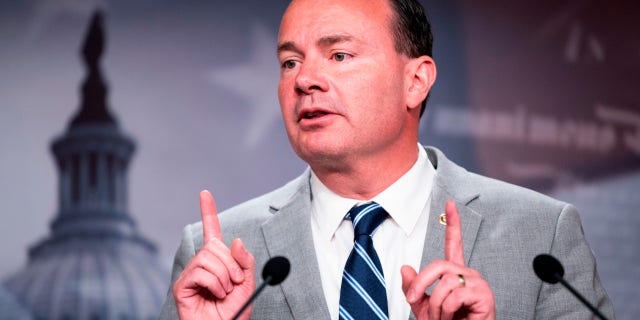 Sen. Mike Lee, R-Utah. (Bill Clark/CQ-Roll Call, Inc via Getty Images)
WHITE HOUSE SLAMMED FOR FOREIGN STUDENT VISA PROGRAM AS GOP LAWMAKERS PUSH SUPREME COURT TO STEP IN
Per the measure, a joint resolution of approval would extend the emergency for one year.
Senate cosponsors for the ARTICLE ONE Act include Richard Blumenthal, D-Conn.; Mike Braun, R-Ind.; Mike Crapo, R-Idaho; Jim Risch, R-Idaho; and Chris Murphy, D-Conn.