Secretary of State Antony Blinken will visit China this weekend, the State Department confirmed, after a tense Tuesday phone call where the communist nation's foreign minister told the U.S. to "stop interfering" in its affairs.
Blinken spoke with Chinese Foreign Minister Qin Gang over the phone on Tuesday as the secretary begins preparations for his trip to Beijing on June 18. The visit was postponed after a Chinese spycraft flew over the U.S., and he will be the highest-level Biden official to travel there.
"Spoke tonight with PRC State Councilor and Foreign Minister Qin Gang by phone," Blinken's official Twitter account read. "Discussed ongoing efforts to maintain open channels of communication as well as bilateral and global issues."
CHINA'S XI JINPING HOSTS HONDURAS' XIOMARA CASTRO AS CONTROVERSY OVER CUBA SPYING SWIRLS IN US
"I hope that the U.S. side will take practical actions to implement the important consensus of the meeting between the two heads of state in Bali, move in the same direction as the Chinese side, effectively manage differences, promote exchanges and cooperation, and promote the stabilization of China-US relations," Qin said, according to the South China Morning Post.
SENATE URGED TO PUNISH US COMPANIES THAT HELP CHINA BUILD ITS AI-DRIVEN 'SURVEILLANCE STATE'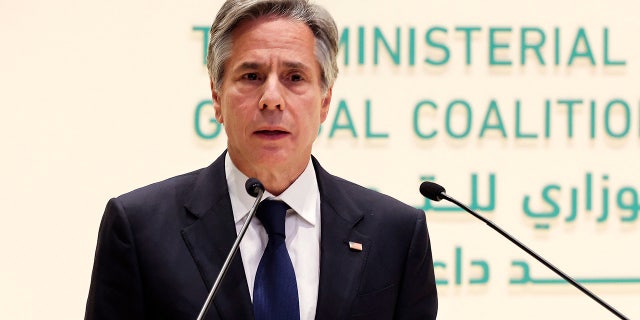 Secretary of State Antony Blinken gives a joint press conference with the Saudi foreign minister after a ministerial meeting of the Global Coalition to Defeat the Islamic State in Riyadh. (AHMED YOSRI/POOL/AFP via Getty Images)
Administration officials confirmed on Sunday that China is working to ramp up its spying capabilities in Cuba. China has maintained a spy base on the island, which is 90 miles off of South Florida, since at least 2019, officials have said.
"The Secretary discussed the importance of maintaining open lines of communication to responsibly manage the U.S.-PRC relationship to avoid miscalculation and conflict, addressed a range of bilateral and global issues, and made clear the U.S. would continue to use diplomatic engagements to raise areas of concern as well as areas of potential cooperation," said State Department spokesman Matthew Miller.
A bipartisan effort in the Senate is underway to ban China and other hostile countries from manufacturing any American taxpayer-funded technologies.
CLICK HERE TO GET THE FOX NEWS APP