Burma's military government has rescinded its approval for international organizations to distribute food, shelter and medicines to thousands of residents of cyclone-hit areas in the country's west, a U.N. agency said Friday.
Cyclone Mocha hit the coastline of Bangladesh and Burma in mid-May with winds of up to130 miles per hour. The damage was worst around the coastal city of Sittwe, the capital of Burma's Rakhine state, but was also severe as the storm moved inland into Chin state.
The military authorities also suspended travel authorizations for international humanitarian organizations, the U.N. Office for the Coordination of Humanitarian Affairs said in a situation report. It said the suspension of aid activities "could not have come at a worse time" because of the arrival of the annual monsoon season.
MONSOON RAINS DELAYED IN INDIA AS EXTREME HEAT STRIKES PARTS OF COUNTRY
Cyclone Mocha killed at least 148 people in Rakhine. It brought flash floods and power outages, tore roofs off buildings and crumpled cellphone towers. Burma state media said more than 186,000 buildings were damaged.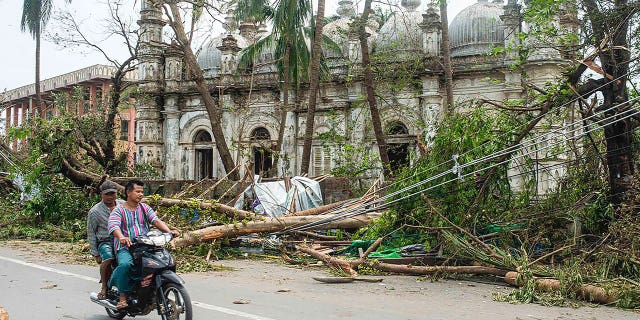 Locals ride a motorbike on a road while fallen trees lie near a mosque after Cyclone Mocha struck the area in Burma on May 15, 2023. A U.N. agency on June 9, 2023, said Burma rescinded its initial approval for international organizations to deliver essential food, shelter, and medicinal assistance to cyclone-hit areas.  (AP Photo, file)
UNOCHA said about 1.6 million people were heavily affected by the cyclone in Rakhine, Chin, and Kachin states, and in Sagaing and Magway regions. It said more than 113,200 people have received shelter and other relief from humanitarian organizations, while food assistance has reached more than 293,800 people in Rakhine alone.
There has been concern that many people whose houses were damaged by the cyclone might be without adequate shelter during the monsoon. The Meteorological Department said Thursday that the monsoon has advanced into central Burma.
"The letter refers to all international organizations in Rakhine state. I don't know why they suspended travel authorization. At a time when emergency aid is urgently needed, this ban prevents aid from reaching everyone in need in a timely manner," the official said.
The letter, seen by The Associated Press, was signed by Rakhine Security and Border Affairs Minister Col. Kyaw Thura.
CLICK HERE TO GET THE FOX NEWS APP
Burma navy and air force units, along with domestic charity groups, have delivered some rice and other assistance to victims, but only about 20% of the population in cyclone-hit areas has received full assistance, according to members of the charity organizations.