Economists advising California's task force for reparations have estimated that it will cost $1.2 million per Black resident, paid over a lifetime.
California is one of multiple states debating the feasibility of economic reparations for Black Americans whose ancestors were victimized by the Atlantic slave trade and its legacy, despite the fact California was designated as a free state when it joined the Union. The push for reparations gained major momentum in 2020 after the death of George Floyd at the hands of police, but it remains an economically and culturally controversial topic.
California, which frequently makes national headlines for experimental progressive policies, has recently reached an economic estimate.
"Economists advising California's task force on reparations have, at long last, released an estimate of the damages caused by the state's history of slavery and its many vestiges of white supremacy: up to $1.2 million per Black resident over a lifetime," the San Francisco Chronicle reported Tuesday.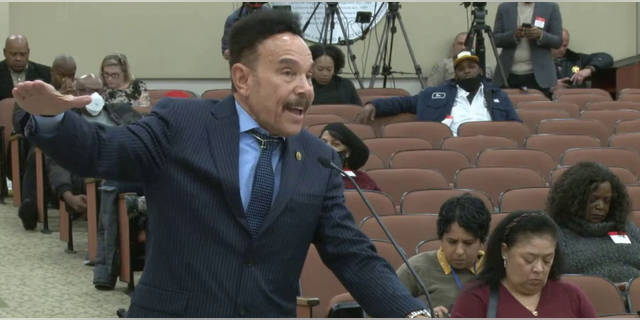 Reverend Tony Pierce calls for more than $5 million in reparations for each Black Californian at a meeting of the California Reparations Task Force on March 29, 2023. (YouTube screenshot from California Department of Justice channel)
REPARATIONS FOR BLACK CALIFORNIANS COULD COST $800B, ECONOMISTS WARN
California's reparations task force is preparing to recommend that the Golden State apologize and issue "down payments" to Black residents as a way to make amends for slavery and discrimination, although the state explicitly outlawed slavery when it joined the Union in 1850.
The task force, created by state legislation signed by Gov. Gavin Newsom in 2020, on Monday published more than 500 pages of documents that indicate it plans to recommend California issue a formal apology for slavery and racism and consider payments of varying amounts to eligible Black Californians.
The Chronicle suggested this massive number was merely a "rough, partial estimate of what it would cost the state to compensate Black people for that legacy of harm, according to a draft of the task force's final report."
The paper quoted the report directly.
"Rather, it is an economically conservative initial assessment of what losses, at a minimum, the State of California caused or could have prevented, but did not," the report stated. "(T)he Legislature would then have to decide how to translate loss-estimates into proposed reparations amounts."
The Chronicle added further that the process is still ongoing.
"The panel is preparing its final report to send to the Legislature, which will include a recommendation on the amount and form of cash payments," the outlet wrote. "Task force members are expected to vote Saturday at Mills College in Oakland on whether to adopt the draft report, the capstone of its work after two years of tense meetings and in-depth research."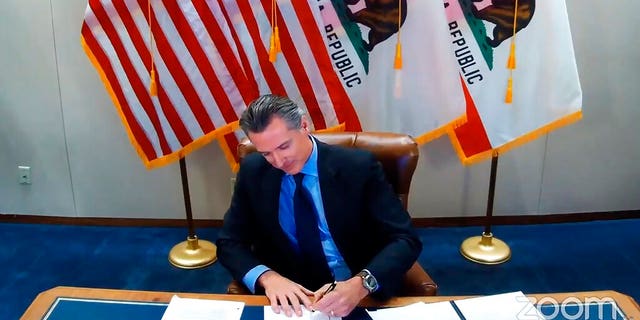 Gov. Gavin Newsom signs into law a bill that establishes a task force to come up with recommendations on how to give reparations to black Americans in Sacramento, California, on Sept. 30, 2020. (Office of the Governor via AP)
NEWSOM'S CALIFORNIA PUSHES BILLIONS IN REPARATIONS PAYMENTS AS STATE FACES BUDGET DEFICIT DISASTER
The Chronicle observed that next task at hand would be figuring out the massive economic implications of this reparations program.
'Whatever the task force decides, the Legislature and Newsom will have the final say. If reparations are approved, state officials would have to figure out how to pay for the program," the outlet wrote. "An economist for the reparations panel has said the plan could cost California more than $800 billion; the state has a roughly $297 billion annual budget."
Despite being nearly three times the state's overall budget, a member of the task force in April dismissed concerns about the total cost, saying it was as the "least important piece" of their proposal.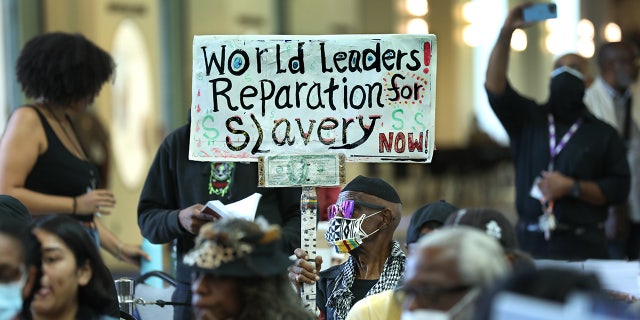 Longtime Los Angeles resident Walter Foster, 80, holds up a sign as the Reparations Task Force meets to hear public input on reparations at the California Science Center in Los Angeles on Sept. 22, 2022.  (Carolyn Cole / Los Angeles Times via Getty Images)
CLICK HERE TO GET THE FOX NEWS APP
"It's important," she said, "but it's the least important in terms of being able to get to a point in our country's history and in California's history where we recognize that the harm cuts across multiple areas and domains and that the repair needs to align with that."
The Chronicle noted that one key aspect is that the program does not distribute reparations merely for slavery, but for other economic and cultural issues seen as the legacy of slavery itself such as "mass incarceration and over-policing in Black communities," "discrimination in housing," and "health harms, including unequal access to health care, greater exposure to environmental pollution and discrimination from medical workers."
In April, Detroit's reparations task force met. Kofi Kenyatta, a senior policy director of UpTogether told the task force: "Reparations can mean a lot of things but it must include, no strings attached, direct cash to Black people and systemic change throughout all levels."
Fox News' Aaron Kliegman contributed to this report.