The male driver taken into custody after crashing a U-Haul truck into security barriers near the White House is now facing charges including "Threaten to kill/kidnap/inflict harm on a President/VP/family member," the United States Park Police say.
Authorities announced early Tuesday that the driver arrested in Lafayette Square Monday night is also facing charges of assault with a dangerous weapon, reckless operation of a motor vehicle, destruction of federal property and trespassing.
The driver was identified as Sai Varshith Kandula, 19, of Chesterfield, Missouri.
"Shortly before 10:00 p.m. Monday, Secret Service Uniformed Division officers detained the driver of a box truck after the vehicle collided with security barriers on the north side of Lafayette Square at 16th Street," Secret Service spokesperson Anthony Guglielmi said in a statement.
A LinkedIn page purportedly belonging to that student says "I currently am in a pursuit of job regarding the field of data analytics, and am hoping to working with companies to share my knowledge, and provide value in regards to their work given to me.
"I currently do not have any job experience, since this is why I am actively searching for jobs in order for me to apply my skills when I do get a job in order to build experience in a company, although I learned, and taken multiple credential courses about programming, and coding languages for about 5 years which is the kind of experience I would say I have had besides a job experience," the page adds.
The cause and manner of the crash are under investigation.
D.C. Fire and EMS also were dispatched to the scene and roads and pedestrian walkways near the crash site were closed as they conducted a suspicious package investigation, officials said.
WASHINGTON, DC TEEN SHOT, KILLED OUTSIDE SCHOOL
K-9 units were seen searching around the truck.
CLICK HERE TO GET THE FOX NEWS APP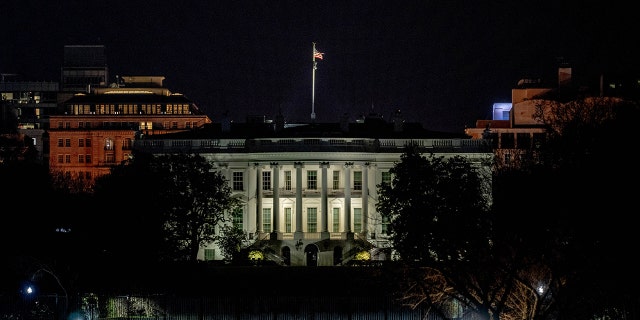 A view of the White House at night in Washington, D.C., in February 2022. The cause of the crash Monday night remains under investigation. (Roy Rochlin/Getty Images)
"I just concluded a productive meeting with Speaker McCarthy about the need to prevent default and avoid a catastrophe for our economy. We reiterated once again that default is off the table and the only way to move forward is in good faith toward a bipartisan agreement," Biden said in a statement following that meeting.
"While there are areas of disagreement, the Speaker and I, and his lead negotiators Chairman McHenry and Congressman Graves, and our staffs will continue to discuss the path forward," he added.