Two climate activists who allegedly smeared paint on a case surrounding 19th century French artist Edgar Degas' "Little Dancer Aged Fourteen" sculpture at Washington, D.C.'s National Gallery of Art last month were taken into custody Friday and face federal charges.
Timothy Martin, 53, and Joanna Smith, 53, both surrendered themselves to authorities Friday after they were indicted on charges of conspiracy to commit an offense against the United States and injury to a National Gallery of Art exhibit, the U.S. Attorney's Office in Washington, D.C., said in a release.
Martin and Smith, along with other unindicted co-conspirators with the climate group Declare Emergency, walked into the art museum with the intent of damaging the sculpture, the indictment alleges.
ACTIVISTS VANDALIZE SCOTLAND'S 'BRAVEHEART' MONUMENT IN CLIMATE PROTEST
RADICAL CLIMATE ACTIVISTS TARGET PRICELESS ART BUT EXPERTS WARN VANDALS ONLY HURTING THEIR CAUSE
The vandalism is being investigated by the FBI's Art Crime Team, with assistance from National Gallery of Art Police, and U.S. Park Police.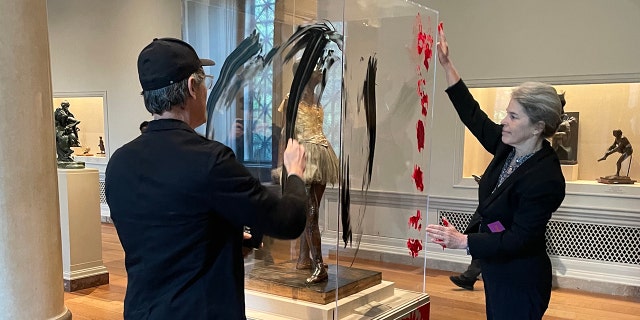 Climate protesters smear paint on the case that houses Edgar Degas's Little Dancer Aged Fourteen at the National Gallery of Art in Washington, D.C. (Ellie Silverman/The Washington Post via Getty Images)
All of the charges carry a maximum sentence of five years in prison and a maximum $250,000 fine.
CLICK HERE TO GET THE FOX NEWS APP
"We understand the value and importance of art in our society, and we also know that it and everything we love is at stake if we don't tackle the climate emergency with the urgency that it deserves," the group said. "We have to convey how dire this situation is, in whatever nonviolent way that we can. We need to engage with the climate emergency emotionally, and actions such as this one draw that out in us. They bring us to the emotional state that we need to be in to realize how bad things really are. Only after getting to that place will we find the motivation and the resolve to truly save ourselves."