A Colorado plastic surgeon was convicted Wednesday in connection to the death of a 19-year-old patient who lost consciousness on the operating table during a breast augmentation procedure after she was given a high dose of anesthesia.
After a weeklong trial, the jury found Dr. Geoffrey Kim guilty of attempted reckless manslaughter and obstructing telephone services for not allowing staff to call 911 for five hours after Emmalyn Nguyen went into cardiac arrest and slipped into a coma.
"It is finally some justice for the family to have Dr. Kim answer for what he did to this young lady," said lawyer David Woodruff, who represents Nguyen's family. "Obviously that does not bring her back. They have lost Emmalyn, who had a wonderful, bright future, so this is bittersweet."
The panel acquitted Kim of negligent homicide, the most serious charge against him.
MICHIGAN TEEN CONVICTED OF KILLING FATHER WITH DRAIN CLEANER OVER HAIR SALON APPOINTMENT
She lost consciousness, then went into cardiac arrest before Kim made an incision.
Woodruff said "snowing" is not illegal or uncommon but no one noticed that she was in distress until her heart stopped after about seven minutes.
BELLA HADID SPEAKS OUT ABOUT THE PERILS OF PLASTIC SURGERY IN TEENAGERS
"It was obviously a huge mistake by Mr. Meeker to overdose the child," Woodruff told Fox News Digital.
Nguyen's mom showed up at the office to pick her up and Kim kept telling her not to worry. "Hours passed and Dr. Kim kept coming out and telling her mom everything went fine, she's doing great, but she's taking a little longer than usual to wake up," Woodruff said.
By the time Nguyen got to the hospital, there was nothing that could be done. She remained in a vegetative state for more than a year before she passed away. Kim's lawyers argued at trial that it was Meeker who killed Nguyen, not the delay in calling 911.
Nguyen's family sued Kim, Meeker and the practice and settled for $3 million, Woodruff said.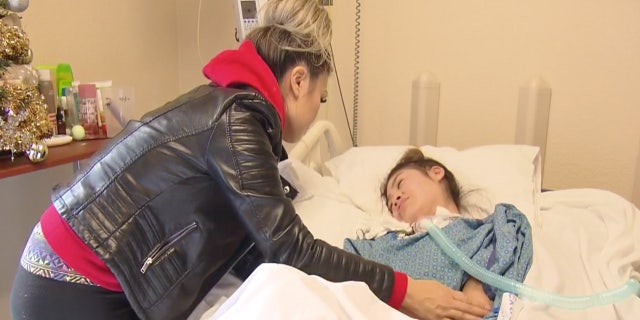 Lynn Fam tends to her daughter, Emmalyn Nguyen, who suffered severe brain damage and later died after a botched breast augmentation. (David Woodruff)
Meanwhile, Kim, who only temporarily lost his license after Nguyen's death, continued to perform surgeries until his trial. The felony conviction should eventually trigger the revocation of his license, Woodruff said.