Daniel Penny, the Marine veteran who put homeless man Jordan Neely in a fatal chokehold earlier in May, has broken his silence about the incident.
In an interview with the New York Post published Saturday, Penny said that he was "deeply saddened" by Neely's death.
"It's tragic what happened to him," Penny said. "Hopefully, we can change the system that's so desperately failed us."
Penny, who was criminally charged over the incident, refuted any claims that he was racist for restraining Neely, a Black man. The Marine veteran flatly said that the incident "had nothing to do with race."
Penny told the Post that he was on his way to the gym when Neely entered his subway car on May 1. Neely, who reportedly suffered from mental illness, began yelling about going to jail and being hungry and tired.
Passengers have said that Neely was yelling and acting erratically when Penny intervened by putting him in a chokehold. Penny's lawyers have argued that the Marine veteran was trying to defend himself and passengers by restraining Neely.
MARINE VETERAN IN NYC SUBWAY CHOKEHOLD DEATH FACES TOUGH LEGAL ROAD, EXPERTS SAY
"I'm sitting on a train reading my book, and, all of a sudden, I hear someone spewing this rhetoric. He said, 'I don't care if I have to kill an F, I will. I'll go to jail, I'll take a bullet,'" the woman, who is in her 60s, explained.
The 24-year-old veteran told the Post that he did not regret the encounter and did not feel ashamed.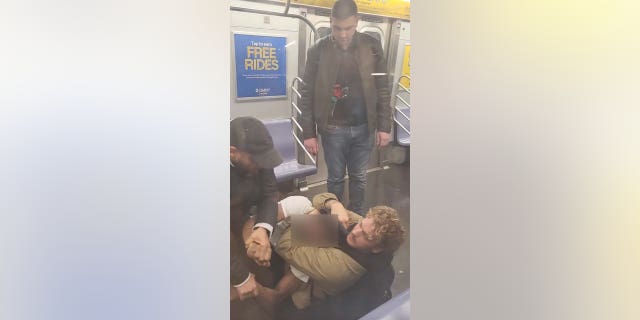 Screenshot from bystander video showing Jordan Neely being held in a chokehold on the New York City subway. (Luces de Nueva York/Juan Alberto Vazquez via Storyful)
"I don't, I mean, I always do what I think is right," Penny said.