Republican Florida Gov. Ron DeSantis' presidential campaign began the week by taking aim at former President Donald Trump over his decision not to fire Dr. Anthony Fauci amid the coronavirus pandemic in 2020.
A video the DeSantis campaign released Monday showed multiple clips from Trump's days on his reality show, "The Apprentice," which the former president hosted from 2004 to 2015, and included scenes of him using his signature phrase, "You're fired!" whenever a contestant was removed from the program.
It compared those clips of him firing multiple contestants, in which it labeled Trump, "Reality TV Trump," to clips of him repeatedly defending his decision not to fire Fauci, in which he was labeled, "Real Life Trump."
DESANTIS TORCHES TRUMP OVER COVID LOCKDOWNS: 'HE TURNED THE COUNTRY OVER TO FAUCI'
WATCH: EARLY PRIMARY STATE VOTERS EXPLAIN WHY THEY SUPPORT DESANTIS OVER TRUMP: 'BETTER CHANCE OF WINNING'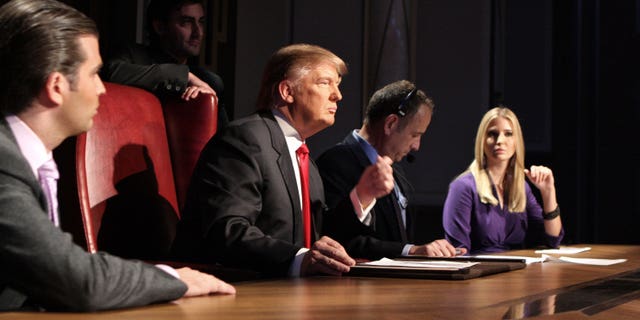 Donald Trump, Donald Trump Jr and Ivanka Trump during the Season Finale of the Celebrity Apprentice on May 10, 2009, in New York City. (Bill Tompkins/Getty Images)
"Every time he goes on television there's always a bomb. But there's a bigger bomb if you fire him," Trump said in another clip, referencing Fauci who was frequently criticized for the information related to the pandemic he would share on cable news networks that, often times, appeared to conflict with previously shared information.
"Frankly, you can't win that one. If I would have done it, I would have taken heat," Trump added in the clip.
CLICK HERE TO GET THE FOX NEWS APP
Fauci remained in his position as director of the National Institute of Allergy and Infectious Diseases for the remainder of the Trump administration, and continued working into the Biden administration before also serving as the Chief Medical Advisor to the President and retiring at the end of 2022.