Former CNN CEO Chris Licht was fired Wednesday after losing the faith of the long-struggling network's liberal employees, who longed for the previous regime's more partisan strategy, according to insiders and media watchdogs alike.
"He got cancel cultured because he wanted to level the ideological playing field," a CNN insider told Fox News Digital, while another said his departure was "inevitable."
Licht made it clear he wanted to dial back the left-leaning opinion programming that engulfed the network under his predecessor, Jeff Zucker. He made overtures to Republicans who had been alienated by its past coverage and fired some of its well-known liberal anchors and reporters, but Zucker-era staffers remained throughout the company.
Licht didn't exactly turn the place into a network that would be relished by conservatives. Left-wing reporter Jim Acosta kept his weekend show, an entire morning program was built around Don Lemon, and CNN's media reporters continued to criticize conservative press at every turn.
One media insider said Licht was never given a real chance, saying that Zucker played a hand in undermining his replacement.
"Feel really bad for him," they told Fox News Digital. "He never really had a chance in that culture to succeed. The leaks came fast and furious from day one. Zucker's hand was all over the attacks, and he knows how to work the press masterfully."
CNN CEO CHRIS LICHT'S BIG MESS: INSIDERS SAY HE'S LOST NEWSROOM AFTER TRUMP TOWN HALL, BRUTAL ATLANTIC STORY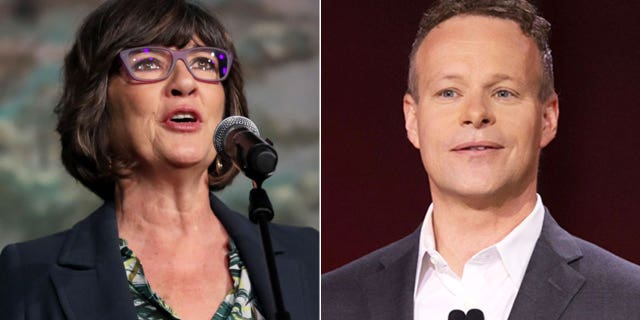 Veteran CNN journalist Christiane Amanpour confronted her now-former boss Chris Licht over the network's Trump town hall. (Mike Marsland/Getty Images for SeriousFun/Kevin Mazur/Getty Images)
David Marcus penned a Fox News Digital opinion piece this week that put a spotlight on Licht's efforts to pull in a more diverse audience falling flat with staffers.
"The lesson here is clear: no real conservative voices, the kind that actually reflect the views of the vast majority of Americans on the right, will be tolerated by the crybaby lefty loons in the CNN newsroom," Marcus wrote.
CNN MEDIA REPORTER DELIVERS BRUTAL ON-AIR ASSESSMENT OF CEO CHRIS LICHT'S TENURE: 'SERIES OF SEVERE MISSTEPS'
Former CNN political commentator Mary Katharine Ham was hired at the network in 2016, when the brand began to see increased ratings from its coverage of Trump's explosive campaign and then his presidency. As Trump rose to the White House, CNN under Zucker took on a resistance-style tone in its coverage. Licht expressed desire to tamp that down when he took over in 2022, but his language about CNN's reputation as an advocacy network rankled on-air talent and staffers from the start.
"I think it's unfortunate because it sounds like he had the right diagnosis for what was causing a lot of the problems with the brand," Ham told Fox News Digital. "But it's pretty clear from all I've seen, he had no plan for enacting the change that was necessary."
CNN STAFFERS CONTINUE UNDERMINING BOSS BY TOUTING CHRISTIANE AMANPOUR'S BLISTERING TAKEDOWN OF TRUMP TOWN HALL
While a "both sides vision" is ideally a chance to appeal to both Democratic and Republican viewers, Stelter has painted it as standing up to the "truth" versus allowing lies. He added "Licht's lieutenants feel like the past year's worth of programming decisions have confused the audience," but they weren't the only ones perplexed.
"The anchors have been confused, too," Stelter wrote. "Will they be rewarded internally for interrupting when a guest says something bogus, or will they be chastised by the boss? Will they be respected for defending democracy and plain old human decency or will they be maligned as being 'opinionated?'"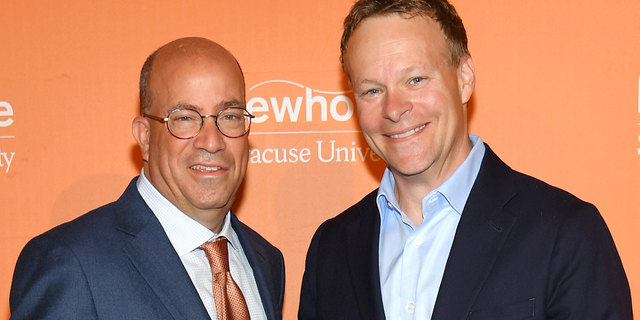 Chris Licht, right, lasted barely a year as CNN CEO after replacing Jeff Zucker. (Mike Coppola/Getty Images)
Other media onlookers have taken similar stances and view the CNN debacle as Zucker-era truth-telling prevailing against the need for a less biased CNN.
The New York Times' Jim Rutenberg, a former media columnist, called the notion of a nonpartisan news operation a "dead idea from a bygone time."
CLICK HERE TO GET THE FOX NEWS APP
"Zucker's fans at the network — and they are still legion — will say that if his incarnation of CNN at times appeared to run hot and angry, it had done so in defense of the truth," Rutenberg wrote.