DES MOINES, IOWA – EXCLUSIVE – Former Vice President Mike Pence takes aim at President Biden and the Democrats, takes a subtle jab at his one-time running mate – former President Donald Trump – and evokes the late President Ronald Reagan, as he announced his 2024 Republican presidential campaign in a launch video.
"President Joe Biden and the radical left have weakened America at home and abroad," Pence argues in his video, which was shared first with Fox News on Wednesday morning.
The video's release came hours before the former vice president is expected to formally declare his candidacy in Iowa, the state whose caucuses lead off the GOP presidential nominating calendar.
"The American dream is being crushed under runaway inflation. Wages are dropping. Recession is looming. Our southern border is under siege and the enemies of freedom are on the march around the world. And worse still, timeless American values are under assault as never before," Pence charged.
WHY PENCE, HALEY, AND DESANTIS ARE TAKING AIM AT TRUMP
Pence is joining a growing field of Republican White House contenders that's currently dominated by Trump – his one-time boss. Pence is the first running mate in eight decades to run against his former boss, since Vice President John Nance Garner unsuccessfully challenged President Franklin Roosevelt in the 1940 election.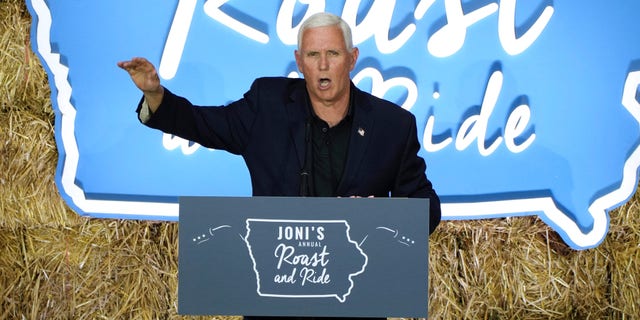 Former Vice President Mike Pence speaks during U.S. Sen. Joni Ernst's Roast and Ride, Saturday, June 3, 2023, in Des Moines, Iowa. (AP Photo/Charlie Neibergall)
Pence enters the 2024 race polling the mid-single digits, far behind Trump and also significantly trailing Florida Gov. Ron DeSantis, who trails Trump by double-digits but is firmly in second place, ahead of the former vice president and the rest of the field of actual and likely candidates.
DOES THE EXPANDING GOP PRESIDENTIAL FIELD HELP OR HURT TRUMP?
However, everything changed on Jan. 6, 2021, as right-wing extremists — including some chanting "hang Mike Pence" — stormed the U.S. Capitol aiming to upend congressional certification of President Biden's Electoral College victory that was overseen by Pence.
In the more than two years since the end of the Trump administration, the former president and vice president have drifted farther apart. Pence has rebuked his former boss, calling him out by name while discussing Trump's claim that Pence could have overturned the results of the 2020 presidential election.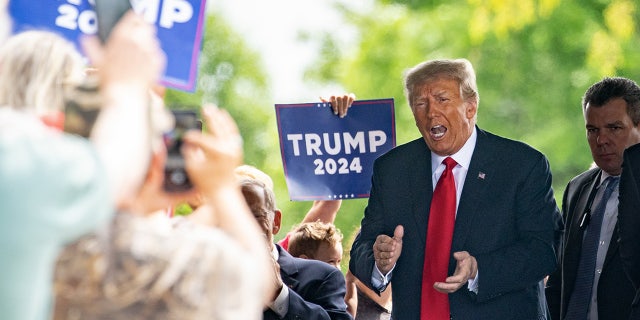 Former US President Donald Trump arrives to meet with local Republican leaders at the Machine Shed restaurant in Urbandale, Iowa, on Thursday, June 1, 2023. Photographer: Al Drago/Bloomberg via Getty Images
(Al Drago/Bloomberg via Getty Images)
"We can turn this country around. But different times call for different leadership. Today, our party and our country need a leader that will appeal, as Lincoln said, to the better angels of our nature," Pence said in his video, in an apparent swipe at Trump.
Looking ahead, Pence emphasized that "we can bring this country back. We can defend our nation and secure our border. We can revive our economy and put our nation back on a path to a balanced budget, defend our liberties and give America a new beginning for life."
"President Reagan described us as a shining city on a hill. And above all, he called on Americans to renew optimism and believe in themselves again – to believe in each other," the former vice president said. "Every time our nation has produced leadership that has called on our country to do hard things, the American people have always risen to the challenge – and we will again. We just need government as good as our people to do it."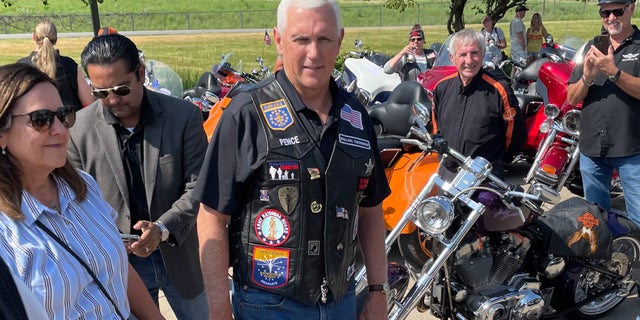 Former Vice President Mike Pence, sporting a motorcycle vest, prepares to ride in Sen. Joni Ernst's annual Roast and Ride, on June 3, 2023, in Des Moines, Iowa (Fox News )
And Pence, who's long been a champion for social conservatives and who's expected to heavily court Iowa's influential evangelical voters, stressed "I believe in the American people and I have faith – God is not done with America yet. And together we can bring this country back and the best days for the greatest nation on earth are yet to come. God bless you and God bless the United States of America."
CLICK HERE TO GET THE FOX NEWS APP