Former British Prime Minister Boris Johnson announced that he was stepping down as a Member of Parliament in a lengthy, defensive statement Friday.
The embattled politician left the premiership in September 2022, after he was accused of hosting parties at the prime minister's official residence — 10 Downing Street — that violated COVID-19 social distancing during the height of the pandemic.
He represented Uxbridge and South Ruislip in Greater London in Parliament until Friday.
In his resignation letter, Johnson pointed to a report from the Commons Select Committee of Privileges over whether Johnson had deceived the House of Commons by saying that he followed all COVID-19 strick lockdown rules amid the "Partygate" scandal.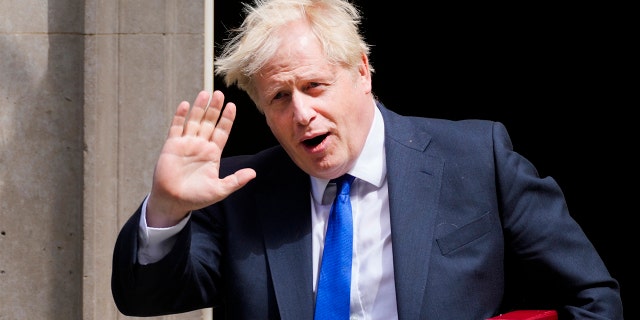 British Prime Minister Boris Johnson gestures as he leaves 10 Downing Street in London, Wednesday, July 6, 2022.  (AP Photo/Frank Augstein, File)
"I am being forced out by a tiny handful of people, with no evidence to back up their assertions, and without approval even of Conservative party members let alone the wider electorate," the statement added.
In the letter, Johnson defended his innocence by arguing that there was no incriminating evidence and that the committee members had made "deeply prejudicial" statements about his supposed guilt.
"They should have recused themselves," Johnson said. "In retrospect, it was naive and trusting of me to think that these proceedings could be remotely useful or fair."
"When I left office last year the government was only a handful of points behind in the polls," Johnson's statement read. "That gap has now massively widened."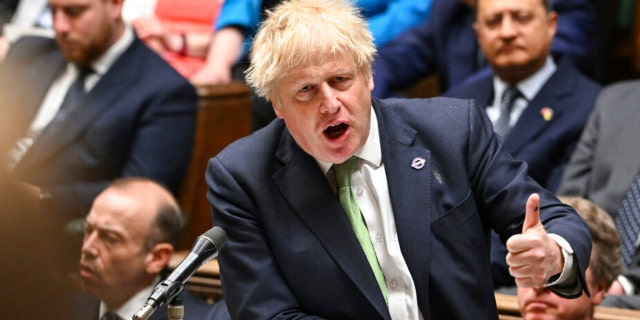 Britain's Prime Minister Boris Johnson speaks during Prime Minister's Questions in the House of Commons, London, Wednesday, May 18, 2022. (Jessica Taylor/UK Parliament via AP, File)
Johnson's resignation will trigger a by-election for his seat, which is in a swing district.