Simone Biles is one of the biggest stars in gymnastics, and she will return to the competitive stage in August after a nearly two-year absence, officials announced Wednesday.
Organizers of the U.S. Classic revealed Biles, a four-time gold medal winner, will compete in the upcoming event. The U.S. Classic is scheduled to begin Aug. 5 in suburban Chicago.
Biles has been away from sanctioned events since the COVID-delayed Tokyo Olympics. During those Olympics, which took place in 2021, Biles brought awareness to the mental health battles some athletes face.
CLICK HERE FOR MORE SPORTS COVERAGE ON FOXNEWS.COM
Her decision shifted the focus from the Games to the wellness of the athletes.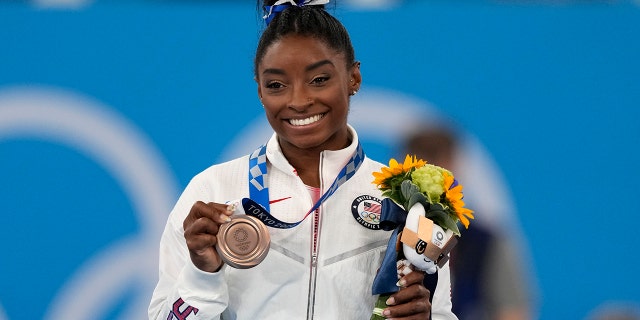 U.S. gymnast Simone Biles poses with her bronze medal for the artistic gymnastics women's balance beam apparatus at the 2020 Summer Olympics Aug. 3, 2021, in Tokyo.  (AP Photo/Jae C. Hong)
She served as a cheerleader as her American teammates won the team silver then sat out the all-around, vault and floor exercise finals she had qualified for while dealing with what is known as "the twisties," a gymnastics term for when an athlete loses spatial awareness when airborne.
Biles did return for the balance beam final, where she won a bronze medal that tied Shannon Miller's record for most Olympic medals by an American female gymnast.
While it remains unclear if Biles will seek to make a third Olympic team, her return to the sport she dominated for nearly a decade suggests she is taking a step in that direction.
Making three Olympic teams as a female American gymnast is no small feat. Dominique Dawes (1992, 1996 and 2000) is the only U.S. woman in the last 50 years to be selected for three Olympic teams.
The Associated Press contributed to this report.