The highest constitutional court in France issued a decision Wednesday supporting the use of AI-powered surveillance cameras for the 2024 Paris Olympics despite privacy concerns.
The Constitutional Council ruled that certain contested provisions of a law relating to the Olympic and Paralympic Games of 2024 do not infringe upon the right to respect for private life, because it ensures that development and implementation of algorithmic processing stays under people's control.
After hours of heated debate last month, the French Parliament cleared the final legislative hurdle to pass a controversial bill to launch the experimental use of large-scale, real-time camera systems supported by an algorithm to identify suspicious behavior, including unsupervised luggage and sounding alarms warning of possible crowd stampedes, Politico reported.
The system would be in effect until March 2025 under the law, but some left leaning French MPs had argued the use of AI-powered surveillance cameras in Paris would be disregarding the freedom to come and go, the right to demonstrate, freedom of opinion, and the right to respect for private life.
"The algorithmic processing used must make it possible to verify the objectivity of the criteria adopted and the nature of the data processed as well as include human control measures and a risk management system to prevent and correct the occurrence of any biases or misuse," the Constitutional Council wrote in French Wednesday.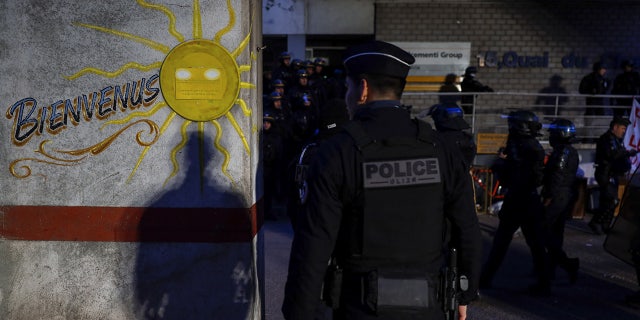 As a result of an April 26, 2023, court order, French law enforcement expelled hundreds of migrants off the streets to make room for construction projects in Ile-Saint-Denis ahead of the Paris 2024 Summer Olympics. (Ameer Alhalbi/Anadolu Agency via Getty Images)
The court also approves of the law because it says algorithmic processing cannot implement any facial recognition technique, use any biometric identification system, and cannot have recourse to biometric data "relating to physical, physiological or behavioral characteristics of a natural person which allow or confirm their unique identification."
PROTESTS IN FRANCE AGAINST MACRON'S PENSION REFORMS ESCALATE AS POLICE USE 4,000 NONLETHAL DISPERSION GRENADES
CLICK HERE TO GET THE FOX NEWS APP
"People who constantly feel watched and under surveillance cannot freely and courageously stand up for their rights and for a just society. Technological developments need to be aligned with our rights and values," the letter concludes. The greenlighted AI-powered surveillance also comes as France is reeling from months of large-scale protests against pension reforms and President Emmanuel Macron's decision to raise the retirement age from 62 to 64.