July's full moon, also known as the full buck moon, is just around the corner.
The next full moon will hang in the sky on the morning of July 3, according to NASA.
It will appear opposite the sun in Earth-based longitude at 7:39 a.m. ET.
As twilight ends that evening, the rising full moon will be three degrees above the southeastern horizon and two of the five visible planets will be in the sky, including Venus and Mars.
Many publications consider this the first of four consecutive supermoons this year.
JAMES WEBB SPACE TELESCOPE DETECTS NEW CARBON COMPOUND IN SPACE FOR THE FIRST TIME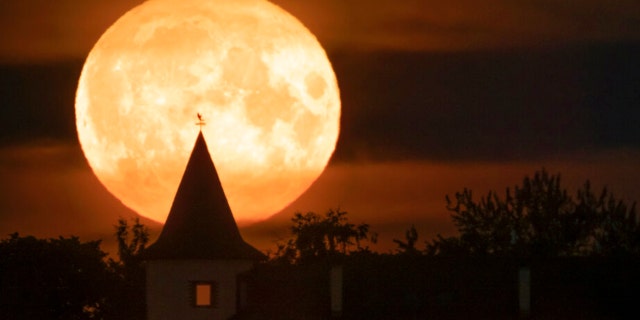 The full moon rises over a private house in the village of Putilovo, 70 kilometeres (43 miles) east of St. Petersburg, Russia, late Wednesday, July 13, 2022. (AP Photo/Dmitri Lovetsky)
A supermoon is either a new or full moon that occurs when the moon is within 90% of perigee, its closest approach to Earth. Full supermoons are the biggest and brightest full moons for the year, but there are different thresholds for deciding which moons qualify as a supermoon.
The Algonquin tribes of the Northeast also called this the thunder moon because of early summer's frequent thunderstorms.
In Europe, this was called the hay moon, after the haymaking in early summer, and sometimes the mead moon or rose moon.
International Moon Day is also coming up on July 20.