The Gary Sinise Foundation is expanding its "Snowball Express" program to include the families of fallen first responders on their recovery journey.
The program has supported thousands of families of fallen military members year-round with empowerment workshops and regional community events.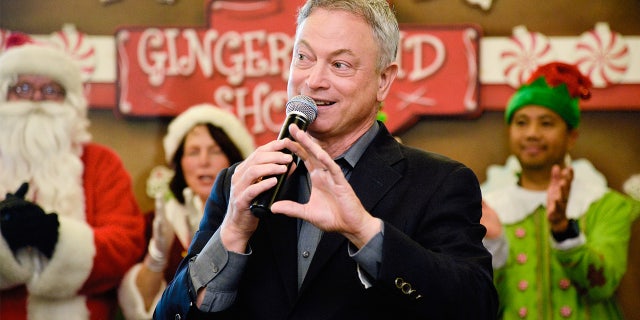 Actor/humanitarian Gary Sinise speaks at the Gary Sinise Foundation's Snowball Express Send-Off Celebration at LAX Airport on December 8, 2018, in Los Angeles, California.  (Chelsea Guglielmino/Getty Images)
The expansion will include access to year-round community events, culminating with Disney in December at Walt Disney World Resorts (WDW) in Orlando, Florida.
The Snowball Express for families of fallen military heroes will take place at Walt Disney World on December 2 through 6. The Snowball Express for families of fallen first responders will take place between December 9 and 13.
MILITARY VETERANS CUT OFF FROM US BASES IN ONE COUNTRY, STRIPPING THEM OF LIFELINE TO HOME
The origins of Snowball Express date back to the mid-2000s when families of fallen military heroes visited Disneyland to honor an activity a fallen service member enjoyed doing with his family.
Sinise eventually got involved with the organization and began performing with his band, Lt. Dan Band, at events for the families. The program officially became part of the Gary Sinise Foundation in 2017 and the first annual Snowball Express Disney event was held at Walt Disney World Resort the following year.
"It can be dangerous work on both fronts. On the first responder side, they go into battle every day and you never know what's going to happen," Sinise said. "When they don't come home to their families, want to help them through. They've given a lot and we obviously need our defenders out there."