FIRST ON FOX – Over two dozen Republican attorneys general warned insurance companies Tuesday that pushing customers "to rapidly reduce their emissions" and other efforts to "advance an activist climate agenda" could be a violation of antitrust law.
Attorneys general Sean Reyes of Utah and Jeff Landry of Louisiana, along with 23 other Republican AGs, sent that warning in a letter to more than a dozen insurance companies on Tuesday that called out their effort to push environmental, social, governance (ESG) priorities.
Companies who got the letter have agreements to push these priorities with the Net-Zero Insurance Alliance (NZIA) and Net-Zero Asset Owner Alliance (NZAOA), which the AGs say could violate both state and federal antitrust laws.
"The ESG movement has spread to every corner of the world's financial and energy sectors, and unsuspecting Americans are paying the price," Reyes said in a statement to Fox News Digital.
"Insurers have an obligation to protect the interests of their clients, not advance a radical environmental agenda. Utah is taking a stand against these efforts to stop the increased prices and other harms these horizontal agreements will cause," he said.
GOP BILL TAKES ON ESG BANKING RULES TO LIMIT 'WOKE' INVESTMENT DECISIONS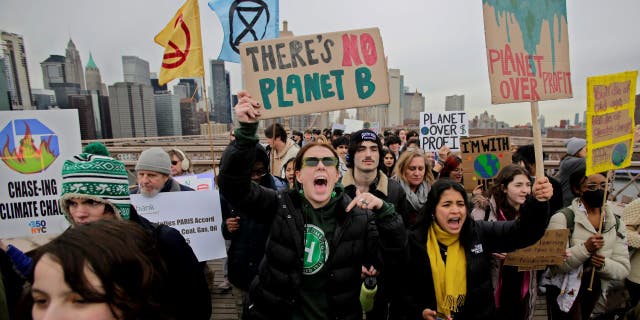 People walk through the Brooklyn Bridge during a strike for climate on March 03, 2023 in New York City.
Under antitrust laws, agreements not to do business with disfavored sectors – such as those that do not meet certain carbon emissions standards – could be an illegal boycott. Likewise, collective agreements to fix prices or restrict production are also illegal. NZIA members wield enormous market power, and their actions threaten to dramatically raise prices for consumers, according to the AGs.
NZIA and NZAOA are both "UN-convened groups working to implement the Paris Agreement's climate change goals through the financial system, including the insurance industry," the AGs wrote.
"NZIA brings together 'leading insurers and reinsurers representing a significant percentage of the world premium volume globally,'" the letter said. "NZAOA is a coalition of 85 insurance companies and pension funds with $11 trillion under management whose intent is to 'utilize state-of-the-art tools and align with various initiatives led by asset owners who have demonstrated leadership on the topic of decarbonization,' including through '[j]oint engagement, and monitoring of engagements, based on the most authoritative, credible scientific input, to ensure consistency of messaging and necessary ambition.'"
"By joining one or both of these organizations, you have committed to using your global influence to 'transition [your] insurance and reinsurance underwriting portfolios to net-zero greenhouse gas (GHG) emissions by 2050,'" it added.
21 STATES THREATEN BANKS WITH LEGAL ACTION OVER WOKE POLICIES: 'STAY IN YOUR LANE'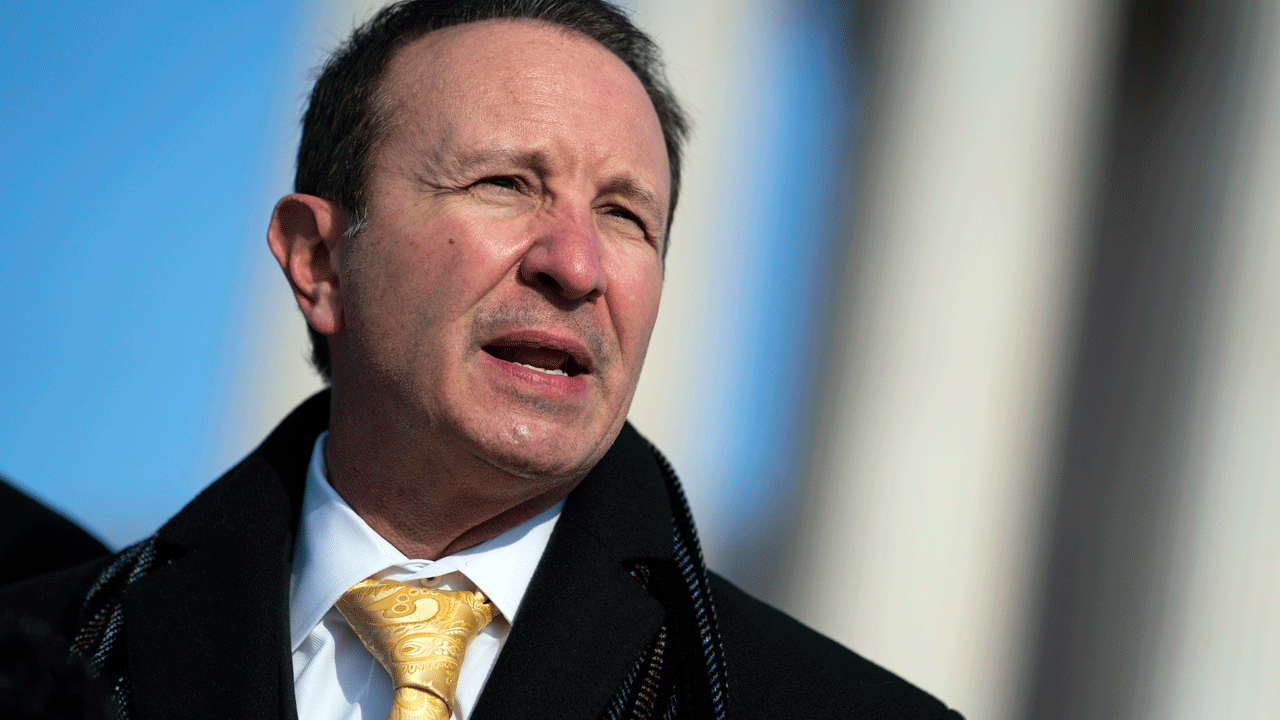 Louisiana Attorney General Jeff Landry led the letter to the insurance companies. (AP Photo/Evan Vucci, File)
"Indeed, the 'central purpose' of the NZIA is to reduce emissions in the real economy. This means getting your clients to reduce their emissions, 'especially in the most GHG-intensive sectors such as energy, transportation, industry and agriculture.'"
The AGs explained that the alliances have "climate targets" that their members are required to meet – including pressuring clients who work in an environmentally "dirty" industry to progressively decarbonize their business practices, and progressively increasing the proportion of their business that insures "climate solutions," such as "mitigation or adaption activities."
The NZAOA protocol includes requiring members to set targets to reduce emissions either of sectors of the economy in which they invest or subsections of their investment portfolio, at a reduction between 22% and 32% by 2025, and 40% to 60% by 2030.
The AGs said they have "serious concerns about whether these numerous requirements square with federal law, as well as the laws of our states, as they apply to private actors."
"Under our nation's antitrust laws and their state equivalents, it is well-established that certain arrangements among business competitors are strictly forbidden because they are unfair or unreasonably harmful to competition," they wrote.
REPUBLICAN STATES ARE PLANNING AN ALL-OUT ASSAULT ON WOKE BANKS: 'WE WON'T DO BUSINESS WITH YOU'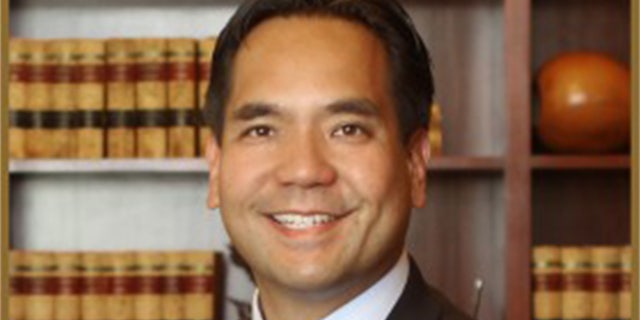 Utah Attorney General Sean Reyes. (UTAH OFFICE OF THE ATTORNEY GENERAL)
"For example, 'an agreement among competitors not to do business with targeted individuals or businesses may be an illegal boycott, especially if the group of competitors working together has market power,'" they said, adding that collective agreements to fix prices or "restrict production, sales, or output" are illegal.
"To the extent that you directly insure activities in the United States, or exercise control over an entity that does so, refusal to insure based only on the insured's carbon emissions or compliance with the Paris Agreement's environmental aspirations could violate state laws that expressly limit reasons for refusal to provide insurance," they added.
CLICK HERE TO GET THE FOX NEWS APP
The letter said two insurance companies have already ended their partnership with NZAOA and NZIA citing antitrust concerns, and asked that the recipients of the letter turn over all communication with the alliance groups and details about how their companies have complied with the "climate targets."
The letter is signed by attorneys general from Utah, Louisiana, Alabama, Alaska, Arkansas, Georgia, Idaho, Indiana, Iowa, Kansas, Kentucky, Mississippi, Missouri, Montana, New Hampshire, Ohio, Oklahoma, South Carolina, South Dakota, Texas, Virginia, West Virginia and Wyoming.