One year ago on July 3, Arizona resident and concealed-carry holder Raul Mendez and his family were enjoying a Fourth of July party before shots rang out and left their lives changed forever.
Mendez was shot in the head as suspect Jason Hunt opened fire on the partygoers, leaving two men dead and four others, including Mendez, seriously injured. The rampage ended when Mendez was able to gather the strength to pick himself off the floor, unholster his concealed-carry weapon and shoot Hunt four times in the chest.
"It's still something that's unreal," Mendez told Fox News Digital in a phone interview this week. "It's kind of like, now we know what's out there. And you always see it on the news that this happened, that happened … but you never think it's going to happen to you."
"It's always like, 'Oh, this happened, that's horrible,'" he added. "But then life goes on because, you know, it's never happened to you and never really think about that it's going happen to you."
A neighbor of the man hosting the party soon joined and mingled with the group despite not being close friends with anyone there, according to Mendez. That neighbor was later identified by police as 46-year-old Jason Hunt, the sole suspect in the case who opened fire unprovoked on the families and partiers, police said last year, according to the Arizona Republic.
PHILADELPHIA CONCEALED GUN HOLDER ACTED IN SELF-DEFENSE, FATALLY SHOOTING ATTACKER AT CEMETERY: DA
Hunt and other partiers were grabbing food from the kitchen when the suspect pulled out a gun and began firing on the crowd, sending everyone fleeing, according to Mendez.
"By the glory of God or the adrenaline and just everything, just the will to live and the will to protect my family, I was able to hear those pleas, those yells for help," he said after the shooting. "I heard my name. And I was able to get up."
Hunt was thwarted and police later said Mendez was "acting in self-defense and defense of other innocent parties." A motive in the case has not been publicly released.
Mendez lost his left eye, fractured his jaw, suffered a torn eardrum and lost his sense of smell because of the shooting, but he said he has been on the mend since.
To become an NRA instructor, Americans must complete a "basic course in the discipline they wish to be certified to teach," such as basic pistol or rifle shooting, as well as demonstrating a "solid background in firearm safety and shooting skills" and receiving the endorsement of the NRA training counselor who led the classes, and other requirements, according to the NRA's website.
MORE AMERICANS LEGALLY CARRYING GUNS DESPITE SLOWEST INCREASE IN CCW PERMITS ON RECORD, EXPERT SAYS
Mendez said he's already had people reach out to him online to ask when he will lead courses, explaining they want to learn gun safety and shooting skills from a man who lived through the unimaginable.
"You don't really hear about, 'Hey, there was a shooting, but a guy with a CCW or a father or a husband was able to protect his family or took out his own firearm,'" he said. "'And this is why CCWs or the Second Amendment does work.' So, you don't really hear about those stories at all. I believe it's not in the agenda."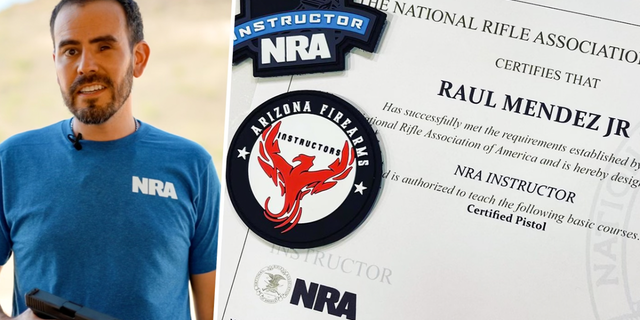 Raul Mendez, left, and a photo of his NRA instructor certificate are shown. (NRA)
Wayne LaPierre, CEO and executive vice president of the NRA, lauded Mendez for his "bravery and his tenacity," saying he is "privileged to call him my friend, and the NRA is truly honored to have him in our ranks as a certified instructor."
"Raul Mendez is the very definition of courage, resilience and selflessness," LaPierre told Fox News Digital. "His journey from surviving a horrific incident to recovery, and now becoming an NRA-certified instructor so he can help empower more good people, truly shows the world the golden heart of this proud NRA member."
"It'll be a day where … we continue to celebrate our freedom," he said, noting that the family will also celebrate his wife's birthday over the holiday weekend. "Celebrate life of those that made it [through] that horrible incident. Celebrate my life, my family's life, that we were able to push through and survive."