An anonymous Reddit user posted a photo of an alleged sign that suggests hospital workers at an undisclosed location are being charged for microwave usage.
Reddit user Berezis, who's reportedly a native Floridian, uploaded the photo to the subreddit titled "Mildly Infuriating" – a popular forum that has more than 5.7 million members and allows people to share images of annoying instances.
"Sign posted at my friend's job (hospital behavioral health unit)," Berezis wrote on Wednesday, May 17.
Sign posted at my friend's job (hospital behavioral health unit)
by u/Berezis in mildlyinfuriating
Reddit users had a lot of questions about the legitimacy of the sign, including whether the typed-out sign applies to workers or patients and whether it could be a joke.
Berezis provided additional details in the comment section of the post, explaining that the sign applies to hospital employees, and it was reportedly taped up in a staff break room, according to a text message Berezis said was sent by a friend.
The acronym BHU SW that was listed on the sign reportedly means behavioral health unit social workers, Berezis explained.
The anonymous Reddit user declined to share which hospital the sign is posted in.
WOMAN EXCLUDED FROM TEAM LUNCHES WINS WORKPLACE DISCRIMINATION CASE WITH $32G PAYOUT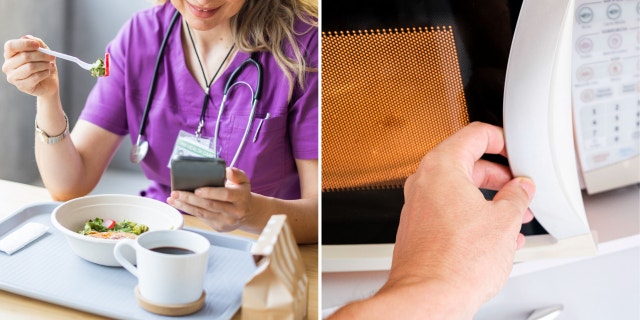 An anonymous Reddit user shared a photo of an alleged sign posted in a hospital behavioral health unit that claims employees need to $2 for every microwave use or $30 for unlimited monthly microwave use, according to her friend who reportedly saw the sign in-person. (iStock)
Fox News Digital reached out to Berezis for comment on Monday, May 22.
The Reddit post has received over 36,700 upvotes and generated over 1,600 comments.
ARE COMPANIES EMBRACING THE OLD-SCHOOL LUNCH HOUR AGAIN?
Some commenters saw the humor in the pay-per-microwave sign.
"Buy the unlimited pass and charge everyone else $1 for you to heat their food up," the post's top commenter wrote, which earned over 9,000 upvotes.
"I'd just buy the whole microwave for $2.00 as advertised," another Reddit user wrote, which earned 2,400 upvotes.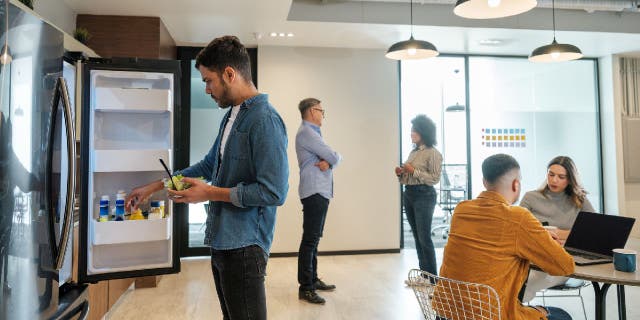 Employers often provide appliances in staff break rooms, such as refrigerators and microwaves, to assist with onsite lunch prep. (iStock)
"Tonight I will peacefully drift into slumber with the image of a manager's face finding 2 dollars on the counter where the microwave used to be comfortably nestled in my head," another user joked.
CAREER CHALLENGE: HOW TO USE YOUR LUNCH BREAK TO BOOST PRODUCTIVITY FOR THE REST OF THE DAY
"Yeah it honestly seems like either a joke or someone abused the microwave enough to have this happen," another user wrote.
"I used to bring a George Foreman to work to make grilled sandwiches. Lasted a month before it was so caked with s— that I took it home, then the guy who I know [messed] it up complained for months afterwords [sic] about me taking care of my own belongings," another user shared.
FOLLOW US ON FACEBOOK FOR MORE FOX LIFESTYLE NEWS
"My workplace did this in the break room, so I bought a microwave for $10 at a yard sale, put it on top of theirs, and put a 'free unlimited use' sign on the front," one commenter wrote.
CLICK HERE TO GET THE FOX NEWS APP
"One of my previous employers tried to do this and they set up a code on the microwave that you had to type in to be able to use it," another commenter wrote. "Everyone just shared the code no one paid the money."