An Illinois high school has reversed course after it appeared to restrict access to certain Advanced Placement (AP) Calculus courses to Black and Latinx students only.
Highlighted in a Monday report by Newsweek, the controversial matter stems from screenshots an individual shared to Twitter that revealed multiple Evanston Township High School's (ETHS) AP Calculus AB course descriptions that featured identical language barring certain races from taking the course.
A screenshot of the course descriptions for multiple versions of the AP Calculus AB class, according to the report, "were identical save for the last line and the registration code at the top of the course description."
"This code for the course is restricted to students who identify as Black, all genders," one description stated. The other noted the course was only for students who identify as "Latinx, all genders."
BALTIMORE CITY COUNCIL MAY PROHIBIT 'WILLFUL' AND 'INCORRECT' PRONOUN USE AT SCHOOLS, HOSPITALS: REPORT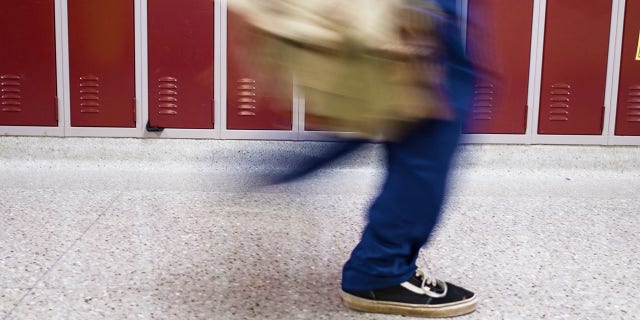 A high school student is shown between classes walking through the halls of an American classroom. (MEGAN JELINGER/AFP via Getty Images)
That language changed on Monday, however, with the school updating the course descriptions for certain AP Calculus AB classes to include the following wording: "While open to all students, this optional section of the course is intended to support students who identify as Black." Another signaled the course is meant for all students but "… intended to support students who identify as Latin."
A spokesperson for ETHS District 202 has denied any wrongdoing, telling Fox News Digital in a statement that the school is "a nationally renowned leader in increasing access to Advanced Placement (AP) classes for all students, including students of color."
"We do not have (and never have had) a process that restricts students from taking AP classes based on race. No ETHS student is restricted from taking an AP class based on identity or is required to take any class based on identity," the spokesperson claimed. "ETHS course offerings provide additional opportunities for students to take designated AP classes. This aligns with our goal to increase access to AP-level coursework at ETHS and is supported by the research on how to effectively increase access and success in AP classes for all students. As a result, access to AP classes for all students, including Black and Latinx students, has dramatically increased over the past decade."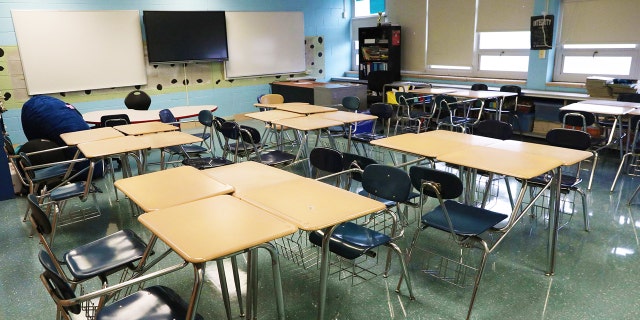 A school classroom sits empty in this file photo. (Antonio Perez/Chicago Tribune/Tribune News Service via Getty Images)
"We are proud of our work," the spokesperson concluded. "The language in the ETHS Course Request Guide has been updated to accurately reflect our goal and practice."
PROTESTERS LOUDLY DISRUPT GOV. ABBOTT SCHOOL CHOICE EVENT AT CHURCH: 'YOU'RE A TRAITOR'
Prior to a change in the language used in the course descriptions, the school faced backlash from several conservatives online.
Sharing initial screenshots of the course language online, Turning Point USA founder Charlie Kirk weighed in and accused the school of having "segregated" classes.
"At Evanston high school outside of Chicago, students who 'identify' as blacks get their own segregated AP calculus class, students who 'identify' as hispanics get their own segregated AP calculus class, and whites get their own AP class," Kirk wrote in a tweet. "Progress!"
CLICK HERE TO GET THE FOX NEWS APP
A spokesperson from the College Board, a non-profit organization based in New York City that has run the AP program since 1955, told Newsweek that "AP course recruitment and enrollment policies are a local school decision."
U.S. census data from the 2021 American Community Survey showed that 63% of Evanston's citizens are white, more than 16% are Black, nine percent are Asian, and nearly 12% are Hispanic.