EXCLUSIVE: Republican Rep. Darrell Issa said President Biden "lied" about his involvement in his son Hunter Biden's business dealings, and slammed the White House Counsel's office for providing a "shield" to protect against answers to questions on the matter.
Issa, R-Calif., in an interview with Fox News Digital, pointed to the White House's apparent shift in messaging after the House Ways and Means Committee released testimony last week from two IRS whistleblowers who alleged the Justice Department was influenced by politics in its investigation into Hunter Biden; slow-walked the probe; blocked questioning about Joe Biden and his involvement; and more.
Last week, White House press secretary Karine Jean-Pierre began fielding questions on whether the president was involved in his son's business dealings–questions she then directed to the White House Counsel's office.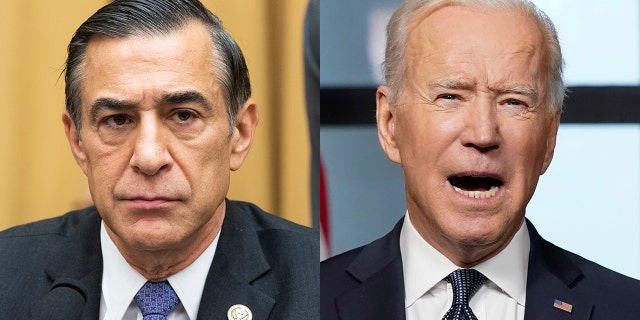 Rep. Darrell Issa, R-Calif., left; President Joe Biden, right.  (Getty Images/AP)
BIDEN DENIES LYING ABOUT HUNTER BIDEN BUSINESS DEAL CONVERSATIONS
"What we can take from the change is that it is no longer considered to be true that he did not have communications with his son," Issa said, pointing to recent reporting of emails, messages, and alleged conversations that have involved the president himself in discussions related to Hunter Biden's business ventures.
KARINE JEAN-PIERRE SPARS WITH REPORTERS, REFUSES TO ANSWER HUNTER BIDEN QUESTIONS IN TESTY EXCHANGES
Meanwhile, Issa also went on to tell Fox News Digital that the White House Counsel's office is "providing a shield because the White House Counsel is not answering the questions."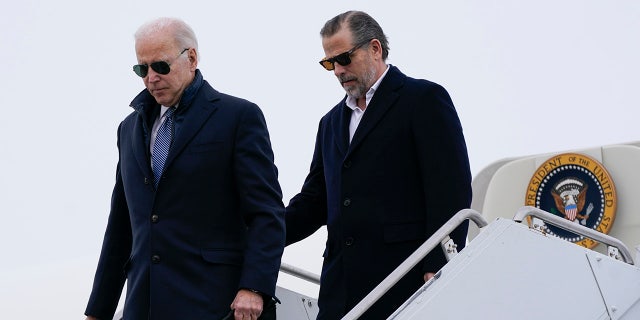 President Biden has snapped at reporters who have asked him about alleged corruption involving him and his son, Hunter Biden.  (AP Photo/Patrick Semansky)
A spokesperson for the White House Counsel's Office told Fox News Digital: "The President was never in business with his son."
The president, when asked directly on Monday whether he lied about not having communication with his son regarding his business dealings, said: "No."
Issa's comments come after an IRS whistleblower shared a WhatsApp message from 2017 in which Hunter Biden allegedly told a Chinese business associate that he and his father would ensure "you will regret not following my direction."