A Missouri judge on Thursday moved to hold a George Soros-bankrolled prosecutor in "indirect criminal contempt" after she and her subordinates failed to show up for multiple court dates, lambasting her office as a "rudderless ship of chaos."
Judge Michael Noble announced he will appoint a special prosecutor to oversee the contempt case against St. Louis Circuit Attorney Kimberly Gardner, the city's top prosecutor, and Assistant Circuit Attorney Chris Desilets after no one from Gardner's office appeared at a trial and subsequent hearing in an assault case involving the wounding of an 11-year-old girl.
"It appears that Ms. Gardner has complete indifference and a conscious disregard for the judicial process," Noble said during a hearing to address the no-shows. "There is sufficient evidence of disdain and disrespect for the judicial process to determine that both Ms. Gardner and Mr. Desilets' conduct support a finding of indirect criminal contempt. Furthermore, any attorney's violation of a court's order constitutes an intentional disobedience and shows a clear intent to disregard the power and authority of the judicial system process."
The contempt case comes as Gardner, already mired in allegations of negligence and misconduct, is facing a legal effort by Missouri's attorney general to fire her for allegedly neglecting her duties. Gardner is one of the first progressive prosecutors whom Soros, a liberal billionaire and Democrat mega-donor, bankrolled in 2016 and again for her re-election in 2020. She announced last month that she'll seek a third term.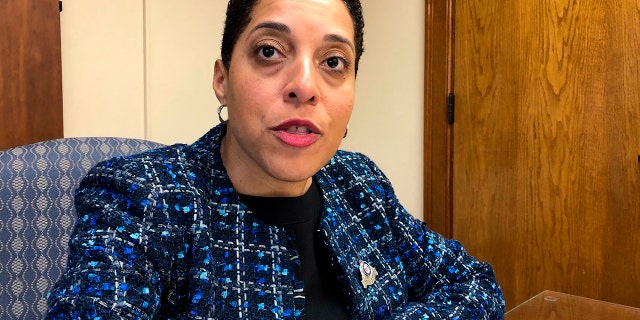 In a Jan. 13, 2020, file photo, St. Louis Circuit Attorney Kim Gardner speaks in St. Louis. (AP Photo/Jim Salter)
SOROS-BACKED PROSECUTOR'S OFFICE UNDER FIRE FOR MURDER CASE NO-SHOW AS TRIAL SET FOR POTENTIAL REMOVAL
Noble began Thursday's hearing by noting that Gardner wasn't there and sent Assistant Circuit Attorney Rob Huq as her designee. However, Huq struggled to answer questions about the assault case when questioned by Noble.
"I asked for a designee, but you sent someone who didn't have the ability to stand in Ms. Gardner's shoes," said Noble.
The assault case over which Gardner may be held in contempt concerns suspect Steven Vincent Jr., who faces nine charges, including first-degree assault, after police say he shot a gun in a St. Louis neighborhood and hit an apartment building. Bullets went through the wall and one struck an 11-year-old girl who was sitting in her bedroom.
Vincent's trial was supposed to begin April 10, but Desilets didn't appear. Another prosecutor told Noble at the time that Desilets had to miss court for a doctor's appointment. The judge then asked Desilets to appear in court for a hearing on Monday, April 24, with proof of the doctor's appointment and to reschedule the start of trial. However, Desilets didn't show up then either, prompting Noble to summon Gardner or a designee, as well as Desilets, to appear at Thursday's hearing.
Desilets explained that he hadn't been there on Monday because he had had to handle business in front of another judge that morning, adding that once he had finished and gone to Noble's courtroom, no one was there. When asked why he hadn't informed the court that he would be late, Desilets said that all attorneys in the St. Louis circuit are routinely late bouncing among multiple courts, adding that "every lawyer is late to a division every day, unless he's unemployed."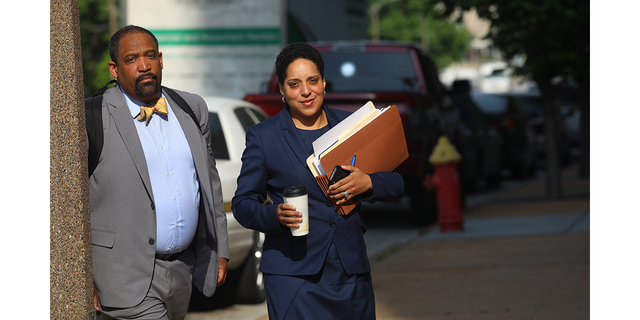 St. Louis Circuit Attorney Kim Gardner, right, and Ronald Sullivan, a Harvard law professor, arrive at the Civil Courts building on May 14, 2018.  (Christian Gooden/St. Louis Post-Dispatch/Tribune News Service via Getty Images)
ANOTHER ATTORNEY LEAVES SOROS-BACKED PROSECUTOR'S SCANDAL-RIDDEN OFFICE, CITING 'TOXIC WORK ENVIRONMENT'
The judge was not in the mood for excuses, however, and placed most of the blame on Gardner. After describing Gardner as "the captain of the ship" early in the hearing, he closed the proceedings by using another sailing analogy.
"The circuit attorney's office appears to be a rudderless ship of chaos," said Noble. "Kim Gardner is the circuit attorney, and it is her duty to manage the caseload of each staff member. Chris Desilets has approximately 104 felony cases. Any prudent practitioner would expect such a caseload to create countless irreconcilable conflicts. It does not appear she has made any reasonable efforts to prevent the resulting chaos."
Persistent staffing issues have plagued Gardner's office, which has long been understaffed and now reportedly has just three prosecutors to handle hundreds of felony cases.
Gardner, who took office in 2017, had a more than 100% turnover rate for attorneys in her first two years in office and by earlier this year had about half as many attorneys on staff as when she assumed the job. The effects of the high turnover in Gardner's office have been "a state of dysfunction, low morale and dearth of legal wisdom necessary to safeguard the public from potentially dangerous criminals," the St. Louis Post-Dispatch previously reported.
Earlier this month, one of the few remaining prosecutors who handles the city's most violent felonies abruptly resigned, citing a "toxic work environment" where basic prosecutorial tasks weren't getting accomplished.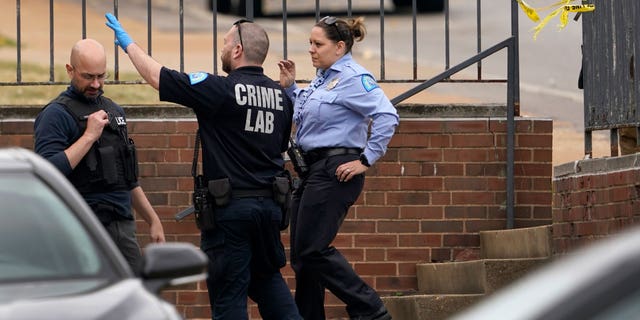 Law enforcement investigate the scene of a shooting at Central Visual and Performing Arts High School Monday, Oct. 24, 2022, in St. Louis. (AP Photo/Jeff Roberson)
EMBATTLED SOROS-BACKED PROSECUTOR, FACING MISSOURI AG EFFORT TO OUST HER, NOW GETS 2024 CHALLENGER
Noble's sharp words for Gardner came just days after a different judge held Gardner in contempt of court after prosecutors from her office didn't show up for a murder trial.
An 18-year-old was set to face trial starting Monday on charges that he killed a man in 2021, but no one from Gardner's office appeared in court. The prosecutor assigned to the case is on sick leave.
"This conduct thwarts and defeats the authority of the Circuit Court of the City of St. Louis," Judge Scott Millikan wrote in his filing, ordering Gardner's office to show cause as to why she shouldn't be held in criminal contempt and ordered to pay a fine or face jail time.
Millikan ultimately opted not to hold Gardner in contempt but lamented that the case "fell through the cracks."
This was hardly the first time that Gardner's prosecutors have no-showed. Several hearings in recent months have been delayed because no one from her office was there to argue them. In 2021, Gardner came under fire after three murder cases under her purview were dismissed in one week due to prosecutors in her office not showing up for hearings or being unprepared. Authorities later learned that the prosecutor who had failed to show up for one of the trials that was dismissed altogether had been assigned 30 cases while on maternity leave.
Another increasingly common issue for Gardner has been dismissing and refiling cases as her understaffed office has struggled to prepare for trials. Earlier this month, for example, prosecutors dismissed and refiled charges against two men accused of killing a father and his seven-year-old daughter, likely pushing back the trial by months. According to an investigation by local CBS affiliate KMOV, the reason for the dismissal and refiling is that "the prosecutors weren't ready for trial," which had been set to take place in a matter of days.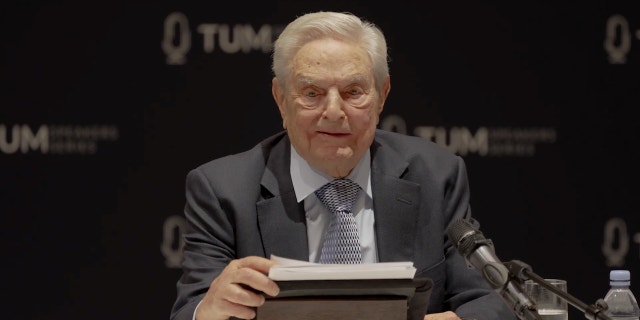 George Soros delivering a speech during the 2023 Munich Security Conference. (Open Society Foundations/YouTube/Video screenshot)
SOROS-BACKED PROSECUTOR MIRED IN SCANDAL FACING NEW COMPLAINTS OF NEGLIGENCE, MISCONDUCT
The issues have only fueled the push to oust Gardner, a Democrat, as Missouri Attorney General Andrew Bailey, a Republican, seeks to remove her from office. Bailey asserts that Gardner is not enforcing the law or protecting public safety.
For years, Gardner's office has faced criticism for mishandling cases and office dysfunction. The final straw for Bailey came in February, when a teenage volleyball player visiting St. Louis with her team was struck by a car and lost both of her legs.
The man was charged in the crash with assault, armed criminal action and operating a motor vehicle without a valid license, and he was out on bond awaiting trial for a separate armed robbery case despite violating the terms of his bond several dozen times. Gardner argued that her office had tried to put the suspect back in jail but that a judge had denied their request. However, there are no court records of her office, which is responsible for monitoring compliance with bond conditions and revoking them when those terms are violated, asking for Riley's bond to be revoked, according to local reports.
Both Republicans and Democrats across Missouri called for Gardner's resignation in the wake of the incident. Bailey filed a petition quo warranto, the legal mechanism under state statute that allows the attorney general to remove a prosecutor who neglects the job's duties.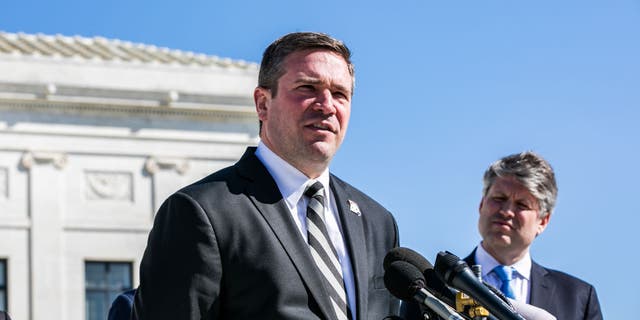 Andrew Bailey, Missouri's attorney general, speaks to members of the media following oral arguments outside the US Supreme Court in Washington, DC, on Tuesday, Feb. 28, 2023. Photographer: Valerie Plesch/Bloomberg via Getty Images
SOROS-BACKED PROSECUTOR PUSHED BY MISSOURI AG TO RESIGN HAS HISTORY OF SCANDALS, ALLEGED MISCONDUCT
Bailey claims that nearly 12,000 criminal cases have been dismissed to what he calls Gardner's failures. He also says more than 9,000 cases have been thrown out as they had been about to go to trial, forcing judges to dismiss more than 2,000 cases due to what Bailey described as a failure to provide defendants with evidence and speedy trials.
Gardner, who has refused to leave office, has called Bailey's efforts a political witch hunt and a form of "voter suppression," suggesting that racism and sexism are behind some of the criticism against her.
A St. Louis judge has set a tentative trial date for Sept. 25 to hear arguments from both sides.
CLICK HERE TO GET THE FOX NEWS APP
Meanwhile, Noble said Thursday that he will allow Gardner and Desilets to retain attorneys and seek evidence to defend themselves against the contempt charge. Both prosecutors could face jail time or a fine if found guilty. A hearing has been set for May 30.
Gardner's office didn't respond to a request for comment for this story.