During Friday's edition of "The Ingraham Angle," host Laura Ingraham spotlighted the children's show "Transformers: EarthSpark" for its decision to roll out non-binary characters that go by they/them and she/they pronouns.
"As a parent, you often ask yourself, What do my kids need? A loving family, a roof over their heads, a life grounded in faith and freedom. But you probably ever thought what they really, really need is a non-binary robot. But that's exactly what Paramount thinks they need, because in Transformers: Earth Spark, that's what they're giving them," Ingraham began during Friday's show.
ROALD DAHL CHILDREN'S BOOKS REWRITTEN TO DELETE REFERENCES TO 'FAT' CHARACTERS, ADD 'INCLUSIVE' GENDER TERMS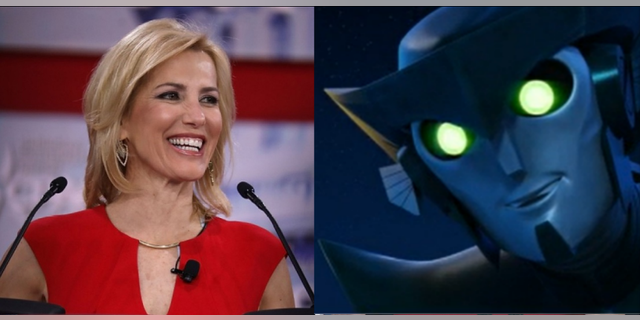 During a new episode of 'Transformers: EarthSpark,' one robot character NightShade identified as non-binary, claiming they/them pronouns.  (Fox News)
Despite the show being catered to children ages 7 and up, "Transformers: EarthSpark" decided to introduce their first non-binary character last November.
"Nightshades pronouns are they them," one character said.
'SNL' 'FIRST NON-BINARY' COMEDIAN SPEAKS TO CHILDREN ABOUT THEIR 'CROTCH,' GENITALIA IN ANTI-REPUBLICAN RANT
"He or she just doesn't fit who I am," Nightshade explained.
A third character, Optimus Prime, apologized for misgendering the robot, then correcting himself: "My apologies, please switch their piece," he said.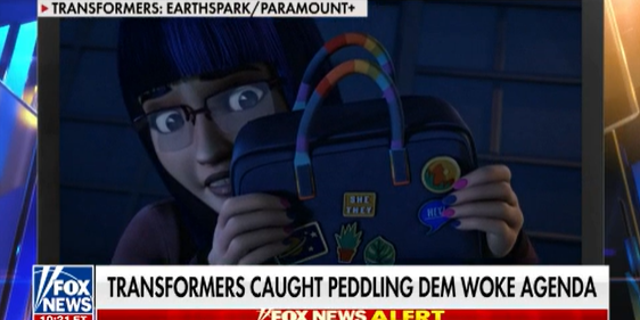 Transformers woke woketranformers In a new episode of 'Transformers: EarthSpark,' one character Sam reveals to a non-binary robot that she goes by she/they.  (Fox News)
Show creators did not stop there and saw it fit to reinforce this message in a recent episode.
"Oh, I like your pins," the robot said in reference to the characters LGBTQ pins. "I am Nightshade. My pronouns are they/them."
"Thanks. I'm Sam. I'm she/they. But you already know that," the character said referring to her "she/they" pin on her bag.
POPE FRANCIS: 'GENDER IDEOLOGY' IS ONE OF 'MOST DANGEROUS IDEOLOGICAL COLONIZATIONS'
Laura Ingraham weighed in, claiming that the show is inappropriately "shoving" liberal ideologies down young kids' "throats."
"We already knew that because the show is shoving these inane pronouns down the throats of seven-year-olds. I mean, we're lucky to even get them to spell the regular pronouns and get those straight," she argued.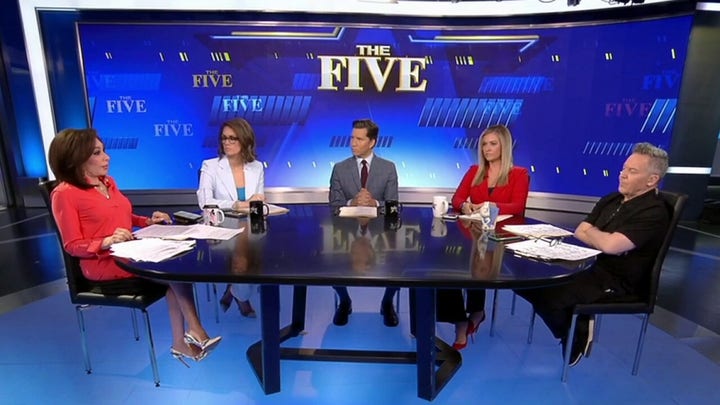 Video
She concluded by issuing an urgent warning to parents, arguing that children's shows similar to "Transformers: EarthSpark" are pushing "destructive and corrosive lies" to America's youth.
CLICK HERE TO GET THE FOX NEWS APP
"Our children are being taught this in our schools and now in a kids show. So what's next? While this isn't normal, it's not trendy, it's not cool. These are destructive and corrosive lies, and they're only going to end when enough responsible adults say, Cut it out. We're not funding this anymore. So don't be afraid to stand up and say that. "