House Speaker Kevin McCarthy appeared to issue a rare public rebuke of his top deputy on Wednesday, blaming the chaos that unfolded on the House floor Tuesday on a "miscalculation" between Majority Leader Steve Scalise, R-La., and a conservative member.
Eleven hard-line Republicans banded together to tank a procedural measure, known as a vote on rules, that was meant to precede a GOP bill cementing Americans' access to gas stoves. It was the first time a rules vote has failed in two decades.
McCarthy admitted to feeling "blindsided" by the rebellion and explained, "I don't run… I try to.. look. We put different rules out there, and the Majority Leader runs the floor.
"Yesterday was started on something else. It was a, it was a conversation that the Majority Leader had with [Rep. Andrew Clyde, R-Ga.], and I think it was a miscalculation or misinterpretation of what one said to another. And that's what started this and then something else bellowed into it."
Members of the conservative House Freedom Caucus and their allies have signaled they will blockade further action on the chamber floor over anger at McCarthy for how he handled the debt limit deal struck between him and President Biden over Memorial Day weekend, which passed along bipartisan lines in both the House and Senate. Many have claimed the GOP got "rolled" on the compromise, pointing out that more Democrats than Republicans had voted for it in both chambers.
The rebels also accused GOP leadership of exacting revenge against Clyde for his and others' attempt to block the debt limit bill from coming to a vote in the House last week by stymieing legislation introduced by Clyde to roll back a Biden administration gun control provision.
Clyde tweeted on Tuesday evening that House Republican leaders agreed to bring his bill for a vote next week.
Scalise denied holding the bill hostage over Clyde's debt limit vote during a press conference Tuesday morning, and appeared to fire right back at McCarthy in remarks to reporters on Wednesday.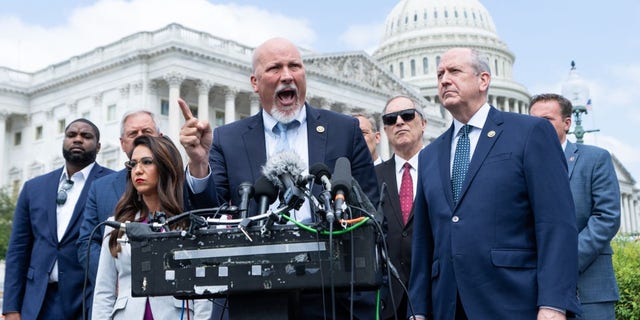 Rep. Chip Roy, R-Texas, speaks during the House Freedom Caucus news conference to oppose the debt limit deal outside the U.S. Capitol in Washington, D.C., on May 30, 2023. (Bill Clark/CQ-Roll Call, Inc via Getty Images)