EXCLUSIVE – House Speaker Kevin McCarthy was not optimistic a deal would be reached regarding the debt limit as he headed out of the Capitol on Tuesday afternoon.
Fox News asked the speaker if he thought a deal would be reached on Tuesday.
"I don't think we'll get one today," McCarthy said as he walked past the reporter.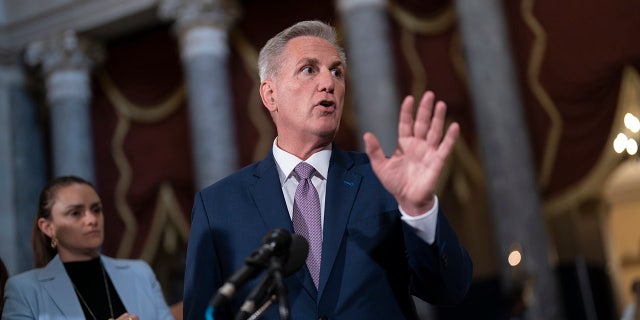 Speaker of the House Kevin McCarthy, R-Calif., talks to reporters just after the Republican majority in the House narrowly passed a sweeping debt ceiling package as they try to push President Joe Biden into negotiations on federal spending, at the Capitol in Washington, Wednesday, April 26, 2023.  (AP Photo/J. Scott Applewhite)
It's unclear where McCarthy was heading after he left the Capitol.
BIDEN ISSUES TERSE STATEMENT AFTER MCCARTHY DEBT CEILING TALKS
Now, with only nine days left until the U.S. government is expected to run out of cash to pay its current obligations, a deal has yet to be reached.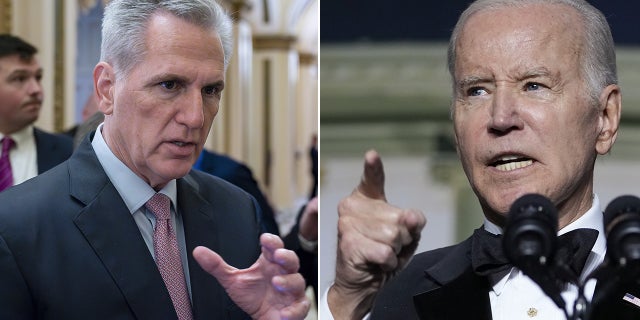 House Speaker Kevin McCarthy met with President Biden on Monday, but said the next day that he was not optimistic that a deal would be reached on Tuesday. (AP Photo/J. Scott Applewhite / Carolyn Kaster, File)
Democrats have insisted on raising the debt limit without preconditions. But Republicans are lining up behind the House-passed Limit, Save, Grow Act, which would increase the federal borrowing limit by $1.5 trillion while also slashing spending by roughly $150 billion from this year to the next.