The mother of an eight-year-old girl who died in Border Patrol custody this past week claims agents repeatedly ignored her pleas to hospitalize her daughter, while agents say her daughter's condition did not require hospital care.
"They killed my daughter, because she was nearly a day and a half without being able to breathe," Mabel Alvarez Benedicks told the Associated Press in an emotional phone interview. "She cried and begged for her life and they ignored her. They didn't do anything for her."
Alvarez Benedicks reportedly begged agents to hospitalize eight-year-old Anadith Tanay Reyes Alvarez who had influenza. The eight-year-old, who was born in Panama with a congenital heart disease, had received surgery three years prior, which her mother claims was successful. Agents were aware the girl had a history of heart problems and sickle cell anemia, according to the outlet.
The eight-year-old died Wednesday, on what the mother says was the family's ninth day in Border Patrol custody. Alvarez Benedicks said she, her husband, and their three children, including Anadith, crossed the border to Brownsville, Texas on May 9.
When she approached an agent to report her daughter's bone pains, the agent allegedly responded by saying, "'Oh, your daughter is growing up. That's why her bones hurt. Give her water.'"
"I just looked at him. How would he know what to do if he's not a doctor?" Alvarez Bendicks said.
The mother said a doctor later told her Anadith's pain was related to her influenza. She then asked for an ambulance to take her daughter to a hospital after Anadith experienced trouble breathing. She was reportedly denied her request.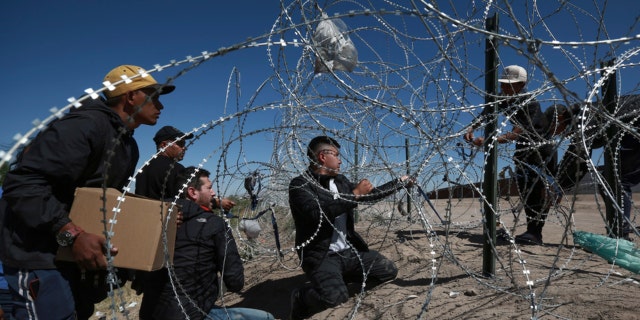 U.S. Customs and Border Protection issued a statement shortly Anadith's death, saying "the Office of Professional Responsibility is conducting an investigation of the incident." ((AP Photo/Christian Chavez))
The mother noted that a doctor asked the parents to return if Anadith fainted. Come Wednesday, Anadith's blood pressure was checked and Alvarez Benedick's request for an ambulance was denied once again.
An ambulance was called for later in the day when Anadith went limp and unconscious and blood came out of her mouth, her mother said. Alvarez Benedicks claims her daughter had no vital signs in the Border Patrol station before departing for the hospital.
BORDER PATROL AGENTS COME UNDER FIRE WHILE RESCUING ABANDONED, INJURED 4-YEAR-OLD BOY
CLICK HERE TO GET THE FOX NEWS APP
Anadith's death came a week after 17-year-old Ángel Eduardo Maradiaga Espinoza from Honduras died while under U.S. Health and Human Services Department custody. He was traveling alone when he suffered a seizure while staying at a child-welfare shelter in Florida on May 12.
The Associated Press contributed to this report.