MSNBC squandered a rare live televised interview with President Biden as its liberal host Nicolle Wallace spent more time giggling in admiration of the commander in chief than asking tough questions and generating headlines, failing to bring up Hunter Biden even once.
"This is very exciting for us!" Wallace exclaimed with a giant grin immediately after she welcomed the president.
Biden sat down for a roughly 20-minute appearance, which began with a focus on his reaction to the Supreme Court's historic decision to strike down affirmative action.
BIDEN WANDERS OFF SET AS NICOLLE WALLACE WRAPS SOFTBALL MSNBC INTERVIEW
After asking Biden about how 2024 GOP hopefuls like Trump and Florida Gov. Ron DeSantis are "openly running on politicizing the rule of law," Wallace pressed on whether he'll be prioritizing "threats to democracy" in his reelection bid.
Wallace briefly touched on the short-lived attempted mutiny in Russia this past week, wondering what knowledge the White House had in advance before pondering to Biden whether Trump would have "tipped off" Vladimir Putin if the 45th president was still in office. Biden said he didn't know, as Wallace, one of the most openly pro-Biden figures in cable news, giggled again.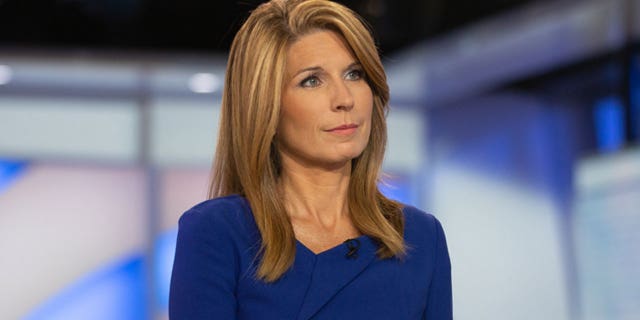 MSNBC's Nicolle Wallace has a history of fawning over liberal guests including President Biden, ex-New York Gov. Andrew Cuomo, former presidential candidate Beto O'Rourke and disgraced attorney Michael Avenatti. (Nathan Congleton/NBCU Photo Bank/NBCUniversal via Getty Image)
Following a long-winded tangent from Biden, Wallace asked him what his late Senate colleague John McCain, whom she worked for during his 2008 presidential run, would think of the modern Republican Party, which inspired another tangent about the old bipartisan days.
After even more banter bashing the GOP, the interview ended and Biden wandered off the set as Wallace was telling viewers "don't go anywhere" before the commercial break.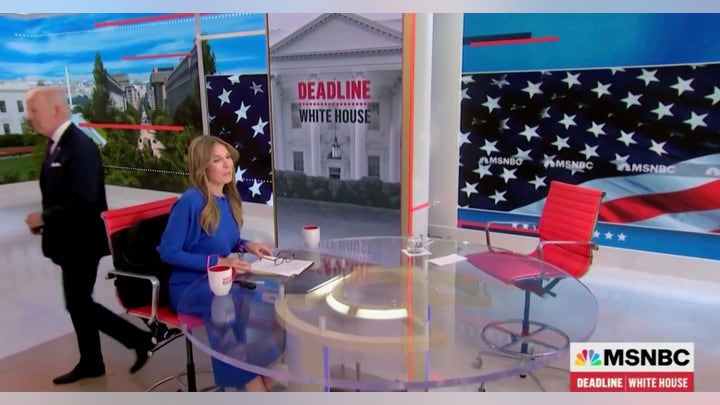 Video
"As many expected, it was yet another embarrassing display for the network as Wallace giggled her way through the interview, heaping praises and adulations on the Democrat," NewsBusters writer Nicholas Fondacaro noted about the exchange.
Many topics were left unmentioned during the live interview, most notably the fallout from the criminal probe into Biden's son. While he continues to deny any involvement regarding Hunter Biden's business dealings, an explosive WhatsApp text message the son allegedly sent to a Chinese business associate shows him invoking his father in what appears to be an extortion scheme. House Republicans have accused multiple members of the Biden family of creating shell companies to funnel big bucks from foreign entities.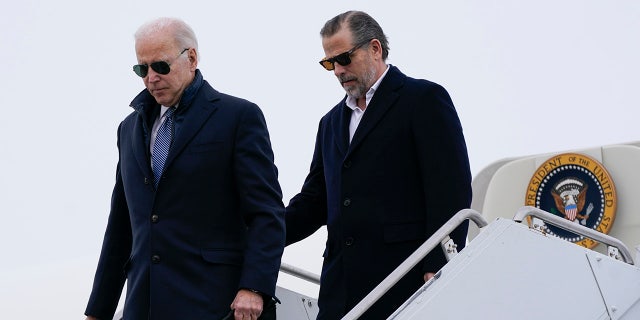 President Biden didn't have to answer questions about his son Hunter during a softball interview on Thursday with MSNBC anchor Nicolle Wallace.  (AP Photo/Patrick Semansky)
Another sore subject Wallace avoided was Biden's fitness to serve, which has come into question yet again this week after he mistakenly referred to Ukraine as Iraq twice within a 24-hour period, among other recent gaffes. This comes as an NBC News poll show 68% of voters worry about his health going into the 2024 presidential election cycle.
CLICK HERE TO GET THE FOX NEWS APP
Wallace, a former GOP flack who has become one of MSNBC's biggest stars, has a history of fawning over her liberal guests including Biden, ex-New York Gov. Andrew Cuomo, former presidential candidate Beto O'Rourke and disgraced attorney Michael Avenatti. She also once referred to herself as a "groupie" for Dr. Anthony Fauci.