New York City Mayor Eric Adams said the surge of illegal migrants that is flooding New York and other cities "should not be happening," calling it a national problem that needs "a national solution."
"Where the heck is the president of the United States?" a morning show host on "Good Day New York" asked Adams in an interview to discuss the migrant crisis.
"That is a good question. And I think we all should be asking, why is this happening to a city that was turning itself around and will continue to do so?" Adams replied.
"This should not be happening to New York City, Chicago, Los Angeles, in the other big northern cities, and really shouldn't be happening to El Paso or Brownsville, Texas," he went on. "No cities should be [carrying this] burden. This is a national problem, and it needs a national solution."
Adams has been an outspoken critic of the Biden administration for its handling of the migrant crisis at the southern border with Mexico.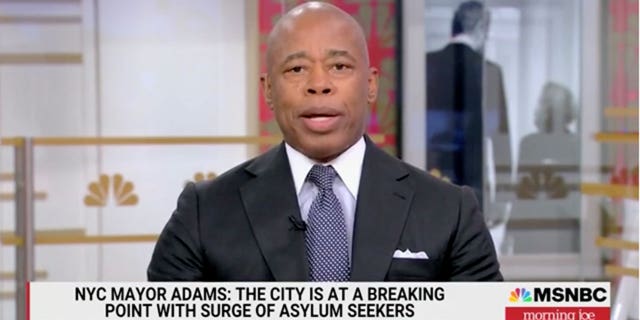 New York City Mayor Eric Adams joins the hosts of "Morning Joe" to discuss the surge of asylum seekers. (Screenshot / MSNBC / Morning Joe)
NYC OFFICIALS INFURIATE LOCALS BY SENDING MIGRANTS TO SCHOOL GYMS: 'UNFAIR, UNACCEPTABLE'
"It is not about the asylum seekers and migrants, all of us came from somewhere to pursue the American Dream," Adams said this month. "It is the irresponsibility of the Republican Party in Washington for refusing to do real immigration reform, and it's the irresponsibility of the White House for not addressing this problem."
Though officials across border communities have said that they did not receive the surge in migrants that they were expecting to follow the recent end of the Title 42 public health policy, Hochul suggested that the crisis is continuing in her state.
"Hearing the numbers going down is good news, but it's small comfort to us because the word we're getting is that the majority of these individuals who are crossing, it's still high numbers, are coming to New York State," Hochul said on MSNBC's "Politics Nation" Saturday afternoon to discuss the ongoing border crisis, which people have expected to continue following the expiration of the Title 42 last week.
Title 42 was a Trump-era emergency order that was implemented to help stop the spread of the COVID-19 pandemic, and it was also used by authorities to quickly expel migrants who crossed into the United States.