Former House Speaker Nancy Pelosi's office is rejecting the theory that one of her daughters is aiding Sen. Dianne Feinstein, D-Calif., at the U.S. Capitol in a bid to boost Rep. Adam Schiff's chances of winning Feinstein's Senate seat next year.
Nancy Corinne Prowda has been seen at Feinstein's side on several occasions since the 89-year-old Feinstein returned to Washington, D.C., last week after spending 10 weeks in her home state recovering from shingles.
Prowda has been an integral part of Feinstein's day-to-day life, a Politico report suggested Wednesday. That report noted that the Pelosi and Feinstein families are on friendly terms and that Prowda's assistance is "rooted" in this friendship.
However, it also quoted an anonymous source who implied that Prowda may be helping Feinstein stay in office until the next election because that would set up an election that Schiff, D-Calif., could win. Pelosi is backing Schiff to take Feinstein's seat.
However, when Fox News Digital asked Pelosi's office if the arrangement is linked to aiding Schiff's campaign, a spokesperson simply said, "No."
"Nancy Corinne and Senator Feinstein have been friends for decades. Nancy Corinne has been supporting her in her shingles' recovery," the spokesperson said. "Speaker Emerita Pelosi and Senator Feinstein have been friends since long before their service in Congress — and their friendship is personal, not political. Anyone who knows Senator Feinstein knows that her service in the Senate is entirely her own decision, and Speaker Emerita Pelosi would never suggest otherwise."
SEN DIANNE FEINSTEIN RETURNS TO WASHINGTON, DC FOLLOWING MONTHS-LONG ABSENCE
Pelosi's endorsement of Schiff has not stopped a competitive three-way primary emerging between Schiff, Lee and Rep. Katie Porter, D-Calif.
DIANNE FEINSTEIN ANNOUNCES SHE WILL NOT SEEK RE-ELECTION IN 2024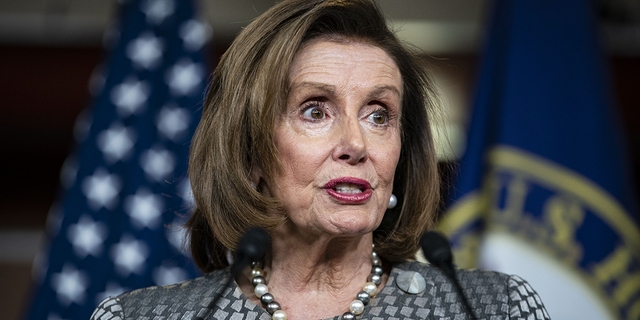 Speaker Emerita Nancy Pelosi endorsed Schiff in his Senate race. (Getty Images)
Schiff has so far significantly outraised his rivals, and early polling shows him with a modest lead over Porter, while Lee trails in third. However, he could face an uphill battle if Feinstein retires early, and he's left to face a short-term, younger incumbent in the race.