President Joe Biden's recent claim that gay people "can be married in the morning and thrown out of a restaurant" in the afternoon was rated by the fact-checking site PolitiFact as "mostly true" on Friday.
During the White House "Pride Month 2023" event on June 10, Biden gave a speech in support of the LGBTQ community. One particular point that drew backlash was his claim that restaurants kick gay people out on the basis of their sexual orientation.
"When a person can be married in the morning and thrown out of a restaurant for being gay in the afternoon, something is still very wrong in America," Biden said.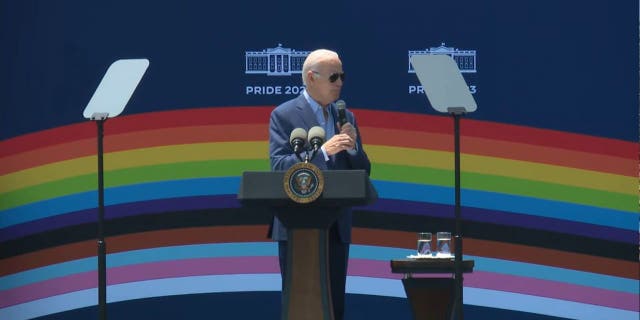 President Joe Biden speaks during the Pride Month event held on the White House lawn on June 10, 2023. (White House)
While the claim was heavily scrutinized and criticized when he made it in December, PolitiFact deemed it as "mostly true" based on the fact that 22 states do not have anti-discrimination laws based on orientation.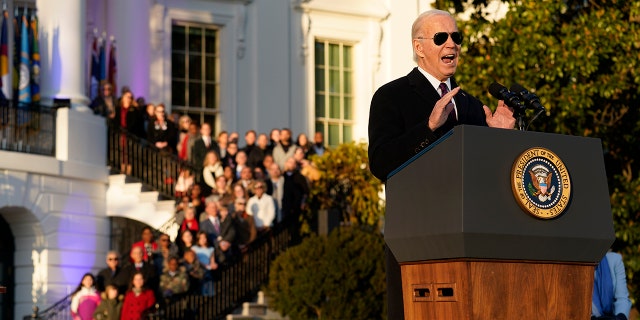 President Biden made a similar claim after the passage of the Respect for Marriage Act in December. (AP Photo/Patrick Semansky)
"However, it is hard to tell how often this sort of discrimination actually occurs and where. We found news reports of same-sex couples being refused service as recently as 2021, but one expert said these instances are on the decline. There's not good data on how often LGBTQ+ people are still discriminated against in public places, but Biden is accurate that it can happen in America, and is legally allowed in nearly half of the states in the U.S," it reads.
BIDEN CAUGHT TELLING MULTIPLE VERSIONS OF INFAMOUS GAY MARRIAGE 'EPIPHANY' STORY IN FACT-CHECK
By these standards, PolitiFact reasoned that Biden's comments are accurate and only "need clarification."
"You're some of the bravest and most inspiring people I've ever known. And I've known a lot of good folks," Biden said. "You set an example for the nation and, quite frankly, for the world."