A contestant on "The Price is Right" may have taken his celebrations a little too far.
On Saturday, the game show shared a clip to Instagram that showed the contestant, whose name is Henry, celebrating a big win.
Drew Carey, the show's host, explained to the crowd that Henry dislocated his shoulder while celebrating, so his wife, Alice, finished off the show by spinning the wheel for him.
 
 

 
 
View this post on Instagram
 

 
 
 

 
 

 
 
 

 
 

APP USERS CLICK HERE TO SEE INSTAGRAM POST
"Henry was celebrating and going 'Woo' and he dislocated his shoulder," Carey said. "So, he's not going to be able to spin the wheel, but Alice is going to spin the wheel for him."
His wife spun him a 95, which sent him into the Showcase Showdown. Henry was seen this time cheering with one arm, chanting "Woo!" while Carey advised Alice to "be careful" while celebrating.
'THE PRICE IS RIGHT' CELEBRATES SEASON 50, BEING LONGEST-RUNNING GAME SHOW IN TV HISTORY
"The Price is Right" fans applauded Henry in the comment section of the post: "What a trooper! He stayed the entire game obviously in pain," one user wrote, with another adding, "Thx for the update! Glad he's all better."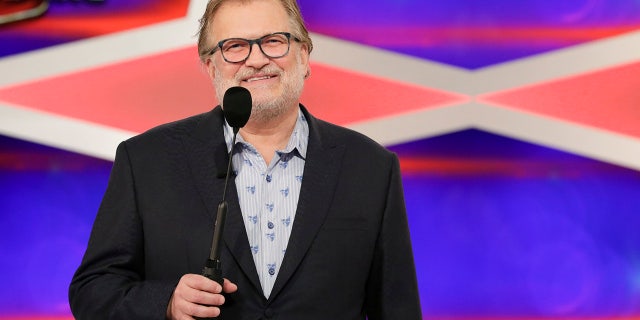 Drew Carey has hosted "The Price is Right" since 2007. (Cliff Lipson/CBS via Getty Images)
Henry is not the first contestant to injure themselves on the famed game show.
CLICK HERE TO SIGN UP FOR THE ENTERTAINMENT NEWSLETTER
Barker has made guest appearances on the game show throughout the years. His most recent cameo was in 2015 on the April Fools' Day episode.