Eastern European NATO countries are on edge after Wagner Group leader Yevgeny Prigozhin's relocation to Belarus.
"This is really serious and very concerning, and we have to make very strong decisions. It requires a very, very tough answer of NATO," Polish President Andrzej Duda said of the Prigozhin move, according to a report from Reuters Tuesday.
Duda was just one of several NATO leaders who were sounding the alarm on the Wagner leader's supposed deal with the Kremlin, causing some leaders to promise increased military security on NATO's eastern flank to deter potential conflict should Wagner fighters follow Prigozhin to Belarus.
"If Wagner deploys its serial killers in Belarus, all neighboring countries face even bigger danger of instability," Lithuanian President Gitanas Nauseda said.
Stoltenberg also made clear that members of the alliance will still support the Ukrainian war effort, something he said was even more important amid the latest developments.
"At the same time we must not underestimate Russia," Stoltenberg said. "So it's even more important that we continue to provide Ukraine with our support."
Rebekah Koffler, an author and former DIA intelligence officer, told Fox News Digital that Prigozhin's move could be part of a wider strategy by Russian President Vladimir Putin to spread Ukrainian defenses thin.
RUSSIAN MERCENARY'S SPEECH ON PUTIN STANDOFF SPARKS QUESTIONS ABOUT HIS FATE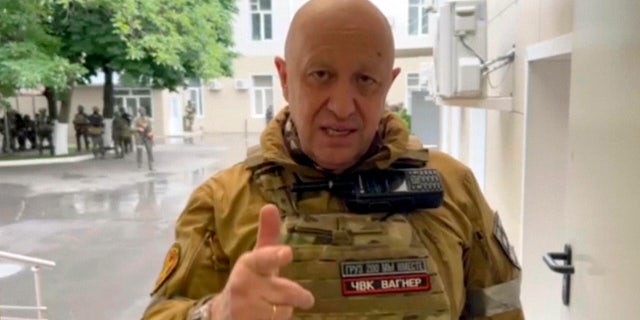 Yevgeny Prigozhin, the owner of the Wagner Group military company, records his video addresses in Rostov-on-Don, Russia. (Prigozhin Press Service via AP)
"We are closely monitoring the situation and are fully prepared to react should the situation require," a Lithuanian official told Fox News Digital regarding Prigozhin's move to Belarus.
According to Koffler, countries such as Poland and Lithuania, which border Belarus to the west and north respectively, are right to view the move with suspicion, and are likely already discussing ways to beef up security.
However, Koffler said that "Prigozhin cannot be trusted any more than Putin," arguing the Wagner Group leader is only honest about his "work on behalf of Mother Russia."
"Mother Russia is now Putin," Koffler said in response to the speech.
With Prigozhin now in Belarus, Koffler believes a much larger plan will be put in motion.
Koffler added that the standoff has created a "strategic standoff unseen since the Cold War and the Cuban Missile Crisis," tensions she argued U.S. leadership could do more to ease.
"The fact that there have been no attempts, whatsoever, taken by Moscow, Kiev, Washington, or Brussels to de-escalate this crisis is a serious cause for concern," Koffler said. "As the Commander-in-Chief and the leader of the free world, President Biden has the opportunity to step in, exert U.S. influence and ensure stability."