Princess Diana's former bodyguard Lee Sansum shared his thoughts on Prince Harry and Meghan Markle's alleged "near catastrophic" car chase in New York City.
The ex-Royal Military Police officer provided security for the late Princess of Wales and her sons Prince William and Prince Harry during the summer of 1997, prior to Diana's fatal collision that August.
In an interview with Fox News Digital, Sansum weighed in on the May 16 incident, during which the Duke and Duchess of Sussex claimed paparazzi relentlessly pursued them and Meghan's mother Doria Ragland for over two hours through the streets of Manhattan.
"I think really from the information that we're reading — that is put out by the press and whoever — I think we're only getting a part of the story," he said.
The security professional noted that paparazzi pursuits to get the "money shot" can not only jeopardize the safety of the photographer's subjects, but also that of bystanders.
"I find it absolutely crazy that these people are allowed to do this and put the public at risk, chasing people," Sansum said. "We say 'chasing,' we assume that they're going really fast. They don't have to be going fast, but they're cutting people off… They're advancing through traffic in an aggressive manner to catch a vehicle, to take a photograph that is going to make them money. And it's putting people at risk."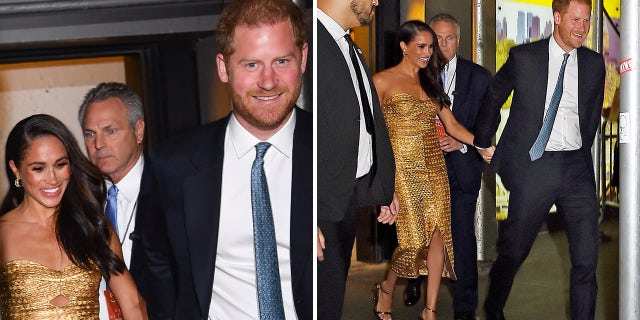 The Duke and Duchess of Sussex claimed they were pursued by aggressive paparazzi for over two hours after leaving an event in Manhattan on May 16, 2023. (Getty Images)
Sansum went on to cite Diana's accident as a "classic example" of a paparazzi chase that ended in tragedy. The princess, her partner Dodi Fayed and their chauffeur Henri Paul were killed on Aug. 31, 1997, when their vehicle crashed in the Pont de l'Alma tunnel in Paris as they were fleeing from photographers.
Sansum remembered that he befriended Diana and became one of her confidantes. He told Fox News Digital that the then-36-year-old shared her fears regarding the paparazzi's aggressive behavior.
He said, "This is what Princess Diana told me. She was trying to get the government in the U.K. to pass a bill and she failed. To stop them pursuing people. It's relentless and it just grinds people down. And I just sympathize with anybody that has these people chasing them."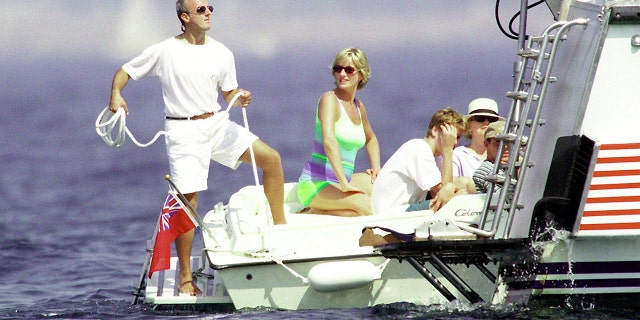 Sansum served as a bodyguard for Princess Diana and her sons Harry and William during their vacation in St. Tropez in July 1997. (Michel Dufour/WireImage)
In his memoir, Sansum wrote that paparazzi swarmed the Jonikal daily in an effort to snap photos of Diana and Fayed. However, he explained that William and Harry, who were 15 and 12 at the time, appeared mostly unaffected by the media attention due to their young ages.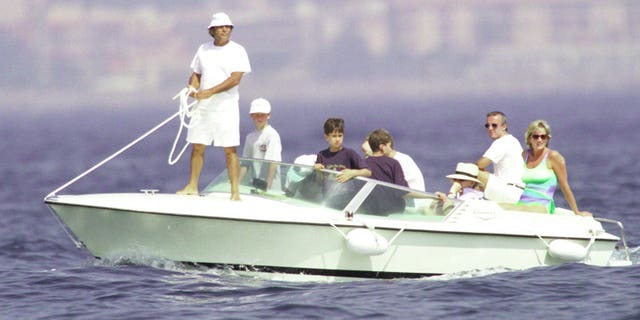 Diana and her children stayed on a luxury yacht that belonged to the father of her partner Dodi Fayed. (Michel Dufour/WireImage)
Sansum said that he took issue with the term "paparazzi," which he noted was more of a European descriptor at the time.
"We all call them the 'paparazzi' now," he said. "But originally it was a European kind of thing. And the paparazzi now… this is how I personally feel. It's kind of dehumanizing these people. And we give them a name and everybody goes, 'Oh, it's the paparazzi.'"
FRENCH MEDIC RECALLS THE PEOPLE'S PRINCESS LAST MOMENTS ON 'TRAGIC NIGHT'
"That's the only thing I meant by that," Sansum added. "But also I was extremely strict on all my clients putting their seatbelts on. Always. I've been all over the world. I've been in war zones. I've been in Libya during the second war, working with the Americans up in Somalia when we were getting shot at and all sorts. And every single time before we set off, I tell my people to put their seatbelts on. I've lost a few friends in road traffic accidents all over the world. And, you know, I can say this, that with a hand on my heart, they would have been wearing their seatbelts."
Sansum reflected on how he would have handled last week's incident involving Harry and Meghan if he had been part of their security team.
Sansum explained the importance of having a plan in place ahead of time, as well as anticipating that high-profile clients such as Harry and Meghan would likely be followed by paparazzi after attending an event.
Sansum told Fox News Digital he also believes communication with the clients is key and he always makes them aware of the plan. "If it was me, I'd be saying to Harry and Meghan, 'This is where we're going. This is what's going to happen. This is likely to happen. We're likely to get paparazzi following us. And this is the plan. We're going to drive at a normal speed through the city. They will be trying to get close to us. They will be taking photographs. This will happen. Are you okay with that?,'" he explained.
"And you always get their permission to be calm and collected about this," he added. "And once they understand, when it does start to happen, you can say, 'Excuse me. Do you remember the security safety brief before we started? We're going to stick to the plan. Is that okay? Pretty soon they're going to get bored and they're going to leave us alone.' And just reassure them."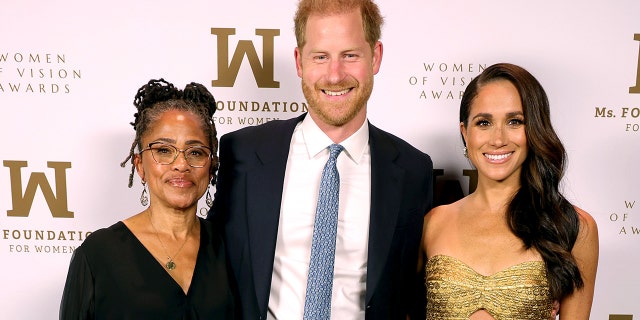 Meghan's mother, Doria Ragland, was with the couple during the alleged car chase. (Kevin Mazur)
Following the incident, a spokesperson for Prince Harry and Markle told Fox News Digital: "Last night, the Duke and Duchess of Sussex and Ms. Ragland were involved in a near catastrophic car chase at the hands of a ring of highly aggressive paparazzi.
Prince Harry, Meghan and her mother are "understandably shaken but thankful everyone's safe," a source told Scobie.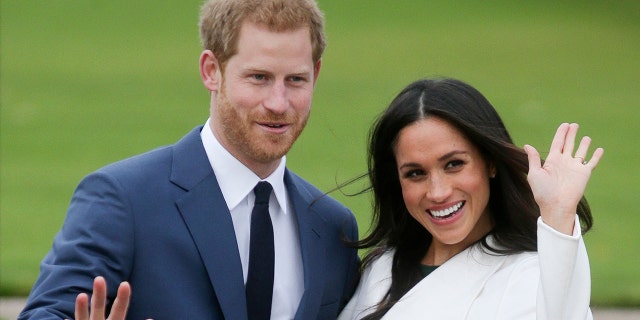 Harry and Meghan lost their U.K. taxpayer-covered police protection when they stepped down as senior royals in 2020. (DANIEL LEAL/AFP)
New York City Mayor Eric Adams criticized the "reckless and irresponsible" incident during a press conference, but also said he found it "hard to believe" a "two-hour, high-speed chase" happened in the densely populated city wrought with traffic, pedestrians and ongoing construction projects.
And Julian Phillips, NYPD deputy commissioner of public information, said, "The Duke and Duchess of Sussex arrived at their destination and there were no reported collisions, summonses, injuries, or arrests in regard."
CLICK HERE TO SIGN UP FOR THE ENTERTAINMENT NEWSLETTER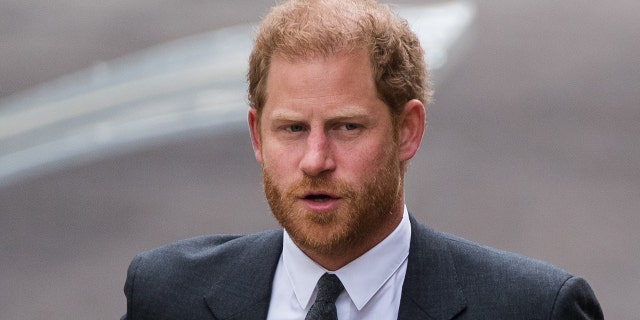 Earlier this week, Prince Harry lost a legal challenge to pay for his own police protection while visiting the U.K. (Wiktor Szymanowicz/Anadolu Agency)
"I'd love to speak to Harry to find out why he wanted the police protection. And I'd like to know and understand about that," he said.
Sansum continued, "If you think about Harry, he's just a normal human being just like you and I. He's obviously coming back to U.K. He's got concerns about his personal security. And he probably knows having the police looking after him, he'll get the best security possible because of the top cover that they have. So he's obviously got issues about certain things.