Queen Camilla was said to be "furious" after her stepson made damning accusations against her in his tell-all.
In January, Prince Harry's explosive memoir "Spare" hit bookshelves. The Duke of Sussex included details of private conversations with his father King Charles and his brother Prince William. The book also highlighted allegations that members of the royal family regularly feed the press unflattering information about other members of the House of Windsor in exchange for positive coverage of themselves.
The prince singled out Camilla, accusing her of leaking private conversations to the media as she sought to rehabilitate her image after marrying Charles. The 75-year-old was once reviled for her long-term affair with Charles, 74, which contributed to the breakdown of his marriage to the late Princess Diana, Harry and William's mother.
"I know from various people who are close to her [that] she was pretty furious with what was being said about her," True Royalty TV co-founder Nick Bullen claimed to Fox News Digital. "But she is not someone that is going to be phoning Harry or [his wife] Meghan [Markle] and shouting down on the phone at them.
PRINCE HARRY SNUBBED AT KING CHARLES' CORONATION AS NEW DETAILS ON RELIGIOUS CEREMONY ARE REVEALED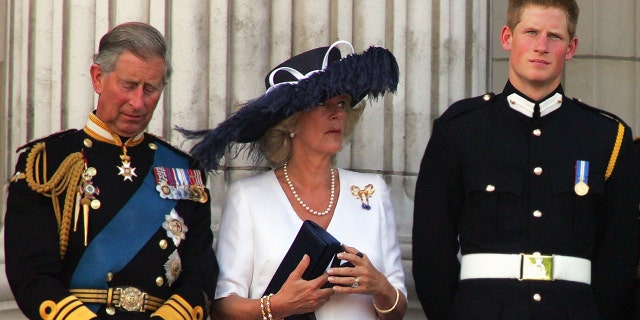 In his memoir, Prince Harry (right) singled out his stepmother, Queen Camilla (center), who was once reviled for her long-term affair with King Charles (left). (Daniel Berehulak/Getty Images)
"She just moves on," Bullen shared. "I don't think she's necessarily going to forgive, and I don't think she's necessarily going to forget. But it is not something that she dwells on, I'm told. She plays a much longer game, and she plays with a much straighter bat. She was, I'm told, annoyed by what was said but moved on pretty quickly from what was said."
Bullen is an award-winning documentarian who has been producing programs about the British royal family for 20 years. He has also worked closely with the king for about a decade. His streaming platform features numerous specials about the British royal family in time for the May 6 coronation.
Prince Harry claimed he and brother Prince William begged their father not to marry Camilla. (Anwar Hussein/WireImage)
Bullen, who has worked with Camilla, said she has long followed Queen Elizabeth II's motto in public – never complain, never explain.
"We've made a number of documentaries with the Duchess of Cornwall, now the queen," Bullen explained. "It was the only time she's ever allowed cameras to follow her. We've done both of those documentaries. What you find from her is she's incredibly matter-of-fact. She is the classic never complain, never explain. She just gets on with it. But she's tough."
In interviews to promote "Spare," Harry accused members of the royal family of getting "into bed with the devil" to gain favorable tabloid coverage, singling out Camilla's efforts to rehabilitate her image with the British people.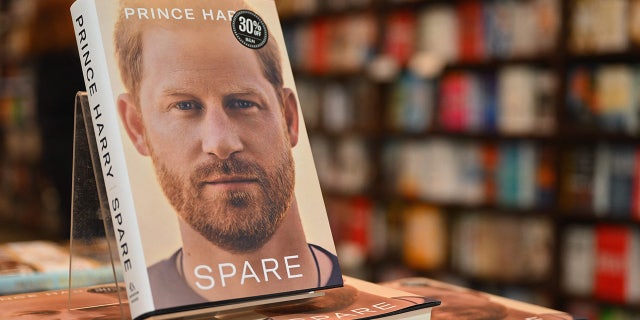 "Spare" was published Jan. 10. (Getty Images)
"That made her dangerous because of the connections that she was forging within the British press," the father of two told CBS. "There was open willingness on both sides to trade information. And with a family built on hierarchy, and with her on the way to being queen consort, there was gonna be people or bodies left in the street."
In the book, Harry also added that he and William "begged" their father not to marry Camilla, worried she would become a "wicked stepmother."
But Camilla wasn't the only royal wife who got called out in "Spare."
CLICK HERE TO SIGN UP FOR THE ENTERTAINMENT NEWSLETTER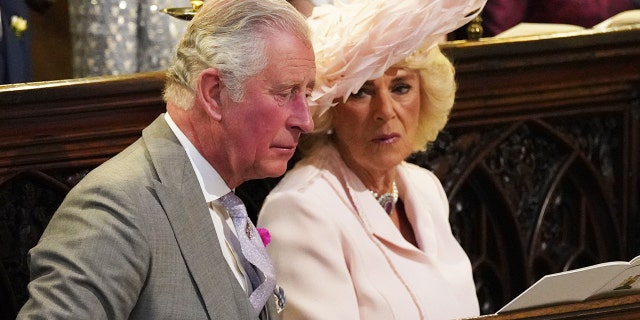 The former Prince Charles and Duchess of Cornwall are seen here before the wedding of Prince Harry and Meghan Markle May 19, 2018, in Windsor, England. (Jonathan Brady/WPA Pool/Getty Images)
The young prince notoriously wore a Nazi uniform to a costume party in 2005. He claimed in the book that William and his wife Kate Middleton encouraged the choice of outfit and "howled" with laughter when they saw it.
Harry also described texts that his sister-in-law wrote to his wife four days before the Duke and Duchess of Sussex tied the knot. He wrote that after he found the former American actress "on the floor sobbing," Middleton came by the next day with flowers and a card to apologize.
"The book was full of bomb-like moments that were going off in the palaces around Britain," said Bullen. "For the king and the Prince of Wales, the comments that Harry made about their wives, about Camilla and Kate, I think were the most hurtful for the royal family. You can fight with your brother, you can fight with your dad, but really should you be throwing brickbats at your sister-in-law and stepmother? And particularly when they're not going to be able to respond? So, I think those were the ones that hurt the most."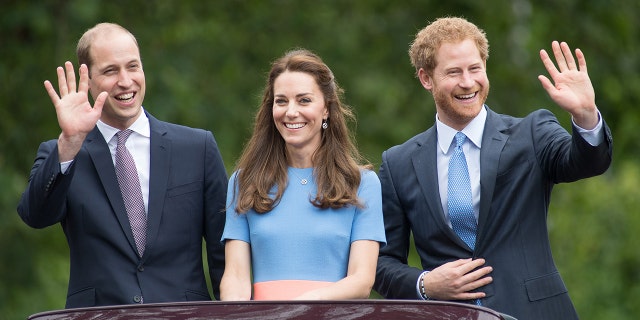 From left: Prince William, Kate Middleton and Prince Harry during The Patrons Lunch celebrations for the queen's 90th birthday at The Mall June 12, 2016, in London. (Jeff Spicer/Getty Images)
Harry described his struggles in being a royal "spare" behind William, who is heir to the British throne. The 38-year-old recounted a longstanding sibling rivalry that worsened after he began a relationship with Markle, 41, whom he married in 2018.
Harry claimed that during an argument in 2019, William, 40, called the former "Suits" star "difficult" and "rude," then grabbed him by the collar and knocked him down. Harry suffered cuts and bruises from landing on a dog bowl. According to Harry, Charles implored the brothers to make up, saying after the funeral of Prince Philip in 2021, "Please, boys. Don't make my final years a misery."
Bullen said that detailing private conversations was "unnecessary." He also noted it was unfair for Harry to target the royal wives, knowing they "have no ability to respond."
MEGHAN MARKLE, PRINCE HARRY 'DISLOYAL' FOR 'TRASHING ROYAL FAMILY,' NEED TO 'FIND THEIR OWN IDENTITY': EX PAL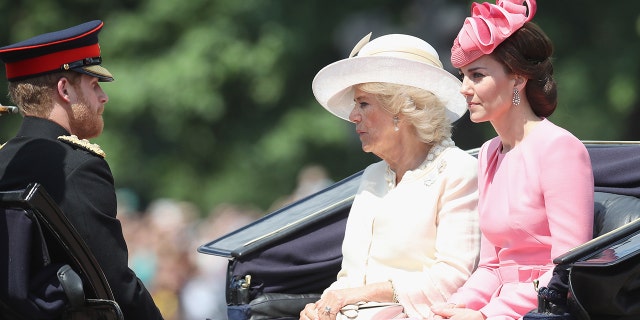 True Royalty TV co-founder Nick Bullen said the royal wives cannot publicly respond to Prince Harry's claims.  (Chris Jackson/Getty Images)
"That whole story of the fight … these are incredibly private moments between two brothers," said Bullen. "Did it need to be revealed? Well, yes, if you're being paid … $20 million. But imagine putting yourself in their shoes and hearing one of your brothers or sisters telling the world about some of your private moments.
"It's hurtful."
In April, a spokesperson for the Duke and Duchess of Sussex confirmed they were asked to vacate Frogmore Cottage, their home in the U.K. The Sun newspaper reported that the king started the eviction process Jan. 11, the day after "Spare" was published.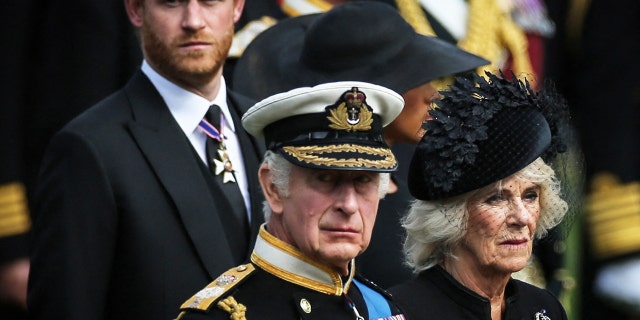 Prince Harry will be visiting his home country for King Charles' coronation, but it is understood that the visit will be brief. (Isabel Infantes/Pool/AFP via Getty Images)
Buckingham Palace later announced that Harry will attend his father's coronation. Markle will remain at the couple's home in California with their two young children, Prince Archie and Princess Lilibet. The May 6 coronation at London's Westminster Abbey coincides with their son's birthday.
Harry and Markle, who is biracial, have alleged she faced racist attitudes from both the palace and the U.K. press. The treatment contributed to their decision to leave the country in 2020 and move to North America.
The couple lives in Montecito, a wealthy enclave in Southern California. It is understood that Harry's visit to his native country will be brief, and he'll be heading back to the U.S. the same day.
The Associated Press contributed to this report.