Russian forces carried out widespread and systematic torture of civilians who were detained in connection with its attack on Ukraine, summarily executing dozens of them, the United Nations human rights office said Tuesday.
The global body interviewed hundreds of victims and witnesses for a report detailing more than 900 cases of civilians, including children and elderly people, being arbitrarily detained in the conflict, most of them by Russia.
The vast majority of those interviewed said they were tortured and in some cases subjected to sexual violence during detention by Russian forces, the head of the U.N. human rights office in Ukraine said.
"Torture was used to force victims to confess to helping Ukrainian armed forces, compel them to cooperate with the occupying authorities or intimidate those with pro-Ukrainian views," said Matilda Bogner.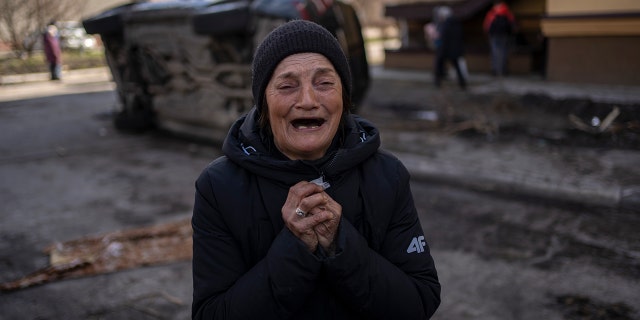 Tanya Nedashkivska, a 57-year-old woman, mourns the death of her husband who was killed in Bucha, Ukraine, on April 4, 2022. (AP Photo/Rodrigo Abd, File))
Ukraine gave U.N. investigators "unimpeded confidential access" to detainees at official detention centers, with the exception of a group of 87 Russian sailors, she said.
"The Russian Federation did not grant us such access, despite our requests," Bogner said.
TIMELINE OF WAGNER MERCENARY GROUP'S STANDOFF THAT SHOOK PUTIN'S RUSSIA
"This would violate the state's obligation to investigate and prosecute serious violations of international humanitarian law and gross violations of international human rights law," Bogner said.
CLICK HERE TO GET THE FOX NEWS APP
While Ukraine has launched criminal probes against Russian forces over the detention of civilians, resulting in 23 convictions, the U.N. rights office said it wasn't aware of any investigations against Ukraine's own forces for such violations.