Sammy Hagar's son Andrew Hagar is following in the footsteps of his rock and roll icon father.
Last month, the 39-year-old singer and former kickboxer released his new single "Systematic Minds." Ahead of Father's Day, Sammy, 75, and Andrew, who appeared together in the Paramount+ docuseries "Family Legacy," sat down for a joint interview with Fox News Digital.
The former Van Halen frontman revealed that he was surprised when Andrew decided to pursue a career in the music industry instead of martial arts.
"I never thought he was going to be a musician until about 10 years ago," Sammy recalled.
"It blew my mind how good his songs were and how good his lyrics were and his melodic sense and the fact that he played guitar," the elder Hagar recalled. "I said, 'When did you start playing guitar?' I mean, he didn't live at my house, so I didn't see it."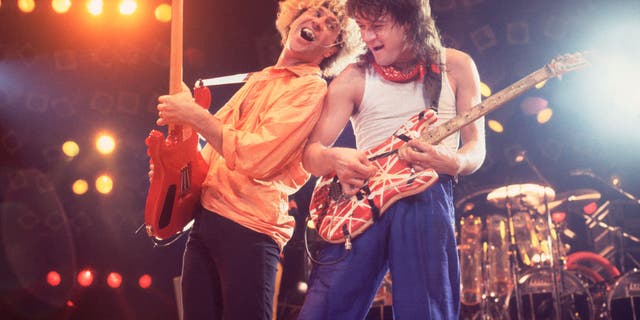 Sammy Hagar joined Van Halen in 1985. (Paul Natkin/Getty Images)
"But we see each other all the time," he added. "We've never went months without seeing each other and talking or anything. I'm so proud that he did it. He pulled it off, and he's really good."
The Red Rocker said that he would have been honest with Andrew if he believed that his son's talent wasn't up to his standards.
"It's like, if he wasn't good, I'd say, 'Dude, go back to martial arts, go back to hurting people,'" Sammy said with a laugh. "But no, it's very impressive how fast he learns. He just learns really fast."
 
 

 
 
View this post on Instagram
 

 
 
 

 
 

 
 
 

 
 

Andrew told Fox News Digital that he realized that he wanted to be a musician in 2016 when he landed his first prominent gig opening for country star Kris Kristofferson. He recalled the trepidation he felt before taking the stage at Queen's Hall in Edinburgh, Scotland.
"I remember being so nervous and terrified that I was going to get up there, and I was going to suck, and the crowd was just going to eat me alive," he said. "And after about the first song, I realized everybody was into it."
He continued, "It was one of the best, most indescribable feelings I've ever felt in my life. And coming offstage, I think we did, like, about 15 minutes and I wanted to do it the entire night. It was just the best feeling. And I knew at that moment that it was something I was going to dedicate the rest of my life to."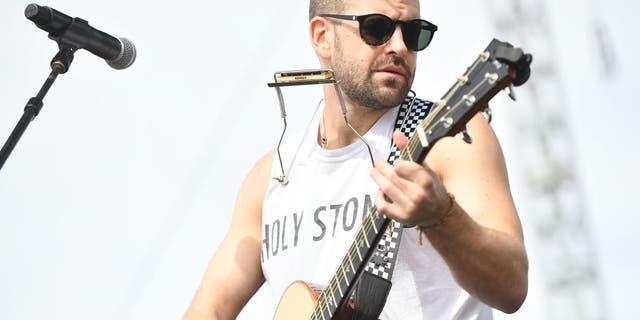 Andrew decided to pursue a career in music after opening for Kris Kristofferson in 2016.  (Scott Dudelson/Getty Images)
Sammy told Fox News Digital that he was immediately struck by Andrew's songwriting skills when he first listened to his son's music.
"The angel that fell through the power lines?" Andrew asked.
"Yeah, the angel that fell through the power lines," Sammy said. "And I just went, 'Whoa!' Look, I got goosebumps just talking about it."
"I just went, 'That's so cool, you know?'" he added. "And it was a real negative meaning, 'the lucky one.' Like, 'you're going to be the lucky one to go home with me? So you're the angel that fell through the power lines?' But anyway, his lyrics have really, really been impressive to me."
He continued, "Every now and then, we get to touch bases with each other, and we noodle around the house on guitars, but I'd rather him just do his own thing. And I love the fact that he's doing his own thing."
In addition to "Systematic Minds," which debuted May 5, Andrew told Fox News Digital that he will release another song and an EP this month.
 
 

 
 
View this post on Instagram
 

 
 
 

 
 

 
 
 

 
 

Sammy shares Andrew and son Aaron, 53, with his ex-wife Betsy Berardi. He is also father to daughters Kama, 27, and Samantha, 22, whom he shares with his wife Kari Hagar.
Andrew also praised Sammy for his philanthropic work on behalf of the Children's Hospital of Orange County (CHOC) in Southern California. In February, the Grammy Award winner opened his first Cabo Wabo Beach Club & Bar at Huntington Beach's Waterfront Resort and pledged to donate his personal net proceeds from the restaurant to CHOC.
VAN HALEN'S SAMMY HAGAR TAKES IT 'NEXT LEVEL' LAUNCHING CABO WABO BEACH CLUB
Donations to CHOC will be facilitated through The Hagar Family Foundation, a dedicated fund that Hagar and his wife of 27 years, Kari, founded in 2008. CHOC will continue to receive the donations regularly as long as the restaurant remains open.
Otherwise, Andrew said that Sammy is "pretty much an open book." "I don't think there's many things that people don't know," he said with a laugh. "I mean, the guy's written plenty of books. There's been plenty of material in that for people to plumb."
WATCH: Sammy Hagar says one of his son Andrew Hagar's song lyrics gives him 'goosebumps'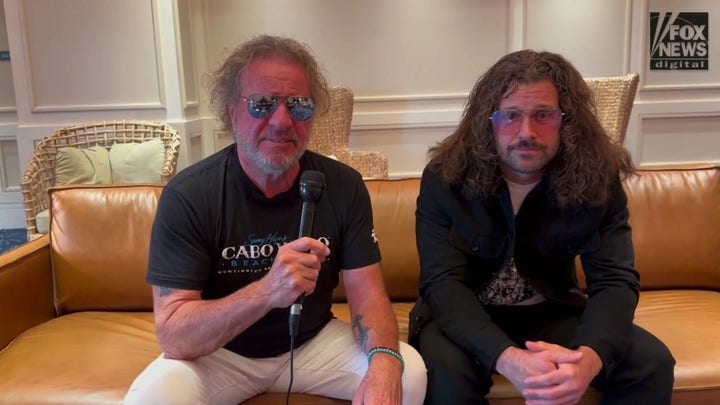 Video
Andrew also shared the most important piece of advice that his father has given him.
WATCH: Sammy Hagar's son Andrew Hagar recalls when he knew he wanted to 'dedicate' his life to music
Video
In their interview with Fox News Digital last month, Sammy and Andrew said that they hadn't yet made plans for Father's Day.
"We don't plan two weeks ahead of time," Sammy said while chuckling. "My God, it would be like, 'Oh, well, I can't stick to it now.' You know, in our lives, we're so busy, both of us, doing our things that it is like if you make plans too early, you're not going to be able to stick to them. You're going to say, 'Something came up.'"
 
 

 
 
View this post on Instagram
 

 
 
 

 
 

 
 
 

 
 

However, Sammy noted that the two planned to celebrate Andrew's birthday together. "I'm coming up to town for his birthday, but I have an event I have to do, and he's doing something with his friends for his birthday," he explained. "So we're going to celebrate his birthday a day late. All that's good, though."
CLICK HERE TO GET THE FOX NEWS APP
On June 4, Sammy shared a birthday tribute to Andrew on his Instagram page. "I am sooooo happy to see one of my children following my foot steps [sic]," he wrote alongside a photo of himself with Andrew.
"And by the way, he's CRUSHING IT!," Sammy added. "Happy birthday Andrew. This is your time."