An American tourist has lost her leg after being bitten by a shark while vacationing in Turks and Caicos, police say.
The 22-year-old female from Connecticut and a friend were snorkeling in the waters off Providenciales island Wednesday when they were attacked, The Royal Turks and Caicos Islands Police Force said in a statement posted to Instagram, that later appeared removed on Friday.
The statement added that a resort employee on the island "indicated that the female victim had her leg bitten off by a shark."
The Royal Turks and Caicos Islands Police Force and an ambulance responded to the scene.
The reported attack in the Caribbean country comes days after a Pennsylvania teenager, surfing for the first time in South New Jersey over the weekend, suffered injuries authorities said are consistent with those of a shark attack.
Fox 29 in Philadelphia reported that a 15-year-old girl was surfing in Stone Harbor, New Jersey, at 109th Street on Sunday afternoon when she was bitten.
RECENT SHARK BITES SCARY, BUT SERIOUS INJURIES REMAIN RARE
It is unknown what type of shark allegedly bit the teenager.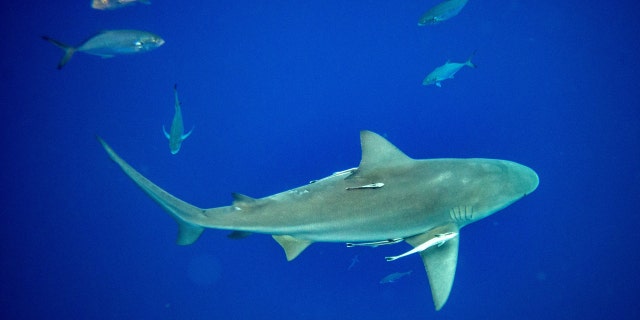 A shark swims toward a group of divers during a shark dive off of Jupiter, Florida, in February 2022. It is unclear what kind of shark reportedly attacked the tourist in Turks and Caicos. (JOSEPH PREZIOSO/AFP via Getty Images)
CLICK HERE TO GET THE FOX NEWS APP
In Cape Cod, Massachusetts, a great white shark also was seen over the weekend eating a seal.