A Facebook Marketplace listing that's advertising shotgun shell placeholders for weddings and similar events has set tongues wagging on social media.
The screenshotted listing, which shows two red shotgun shells with a bride and groom place card, has caught the attention of the "Wedding Shaming" subreddit, a 535,400-member Reddit forum where anonymous users shame wedding themes, brides, grooms, guests and vendors.
"Nothing says classy like shotgun shells!" A Reddit user captioned their screenshotted post on Sunday, June 4, which has received more than 750 upvotes and a "tacky" label.
WEDDING DRESS INSULT: WOMAN ASKS REDDIT USERS TO WEIGH IN AFTER SHE BLUNTLY CRITIQUED HER FRIEND'S GOWN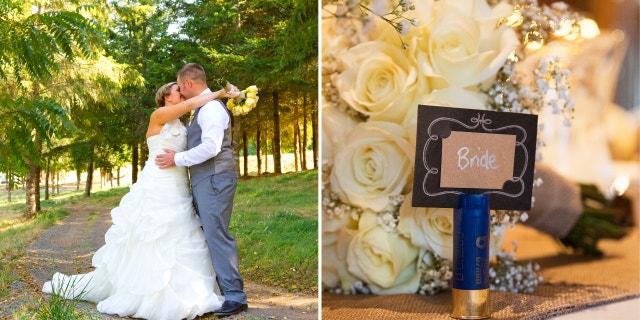 A Facebook Marketplace seller (not pictured) from New Zealand is listing shotgun shell placeholders for sale — which can be used in weddings and similar formal events. (iStock)
"It's $100NZD, which is like $60USD," the person wrote. "Not that it makes it any better. I was shocked it was an actual buy/sell group and people were commenting that they were cool."
Several Reddit users agreed that they found the seller's asking price to be steep, since it's a decor project that can be done relatively cheaply.
WOMAN ON TIKTOK CALLS OUT WEDDING GUESTS WEARING WHITE TO FRIEND'S WEDDING: 'RUDE'
Said yet another Reddit user, "So trash. I'm sorry if this offends anyone but guns are horrendous things that ruin people's lives every day."
"Why do we get the ugly color?"

One Reddit user wrote that the placeholders are a "waste [of] reloadable shells" — and questioned why another color wasn't used for the wrapping of the shotgun shells, such as pink or purple.

Some wedding hosts add name placeholders to tablescapes when there's arranged seating for guests — while others skip this entirely for open seating. (iStock)

"Why do we get the ugly color?" the user asked.

Not every Reddit user in the "wedding shaming" forum is against the Facebook Marketplace seller's shotgun placeholders.

"I knew someone who did shotgun shells in their wedding that was not cowboy-themed because someone who had passed in the family had actually made their own ammo with those shells and they wanted that member represented in some way," another user shared. "Actually kind of cool in my opinion."

Shotgun shell placeholders seem to be a common decor addition in gun-themed weddings. (iStock)

One Reddit user defended people who might find the shotgun shell placeholders appealing for their wedding.

"Oh, come on … Not all of them are bad etc. I honestly think some [people] are just having fun with it 'cause they can," the user wrote, which earned more than 10 downvotes.

CLICK HERE TO SIGN UP FOR OUR LIFESTYLE NEWSLETTER

Fox News Digital reached out to the Facebook Marketplace seller for comment.

Shotgun shell boutonnieres are another gun-themed decor item that grooms and groomsmen have incorporated in nontraditional weddings. (iStock)

The Facebook Marketplace listing was uploaded on Thursday, June 1, in Hastings, Hawke's Bay, which is an inland city of New Zealand on the east coast of North Island.