Ella Halikas is making her mark on the catwalk.
The Sports Illustrated Swimsuit model and body positive activist recently walked the runway for Sinesia Karol Swimwear. The fashion show for the luxury Brazilian swimwear brand was part of the annual Paraiso Miami Swim Week, where designers showcased their new and upcoming collections.
For her appearance, Halikas modeled a multicolored two-piece that flaunted her curves. It featured a bubblegum pink bandeau top, a pearl white tie sash to cinch the waist, and a high-cut sapphire blue bottom. Halikas completed the look with strappy white sandals and a jewel-hued purse with slick-back tresses.
For another look, Halikas wore a summery blue and white printed bikini top with a sleek halter neck tie, which was paired with a high-waisted matching bottom and a beachy cover-up.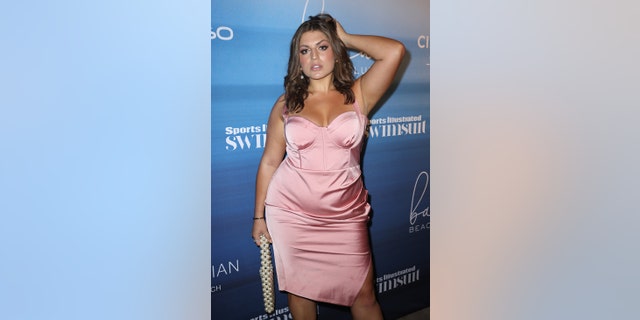 Ella Halikas hopes her image will encourage others to celebrate their bodies. (Alexander Tamargo/Getty Images for Sports Illustrated)
However, being a curvy model comes with its challenges. In November, Halikas and fellow model Alexa Jay alleged they were denied entry from Los Angeles club The Highlight Room due to their size. A spokesperson for Tao Group Hospitality, the parent company of the venue, announced in a statement that they were "aware of Ella and Alexa's experience and are actively engaged with them to discuss the incident further."
CLICK HERE TO SIGN UP FOR THE ENTERTAINMENT NEWSLETTER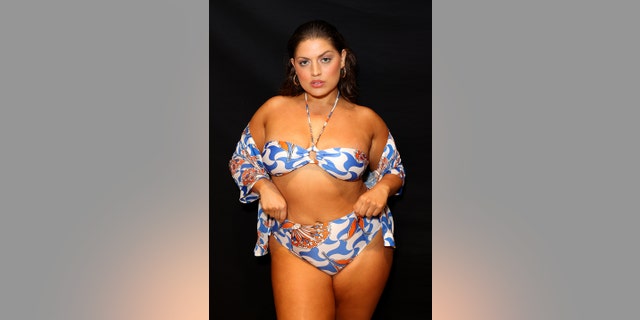 Ella Halikas poses backstage at the Sinesia Karol fashion show during Paraiso Miami Swim Week on June 09, 2023, in Miami Beach, Florida. (Alexander Tamargo/Getty Images for Sinesia Karol)
"We are always appreciative of feedback on our operations and continue to work on how to improve our guest experience," said the spokesperson at the time. "Our company does not tolerate discrimination of any kind."
"I want to make it clear, I'm never against someone wanting to get on their own health and fitness journey," she shared. "If you want to lose weight, great, I'm never going to knock that. What I do think becomes a problem is why we're constantly trying to make ourselves smaller to feel worthy, to feel seen, to feel beautiful… That's what I'm trying to break."
"You can be happy, confident, healthy, take care of yourself… live in a bigger body and love your skin," Halikas continued. "Everyone's best self and most beautiful self looks different on everybody. And for me right now, that's me being a size 14. To someone else, it's a size 6 or 16, 20, or 2. It just depends on the person… I'm just really trying to shift people's perspectives."
"I'm going to wear that swimsuit, I'm going to wear that dress that I didn't think I could wear," said Halikas. "I want people to look within themselves and find that confidence. That's what I'm here to do."