A South Carolina woman accused of driving drunk and hitting Samantha Hutchinson, who was married that night, received special treatment in jail, according to reports.
The New York Post reported that, despite a policy at the Charleston County, South Carolina jail which only allows online video chats, 25-year-old Jamie Lee Komoroski has been able to meet with family members in person, thanks to Sheriff Kristin Graziano, officials told the publication.
The sheriff also reportedly met with Komoroski, who relayed to her boyfriend during a call from jail that "the head person of the Charleston County" expressed she should be home with her family.
Other recordings obtained reportedly reveal Komoroski is not happy with the accommodations, and she has complained about everything from not being able to hold the TV remote control, not being happy with the food to the absence of an exercise mat to be able to do crunches on.
The Post also reported the sheriff's office confirmed the sheriff became involved in Komoroski's treatment at the jail after her family reached out after her arrival.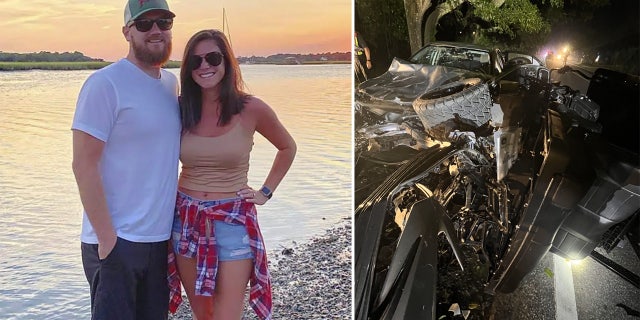 Aric Hutchinson and Samantha Miller, who was killed on their wedding night by an alleged drunk driver. The mangled car and golf cart after the collision (right). (Facebook/ Folly Beach Police)
Komoroski is accused crashing her red Toyota Camry into Samantha Miller and Aric Hutchinson's golf cart, just minutes after they left their wedding reception on Folly Beach, South Carolina.
SOUTH CAROLINA GROOM PLANNING BRIDE'S FUNERAL AFTER TRAGIC WEDDING DAY CRASH
Police say the suspect had a blood alcohol level three times the legal limit and had been driving 65 mph on a 25-mph road.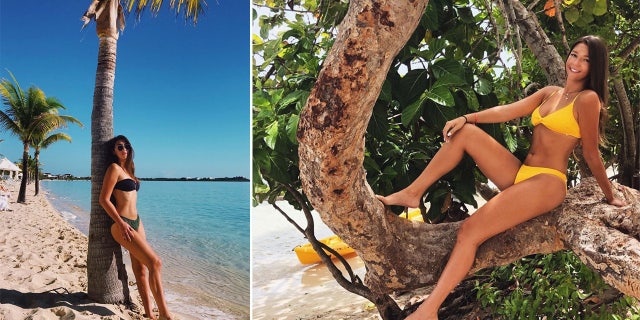 Jamie Komoroski at resorts in Turks and Caicos, left, and in Montego Bay, Jamaica. She's accused of killing a bride on her wedding night in South Carolina. (Instagram)
She faces three counts of felony DUI resulting in great bodily injury or death and one count of reckless homicide.
ALLEGED DRUNKEN DRIVER CHARGED WITH KILLING BRIDE HAD DRESSED AS 'BUD LIGHTYEAR' FOR HALLOWEEN