Fresh air and new beginnings in springtime are enough to give anyone the spring-cleaning bug.
Yet there are some spaces that most homeowners and renters don't normally think about tidying up but probably should.
So make a clean break from "dirty." Grab rubber gloves, shop vacs and cleaning concoctions to refresh some of the oft-forgotten but important spots around the house or apartment.
SPRING CLEANING: 5 TRICKS FOR REMOVING MOLD AND MILDEW
Here are some spaces that may need a little extra love when spring-cleaning your home, as well as some tips on how to properly clean those commonly forgotten (but still important) spots.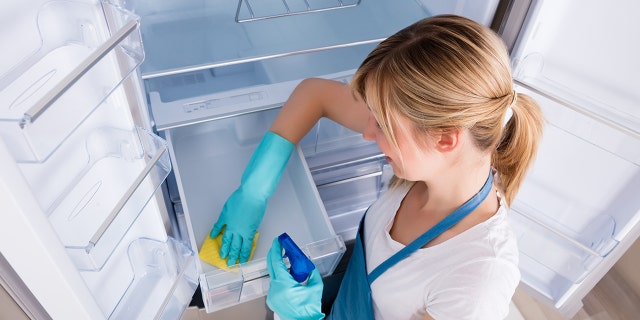 There are lots of spots that are forgotten when doing your spring-cleaning. (iStock)
Refrigerator vents
Dryer vents
Dishwasher filter
Mattresses
Curtains
Toys and gaming devices
Door knobs, light switches and handles
Furniture
Inside light fixtures
Drains
1. Refrigerator vents
Most people are unaware that the trim at the bottom of the refrigerator is fully detachable — and most likely collecting dust bunnies. While not all refrigerators have this detachable vent, those that do can be vacuumed out with a brush-head attachment.
Additionally, pull the refrigerator away from the wall and clean the now-exposed floor (which most likely needs a good vacuuming or mopping itself) — and locate the smaller vent at the back or on the side of the fridge, Brandon Pleshek, cleaning expert, third-generation janitor and founder of Clean That Up shared with Fox News Digital.
This vent is also prone to attracting dust and can be vacuumed clean with the same brush attachment.
The inside of a refrigerator, including the vent are vital to get clean. (Jim Lane/Education Images/Universal Images Group via Getty Images)
The inside of the refrigerator should not be ignored either. Now is a good time to take out all food items and detach drawers and shelves to give the interior a good wipe-down.
2. Dryer vents
Cleaning out a dryer's lint filter after every (or a few) loads of laundry is a must — but what about the gunk that's stuck in the machine's vent tubes?
To reach down the long tubing, a dryer vent cleaning brush attached to the end of a drill is the best tool to use. The nylon rods that lock together can reach deep into the vent from the outside of the home to pull out stuck lint and residue.
The use of a shop vac or garbage bag to catch dust remnants outside will prevent from having to pick up small pieces off the ground later.
You can also push out any lint from the vent on the inside of the home with a leaf blower, according to Pleshek.
7 USEFUL TOOLS FOR A QUICK AND EASY DIGITAL SPRING CLEANING
3. Dishwasher filter 
Not every dishwasher has one of these, but newer models have a secret filter located on the bottom-middle of the machine. And yes, it needs to be cleaned!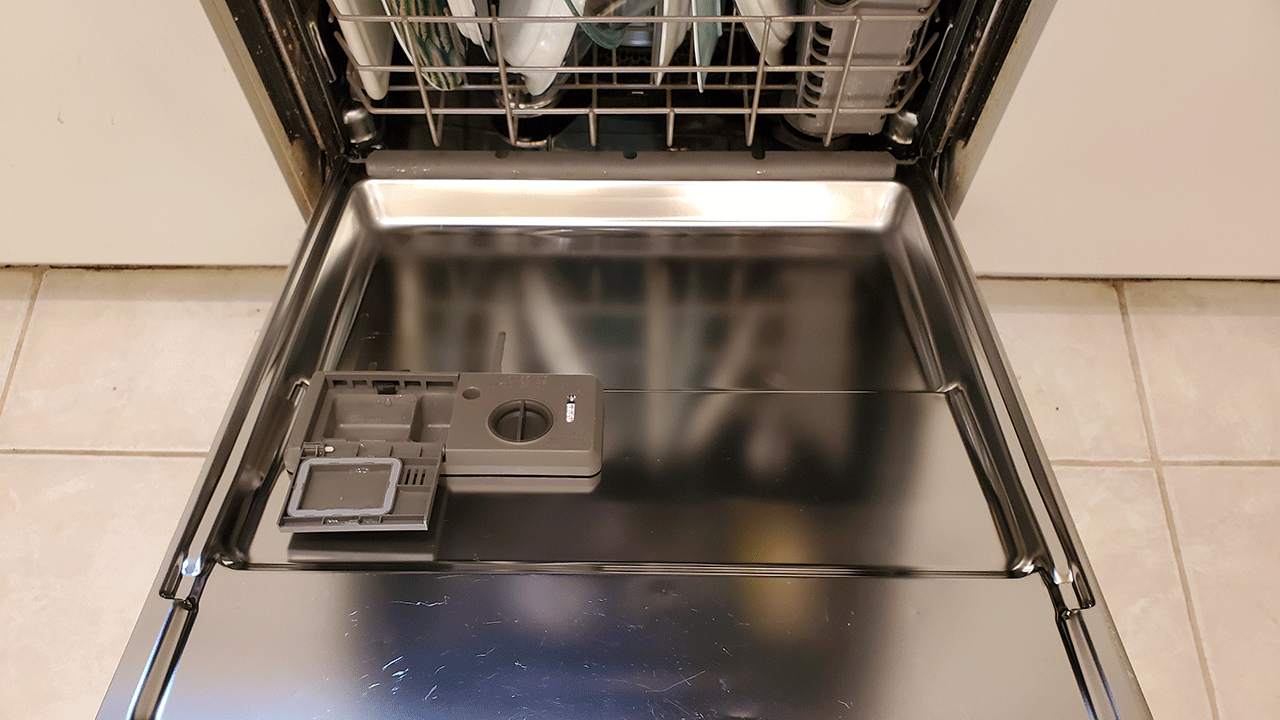 (Smith Collection/Gado/Getty Images)
The cylinder-shaped filter will twist and pull out of its base — and it can then be scrubbed or soaked in the sink with dish soap and warm water. For any odors, soak and rinse with vinegar.
In the case of a stinky dishwasher, placing a cup of vinegar inside the machine during a cycle can also help neutralize odors, according to Pleshek.
SPRING CLEANING: THE MOST IMPORTANT TIPS FOR CLEANING YOUR BATHROOM
4. Mattresses
There might be a few different methods to the mattress-cleaning madness, but there's no doubt hydrogen peroxide works just like magic, Pleshek advised.
Misting the top of a mattress with some hydrogen peroxide and wiping it down with a microfiber towel will do the trick for a full clean, he told Fox News Digital.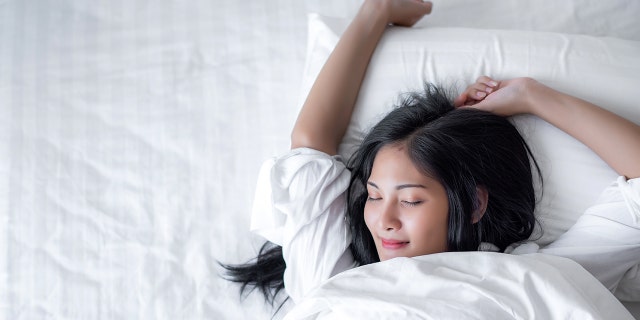 Leaving spots on the mattress is inevitable, but a little hydrogen peroxide will lift most stains right out. (iStock)
As we sleep, we're bound to leave spots on our mattresses from sweat, drool — or maybe some other (better-not-to-mention) yellow spots from little ones or pets.
Pleshek's best tip for spot-cleaning stains is to spray hydrogen peroxide and then lift the stain with a spotter machine.
"It's kind of amazing, hydrogen peroxide," he said. "You spray it on a drool mystery spot on your mattress — you'll just kind of watch it over a minute just start to disappear."
BE WELL: SPRING-CLEAN YOUR MEDICINE CABINET TO REMOVE EXPIRED DRUGS
5. Curtains
Depending on the type of textile they're made from, cleaning curtains can be tricky.
For the most part, window curtains will be dusty, so taking a vacuum with a brush head and sucking up any dust and debris is a good start.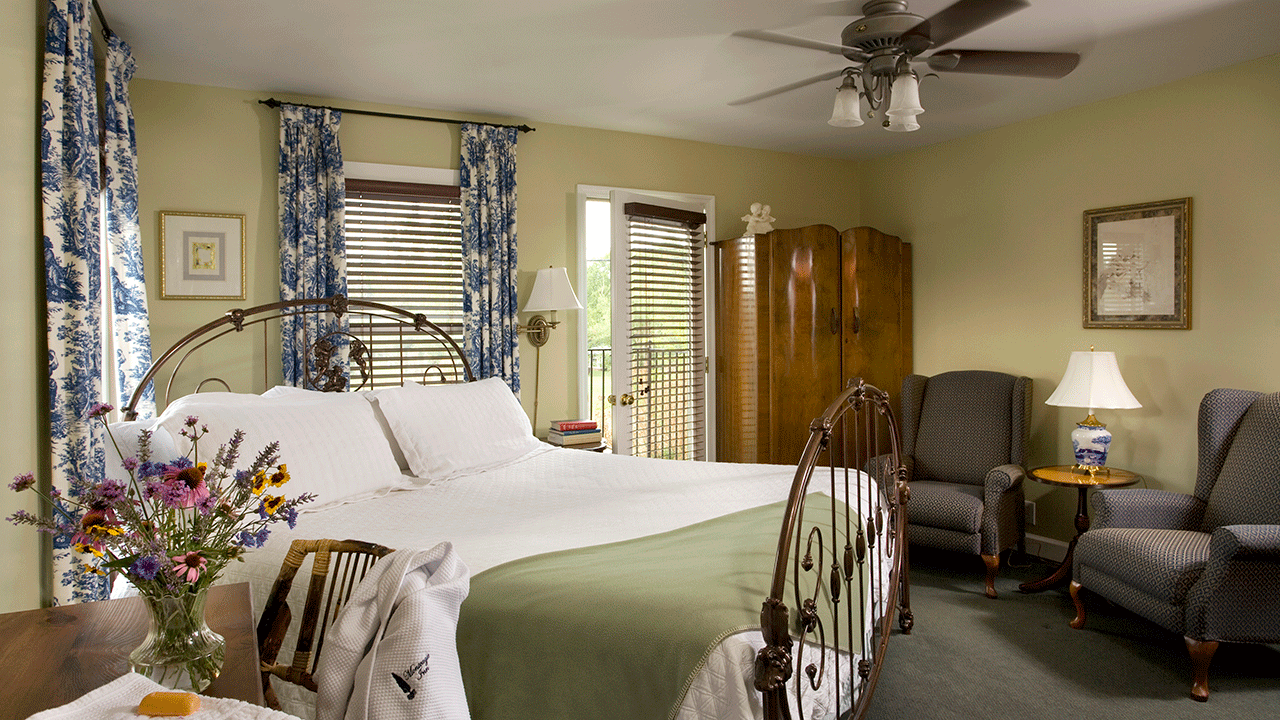 Step one to clean curtains is to vacuum up any dust and debris that has built up. (Jumping Rocks/Universal Images Group via Getty Images)
If you are looking for a deeper clean, you can fill a bucket with a drop of dish soap and water and soak the curtains, according to Pleshek.
If your curtains have a tag, check the cleaning instructions first before submerging them in water.
In the shower, your plastic curtain liner can also be thrown in the washing machine with a cup of vinegar to knock out mildew spots. Then, re-hang to dry.
SPRING CLEANING 101: HOW TO ORGANIZE YOUR HOME LIKE A PRO
6. Toys and gaming devices
Toys around the house (whether they've been lying on the floor or "tasted" by a toddler) are almost certainly in need of a deep clean. The simplest tip is to throw any plastic or rubber toys into a mesh laundry bag and soak the entire bag in dish soap and water in the sink. The bag can then be rinsed off and air-dried in the sun outside.
Some toys can be thrown right into the dishwasher onto the top rack for a deep, sanitized clean.
As for video game controllers, they can get gunked up from being held by lots of greasy hands.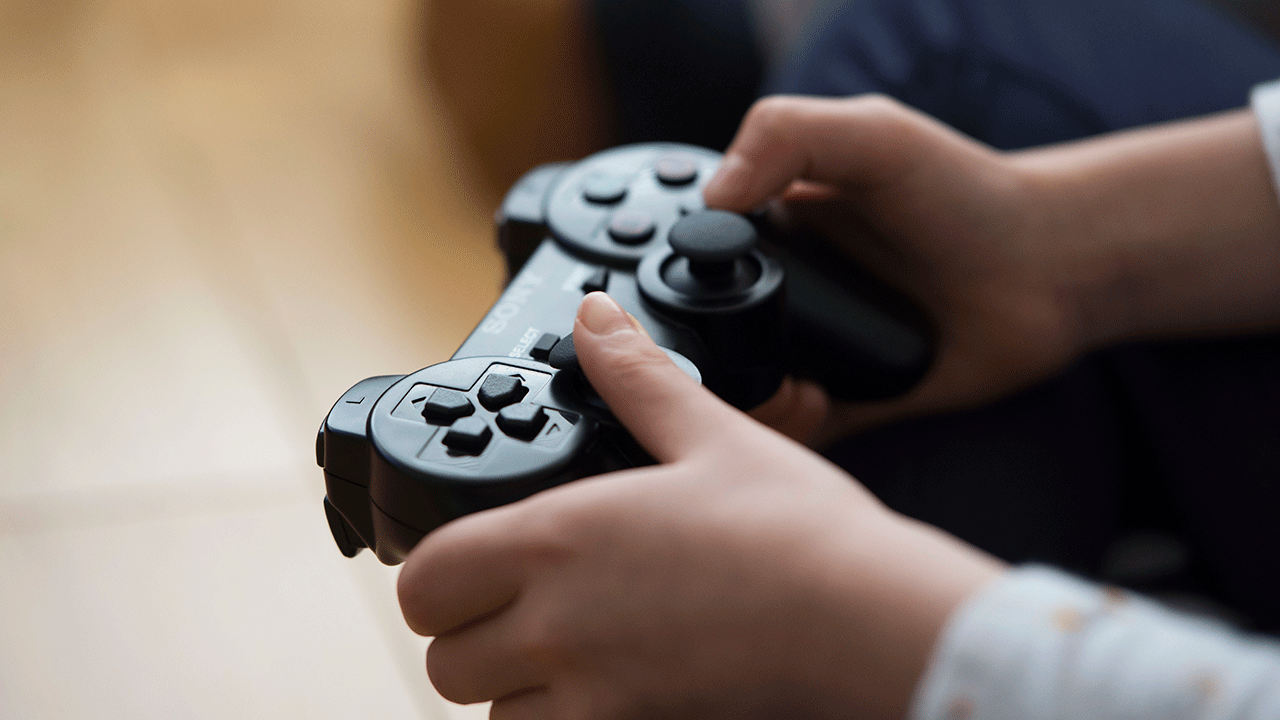 Video game controllers can be cleaned off with a rubbing alcohol-water mixture. (Matthew Horwood/Getty Images)
To clean controllers, start by combing out residue from the controllers' crevices with a toothpick and then spray them down with a 50-50 rubbing alcohol-water mixture, Pleshek told Fox News Digital.
After that, they can be wiped clean with a microfiber towel.
SPRING CLEANING: HOW TO ORGANIZE THE BACKYARD
7. Door knobs, light switches and handles 
Little things around the house like all the door knobs, light switches and handles can often be forgotten. Don't forget to simply wipe these down with a disinfectant wipe to keep them clean.
8. Furniture 
Before cleaning your furniture, make sure that you take a look at the material it is made of so that you can use the proper products.
Before you get to that point though, take a vacuum to your furniture to pick up any debris before you start cleaning with any products.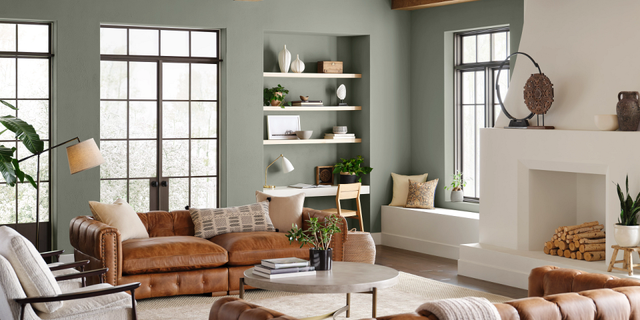 Make sure you know what kind of fabric your furniture is made of before giving it a good clean. (Sherwin-Williams)
To find out how your furniture can be cleaned, check the label. A lot of furniture has a label that includes cleaning codes, which will instruct you on proper cleaning techniques.
It's vital to do some research beforehand so that you know exactly what is safe to use on your furniture. Even after you research, clean a small area of the furniture first before scrubbing the entire thing to make sure the products you are using aren't ruining the piece.
Also, while cleaning your furniture, take this as an opportunity to vacuum underneath, another spot that can be forgotten in daily cleaning.
KITCHEN CLEANING: 5 THINGS TO NEVER POUR DOWN THE DRAIN
9. Inside light fixtures 
Dusting light fixtures is easy and can be done on a weekly basis, but cleaning the inside gets a bit more complicated and can sometimes be forgotten.
CLICK HERE TO SIGN UP FOR OUR LIFESTYLE NEWSLETTER
Similar to furniture, the way you clean the inside of your light fixtures is going to depend on the kind of fixture you are cleaning.
The outside of light fixtures can be cleaned with a light dusting. For spring-cleaning purposes, depending on the type of fixture, some soap and water might be a good idea to clean the inside. (Hauke-Christian Dittrich/picture alliance via Getty Images)
The first step is going to be to unscrew the light bulbs in the fixture and put those to the side.
For light fixtures that can be completely removed, you can scrub them with some soapy water, but for those that cannot, some water and a microfiber cloth should do the trick.
When cleaning light fixtures, make sure you shut off the lights and give plenty of cool downtime before touching the bulb and beginning the cleaning process.
CLICK HERE TO GET THE FOX NEWS APP
10. Drains 
Cleaning the drains in your house can be done in four simple steps with ingredients you probably have at home.
All you need is baking soda, vinegar and water, according to Liquid Plumr.
The first step is to pour boiling water down the drain and follow that up with a homemade solution of 1 cup baking soda, 1 cup water and 1 cup vinegar, according to the source.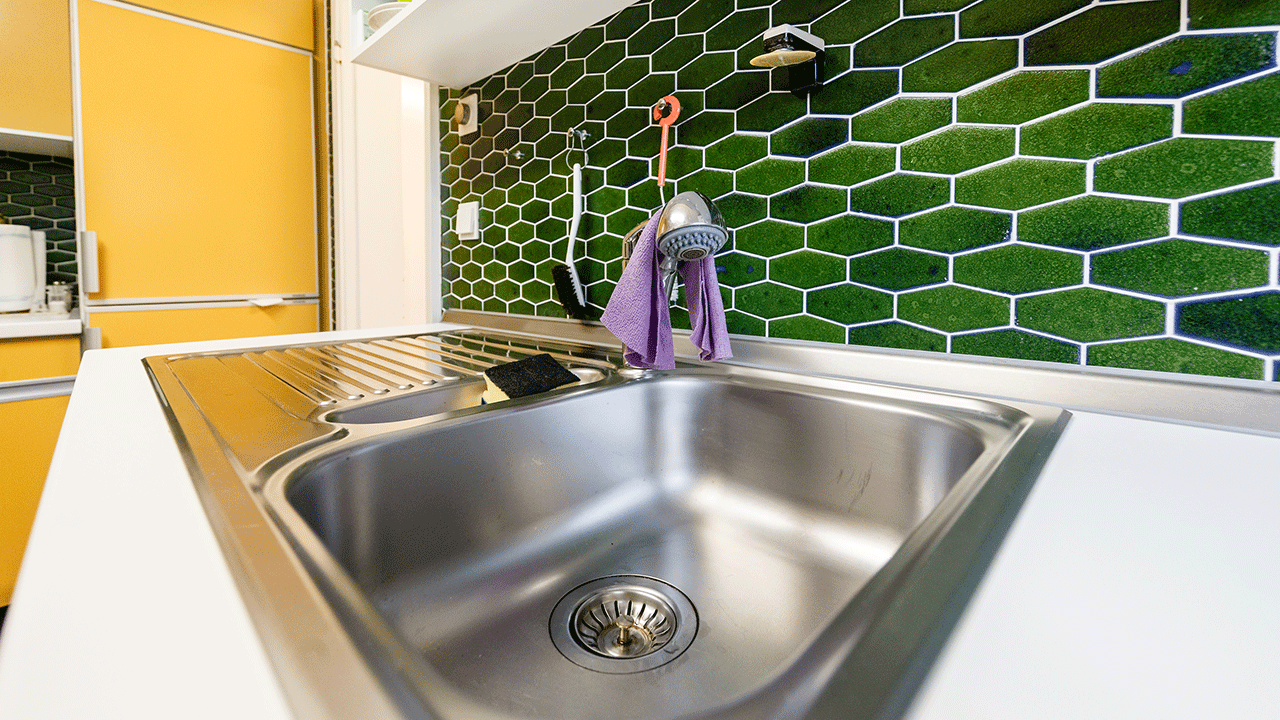 Cleaning a drain only requires a few simple steps and a homemade cleaning solution. (Markus Scholz/picture alliance via Getty Images)
After that, it's time to wait.
Cover the drain with a plug and allow it to sit for about 5 to 10 minutes.
To finish up the job, pour some more boiling water down again, according to the source, and you'll be left with a nice clean drain.