Lena Prima, daughter of "The King of Swing," wants to help set the record straight.
For years, many have wondered how her father Louis Prima and Frank Sinatra – two Italian crooners who heated up Sin City – felt about each other. She insisted there was no rivalry between the two legends.
"[My dad] loved and respected him," Prima told Fox News Digital.
Prima, a fellow singer, is keeping her father's love of music alive. She has an ongoing Vegas-style residency at the Hotel Monteleone in New Orleans, Louisiana. The patriarch gave some of his final performances at the swanky French Quarter hotel before he died in 1978 at age 67.
'50S STAR ANGIE DICKINSON ON FRANK SINATRA AND WHY SHE NEVER MARRIED 'LOVE OF MY LIFE'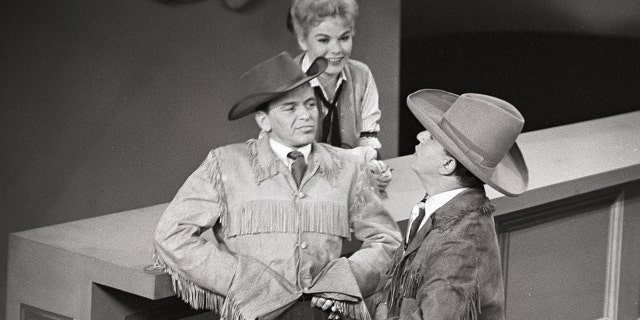 Frank Sinatra and Louis Prima film a comedic skit for the short-lived "Frank Sinatra Show" alongside Joyce Beatty. (ABC Photo Archives/Disney General Entertainment Content via Getty Images)
In 1958, Louis and his singing partner Keely Smith, who was also his wife, made a TV appearance on the short-lived "Frank Sinatra Show." During a comedic sketch, Sinatra asked the bob-haired songstress what they were going to sing.
"We?" Smith replied after jokingly telling Sinatra she didn't need Louis.
WATCH: '50S STAR LOUIS PRIMA, THE VOICE OF KING LOUIE IN 'THE JUNGLE BOOK,' FELT THIS WAY ABOUT FRANK SINATRA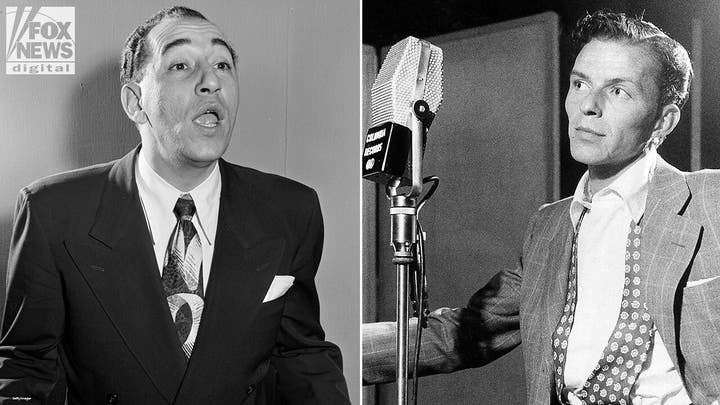 Video
In 1962 Louis met Gia Maione – Lena Prima's mother. She became his fifth and final wife the following year. Sinatra went on to sign Smith to his label, Reprise Records, and they recorded their duet "So in Love" that same year. Smith later claimed to The Desert Sun that Sinatra had asked her to marry him when her relationship with Louis was nearly over. However, she rejected him, believing that their union wouldn't have lasted.
CLICK HERE TO SIGN UP FOR THE ENTERTAINMENT NEWSLETTER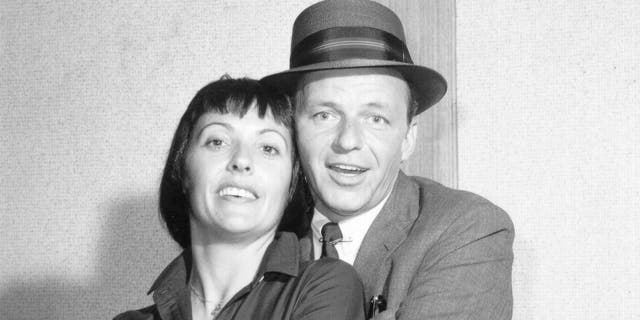 Keely Smith claimed she turned down Frank Sinatra's offer to marry him. (Michael Ochs Archives/Getty Images)
"My dad was not like that," she explained. "I think honestly back in those days, everybody supported everybody. That's how the Rat Pack got started. They all came to see my dad after their shows, and he would just let them all get up on stage and cut up and be funny. And it was all part of the show. I think my dad loved that and so did everybody else. I think entertainers really supported each other [in those days]."
Louis Prima composing with his trumpet on the Hotel Astor roof garden, between sessions with his band, New York City, circa 1950. (FPG/Getty Images)
Prima described how in 1961, Sinatra personally invited her father to perform at the inaugural gala for President John F. Kennedy. The two men performed "Old Black Magic" together.
"There was a commemorative plaque in our home thanking him for his performance," she said. "I did later see a video in a documentary where they showed him over Frank Sinatra's shoulder, kind of whispering words into his ear as they were making up a funny song about Kennedy and singing 'Old Black Magic.' And that's so my dad. That's what he did."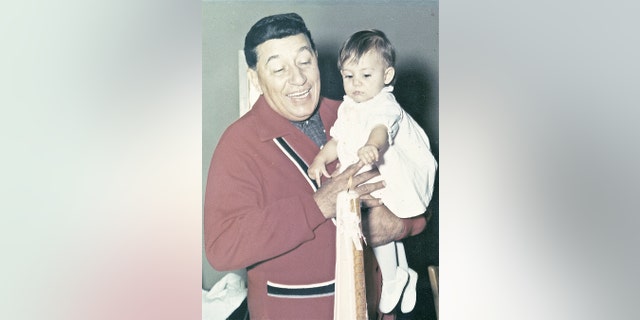 Louis Prima with Lena Prima, who had just turned 1. (Courtesy of Lena Prima)
"As far back as I could remember, I felt that my dad was such a magical person," said Prima. "He had so much charisma and joy about him. He was like a big cartoon character. I always felt he was special… The first time I saw him perform was when I got to sit in the audience as a small child, which didn't ever happen. His children weren't ever allowed, but for some reason, I was allowed to go sit in the audience."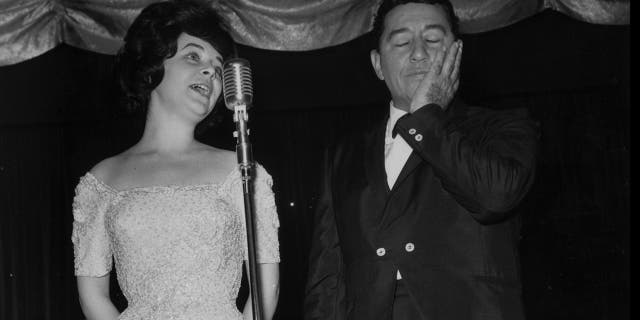 Louis Prima found love again with singer Gia Maione, Lena Prima's mother. The marriage lasted until his death. (Alan Band/Keystone/Getty Images)
"I was really young, but I'll never forget it," she gushed. "The people were all dressed up. It was Vegas, so you heard the sounds of the slot machines and the glasses clinking. And then the band started. The curtain opened, and they just blew the roof off the place. People went crazy. And when they introduced my dad, he came out so proud with his trumpet. It was just the most exciting thing. It sticks in my mind to this day, that memory of seeing him perform live."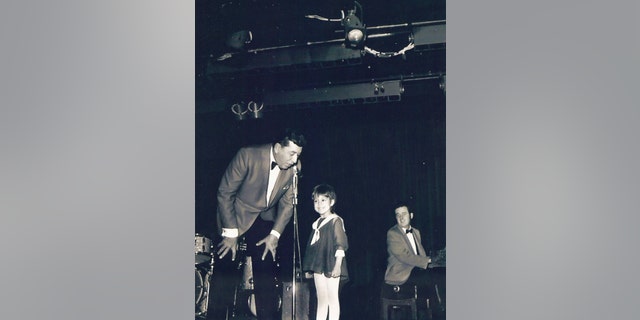 Louis Prima with his daughter Lena Prima at The Sands Hotel and Casino in Las Vegas. (Courtesy of Lena Prima)
In 1967, Louis voiced King Louie of the Apes in the Disney animated film "The Jungle Book" and recorded "I Wanna Be Like You (The Monkey Song)." It's a track Prima said she likes to play to a delighted audience.
"The reason that he was such a success in Vegas was that all those stars and friends he made in Hollywood all came to see him when he opened there," she said. "It was this new glamorous place in the desert, you know? And they all showed up."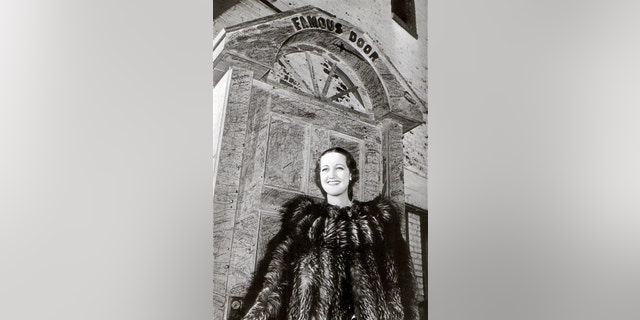 Dorothy Lamour, a Hollywood actress from the '40s and '50s, visiting hot spot The Famous Door. (Courtesy of Lena Prima)
"He had a club called The Famous Door where everybody that was famous came in the club and signed the door," she continued. "In the '70s, a friend of his kept that door for him… He had it sent to our house, and we got to see the door. Everybody's signature was on there. Walt Disney, Clark Gable, Lucille Ball – just everybody you can imagine. It's in the Smithsonian now. He had a really great experience in Hollywood, and it led him to Vegas, where he had major success."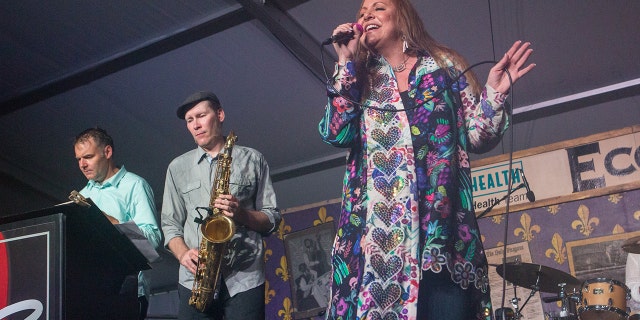 Lena Prima and The Lena Prima Band perform at the New Orleans Jazz & Heritage Festival. (Josh Brasted/WireImage)
Today, Prima hopes to continue delivering the same charm her father was known for.