EXCLUSIVE – First-term Republican Sen. JD Vance of Ohio is weighing in on his state's burgeoning 2024 Senate primary.
Vance is endorsing business executive Bernie Moreno in the Republican primary to challenge longtime Democrat Sen. Sherrod Brown next year in a race that could determine if the GOP wins back the Senate majority. News of the endorsement was shared first with Fox News Digital on Monday.
Moreno, a successful Cleveland-based business leader and luxury auto dealership giant, is making his second straight bid for the Senate. So is the other prominent GOP candidate in the race to date, state Sen. Matt Dolan, a former top county prosecutor and Ohio assistant attorney general.
BLUE TO RED – 4 SENATE SEATS THAT MAY FLIP IN 2024 ELECTIONS
Vance, who called Moreno a "friend," added that "It's time to turn the tides on the establishment insiders who sell out our country to special interests and elect more political outsiders like Bernie, who will always put America First in Washington, DC. I'm looking forward to having Bernie as a colleague in the U.S. Senate."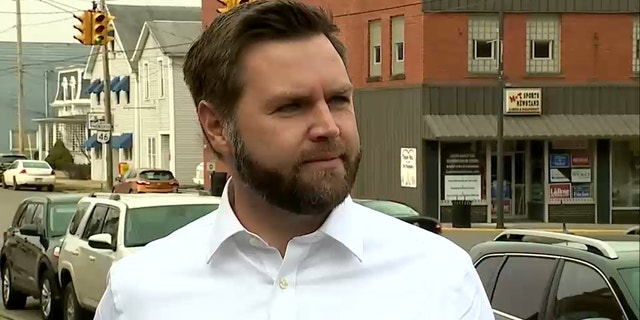 Sen. JD Vance, R-Ohio, is endorsing business executive Bernie Moreno in the Republican primary to challenge longtime Democrat Sen. Sherrod Brown next year. (WYFX)
Moreno, who invested millions of his own money to run TV commercials to try and boost his 2022 Senate bid, suspended his first Senate campaign in February last year after requesting and holding a private meeting with former President Donald Trump.
The crowded and combustible 2022 GOP Senate nomination in Ohio was eventually won by Vance, a former venture capitalist and best-selling author who landed Trump's endorsement just before last May's primary. Vance went on to defeat longtime Democrat Rep. Tim Ryan in last November's general election to succeed retiring GOP Sen. Rob Portman.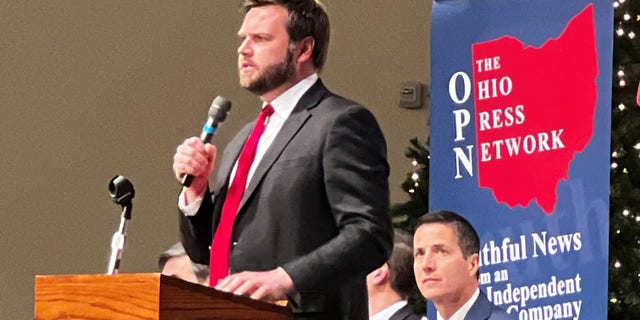 Bernie Moreno, seated at right, joins fellow Republican and now-Sen. JD Vance, foreground, on the campaign trail in Ohio in 2022. (Bernie Moreno campaign)
"I'm honored to have earned the endorsement of Senator Vance. Not only is he a close personal friend, but as a fellow political outsider and entrepreneur, he's shown that DC desperately needs new ways of thinking," Moreno said in a statement. "When I win this race, I'll stand shoulder to shoulder with JD in the Senate to fight for Ohio families, end the invasion at our southern border, protect American culture and traditions, rein in Big Tech and Big Media, stop Biden's radical Green New Deal policies and defend our America First conservative values against the unholy alliance of woke corporations and Big Government."
Moreno argued that "the career politicians and establishment insiders in both parties have failed us all, and just like JD, I will be a fighter for Ohio's workers and families against the corrupt special interests in the swamp. As Senator, Ohioans can trust that I will always do everything possible to grow our middle class and will be dedicated to putting what's best for America and its people at the center of everything I do."
A source close to Vance told Fox News that "beyond being personally close to Bernie and viewing him as an ideological ally, JD is endorsing Bernie so early because he feels strongly about ensuring that we don't see a replay of the type of bloody primary fight that he had to deal with last cycle, which left him with depleted resources going into the general election. He believes that Bernie is the candidate best positioned to quickly unify both the conservative grassroots and the Ohio donor class around his campaign to give Republicans the strongest shot at defeating Sherrod Brown next year."
Democrats currently control the U.S. Senate with a 51-49 majority, but Republicans are looking at a very favorable Senate map in 2024 with Democrats defending 23 of the 34 seats up for grabs. Three of those seats are in red states that Trump carried in 2020: Ohio, Montana and West Virginia. Five others are in key swing states narrowly carried by Biden in 2020: Arizona, Michigan, Nevada, Pennsylvania and Wisconsin.