A Trump-appointed judge blocked a biological male high school student who identifies as a girl from wearing heels and a dress to graduation Friday.
U.S. District Judge Taylor McNeel of the Southern District of Mississippi ruled against granting an emergency restraining order to block a dress code restriction from being enforced on a transgender high school student named "L.B." who wanted to wear heels and a dress.
McNeel argued in favor of the district enforcing its dress code policy, and interpreted it as status quo. He also argued there wasn't significant precedent established regarding cases of transgender individuals and dress codes, according to WLOX.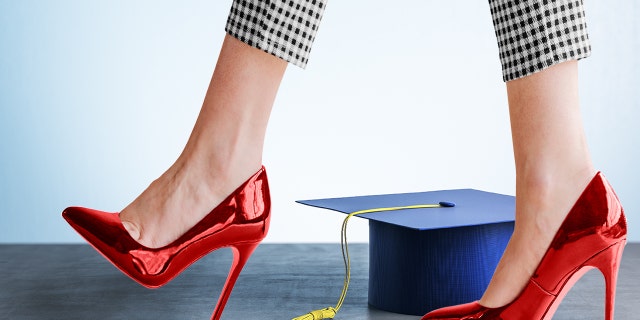 The transgender student wanted to wear a dress and heels to graduation. (Adobe Stock )
The ACLU argued that the district's decision was a violation of Title IX and the First Amendment right to freedom of expression. They added the district's decision would cause "significant harm" to L.B.
"L.B. wants to wear a dress and heeled shoes at her graduation ceremony, consistent with the gender that she lives every day. However, just days before her graduation, Defendants made the sudden decision to force L.B. to dress according to the male sex that she was assigned at birth at the ceremony—even though L.B. entered HCHS as a girl and has lived every aspect of her high school career as a girl," the ACLU said.
COLORADO DISTRICT EQUITY DOCS REVEAL METHODICAL SYSTEM TO DECEIVE PARENTS ON IN-SCHOOL SOCIAL TRANSITIONS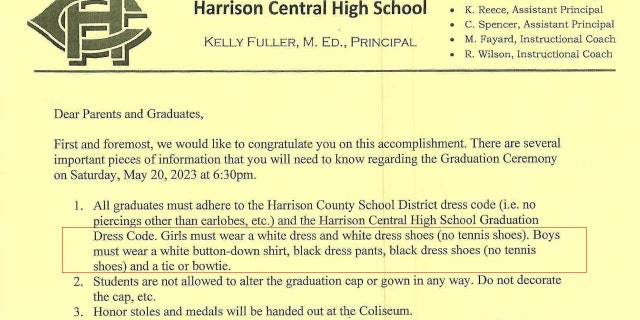 Dress code policy obtained via PACER (Fox News Digital)
"Defendants have promised to remove L.B. from graduation should she attend while wearing a dress and heeled shoes under her graduation robes. Because of Defendants' gender-based restrictions against her, L.B. will be forced to miss her own high school graduation—a once-in-a-lifetime event that she and her parents will never be able to replace," the ACLU continued.
The graduation took place on Saturday, and Reuters reported L.B. did not attend.
"Our client is being shamed and humiliated for explicitly discriminatory reasons, and her family is being denied a once-in-a-lifetime milestone in their daughter's life," Linda Morris, a staff attorney for the ACLU Women's Rights Project, told Reuters.