A man is facing multiple charges for allegedly carjacking a woman at gunpoint and leading police and a wild high-speed pursuit that ended in a fiery crash along Interstate 5 in Washington.
The wild saga began around 11:30 a.m. Monday when a woman reported that her car had been stolen at gunpoint at Pierce County's Orangegate Park.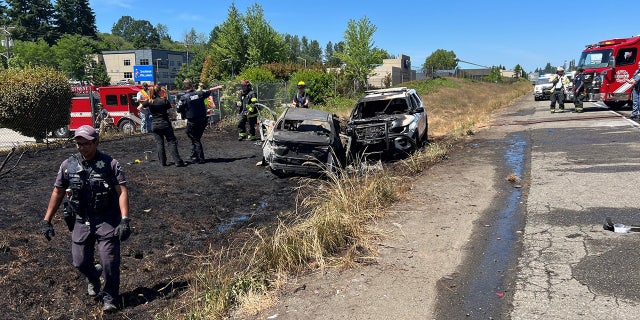 The stolen vehicle and a police cruiser became engulfed along the side of I-5.  (Pierce County Sheriff's Department)
An Apple AirTag within the vehicle helped deputies track it down to a shopping complex in Federal Way. Deputies attempted to stop the vehicle but the driver fled, hitting stop sticks they had placed.
A pursuit ensued along southbound I-5 before a deputy performed a PIT maneuver near the 56th St. exit and the suspect's car crashed along the shoulder. The suspect attempted to flee on foot but was quickly apprehended.
The Pierce County Sheriff's Department has identified the suspect as 27-year-old Randy Tipa. He's been charged with first-degree robbery, attempting to elude a pursuing police vehicle, unlawful possession of a firearm, and identity theft.
CLICK HERE TO GET THE FOX NEWS APP
A judge set his bail at $250,000. The sheriff's department said Tipa has prior convictions for similar offenses.