Rep. Kevin Kiley, R-Calif., harangued Health and Human Services (HHS) Secretary Xavier Becerra Tuesday on why the government forced 2-year-olds to wear masks without evidence of public health benefits.
During a House Education and the Workforce Committee hearing Tuesday, titled "Examining the Policies and Priorities of the Department of Health and Human Services (HHS)," Kiley shared his concerns over why young children were required to wear masks during the coronavirus pandemic and demanded to know if "forcing 2-year-olds to wear masks save[d] lives?"
Without directly answering the question, Becerra responded that "making sure people were masked when it was appropriate was essential to making sure we were able to get out of this pandemic."
REP. BANKS PRESSES HHS SEC. BECERRA ON 'EVIL' GENDER TRANSITION POLICIES FOR CHILDREN: 'IT'S INDEFENSIBLE'
"I'm not asking you to rephrase my question to some abstract question you'd rather answer. I'm asking you, as secretary of Health and Human Services, right now can you point to any specific evidence that there was a public health benefit to forcing young children to wear masks?" Kiley said.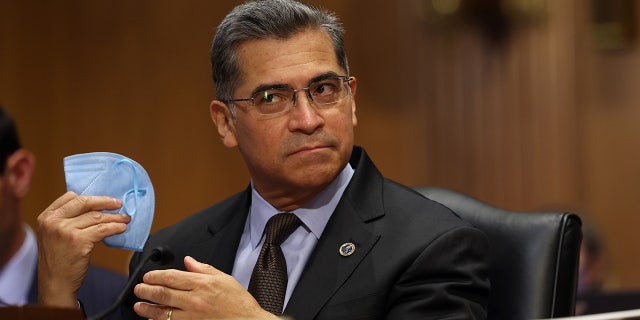 Health and Human Services Secretary Xavier Becerra testified before the House committee on June 13, 2023. (Kevin Dietsch)
The Republican congressman also asked why HHS policy did not align with "the international norm" that did not require young kids to wear masks. Becerra again did not directly answer the question.
During the COVID-19 pandemic, HHS policy required children as young as 2 to wear masks, even when outdoors.